Mara Hoffman brings her summertime-feel fashion brand to sunny SoCal
Fashion designer Mara Hoffman poses for a portrait in her showroom. Hoffman is known for her colorful prints and earthy aesthetic.
(Michael Nagle / Los Angeles Times)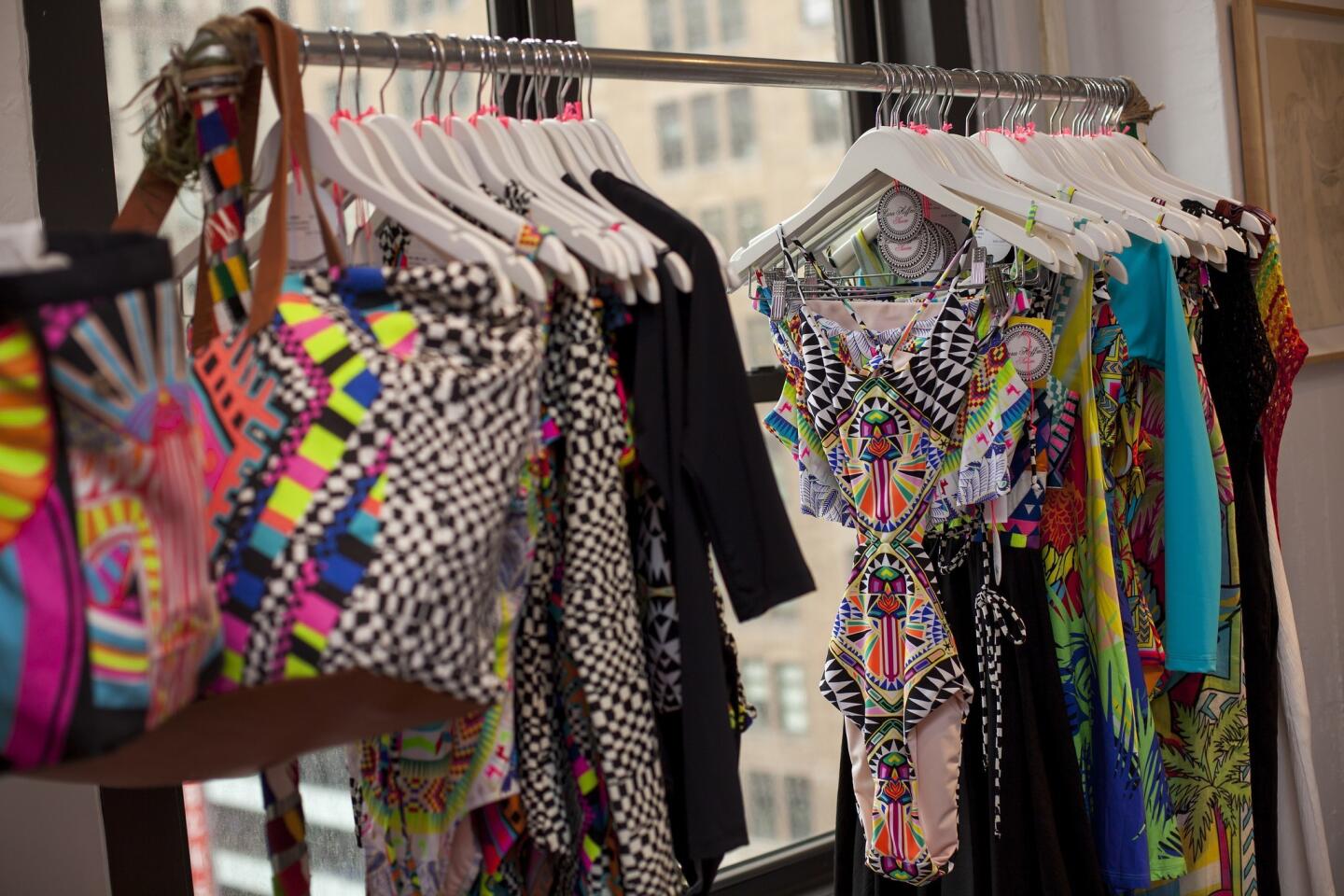 Swimsuits designed by Hoffman are displayed in her showroom. Hoffman began her swimwear line in 2008. Since, it has been spotted on celebrities including Ashley Tisdale and Jessica Simpson.
(Michael Nagle / Los Angeles Times)
A chair Hoffman collaborated on with Anthropologie is displayed in her showroom in New York City. Hoffman is also opening a design studio in L.A.
(Michael Nagle / Los Angeles Times)
Fashion designer Mara Hoffman holds a dream catcher she collaborated on with Spoke Woven. Spoke Woven custom designs the dream catchers, which are sold on Hoffman's website, using Hoffman's prints.
(Michael Nagle / Los Angeles Times)
Those who'd like to wear only Mara Hoffman designs to the beach now can. Hoffman has collaborated on sandals with Havaianas and towels with Pendleton, which complement the swimsuits and coverups she already sells.
(Michael Nagle / Los Angeles Times)
Hoffman brought her vibrant hues and fun patterns to journals she collaborated on with Anthropologie.
(Michael Nagle / Los Angeles Times)
Fashion designer Mara Hoffman collaborated with Anthropologie on these floor pillows displayed in her showroom in New York City.
(Michael Nagle / Los Angeles Times)
Another item displayed in her showroom is this wool eye rug, which comes in a variety of sizes.
(Michael Nagle / Los Angeles Times)
Hoffman lounges on the floor pillows and rug she designed from Anthropologie.
(Michael Nagle / Los Angeles Times)
NEW YORK — Mara Hoffman's brand of Technicolor tribal hippie chic is a summertime pick-me-up if ever there was one.
The New York designer best known for her swim and resort collections is lending her kaleidoscopic prints and rainbow warrior aesthetic to an ever-growing universe of products, including ready-to-wear, bridal gowns, kids clothing, iPhone cases, Pendleton towels, Havaianas flip-flops and, new this month, a home collection for Anthropologie.
"It's feel-good fashion," says Stephanie Kennedy, a buyer for Revolve.com, which stocks the line. "While it's always recognizable as Mara, the brand is evolving. People want more from her."
And they'll soon get it. Come September, Hoffman will become bicoastal, opening a design studio in Los Angeles and, hopefully, her first-ever store here, where all her swimwear is already produced.
"I want to have a home in L.A. that resembles what we've built in New York and translates our brand to the side of the country where the clothes are being worn more," she says.
It's been 14 years since Hoffman, who grew up in Buffalo, N.Y., and graduated from Parsons School of Design, started making hand-dyed, one-of-a-kind clothing out of her apartment in New York City's Curry Hill neighborhood. Soon after, she was discovered by "Sex and the City" costume designer Patricia Field when she was bringing some of her clothing to a consignment store to pay the bills. Field placed a $5,000 order, and Hoffman thought she had won the lottery. From there, she began selling her pieces store-to-store, modeling them herself.
Hoffman launched her collection, then called Circle, during New York Fashion Week in 2000, staging a drum circle instead of a runway show. "It was really earthy," she says during a visit to her New York showroom, which is decorated with a hippie chic tepee, giant dream catchers and Turkish carpets. "But it set the tone."
As orders mounted, she had to make changes because of all the hand work involved. "I realized there had to be an evolution if I was going to grow. I couldn't keep hand-dyeing batiks and picking the wax bits out with my fingernails."
So she developed a new design focus beginning in spring 2006 — prints. "I stretched silk across a wood frame and hand-painted big green waves," she remembers of her first print, which was copied by more than one fast-fashion retailer. Those hand-painted prints evolved into computer-designed prints, and the trippy multicolored geometric shapes became a brand signature, buoying sales. "The prints gave me a voice and allowed me to make so many more pieces of clothing," the designer says.
"She worked around the clock," says Carly Jo Morgan, an artist and the designer of the All for the Mountain jewelry collection, who was interning for Hoffman at the time. "Seeing that grass-roots way of getting your business going and the passion Mara put behind it, where she is now makes perfect sense. Nothing was handed to her."
Swimwear was a natural progression in 2008 and, as it turned out, another smart business move. "Ready-to-wear is a hard, super-saturated business with a lot of talented people making clothes. Swim gave me an opportunity to say something that not a lot of people were saying yet," Hoffman says.
Her playful bikinis and one-pieces, with sexy cutouts and strappy lacing details, and her poncho- and dashiki-style cover-ups put her on the style map in a bigger way than ever before. When Jessica Simpson wanted to announce her weight loss to the world last month, she posted a photo of herself on Instagram wearing Hoffman's lace-up one-piece in a print named "cosmic fountain." Vanessa Hudgens, Kourtney Kardashian and Ashley Tisdale are fans of the bikinis in prints such as "divine stone," "astro dreamer" and "rays violet." Some women, Hoffman included, even wear the underwire bikini tops as bras.
"She has a great, eclectic sensibility with prints that pop," says Sabra Krock, creative director of swim and resortwear retailer Everything But Water, which has been stocking Hoffman's collection for two years.
"The combination of her psychedelic prints and colors, and her use of architectural elements on swimwear makes it a unique collection," says Brooke Jaffe, operating vice president of fashion direction at Bloomingdale's.
Hoffman hit on a trend a lot of designers are hitting on now — swimwear as its own fashion category, with the power to enhance the prestige and appeal of ready-to-wear. London-based designer Mary Katrantzou and fashion label Preen recently launched swimwear collections, while Proenza Schouler designers Jack McCollough and Lazaro Hernandez announced a new license to produce swimwear incorporating prints and motifs from their clothing. And the spring 2014 runway shows were full of swimsuits shown alongside ready-to-wear, at Chanel, Michael Kors, Dolce & Gabbana, Nanette Lepore and, of course, Mara Hoffman. She also shows her swim collection in its entirety during Miami Swim Week.
"Swim helped define me and helped me create an identity for my ready-to-wear," says Hoffman, whose business is self-funded. "It was like, OK, I know this girl, I understand her now that I know what she's wearing to the beach. The two collections hold hands. They are always talking to each other and inspiring each other." (Swimwear sells for $100 to $250, while clothing is $150 to $525 or more for beaded pieces. The collections are sold at more than 450 stores worldwide, including Bloomingdale's, Saks Fifth Avenue and ShopBop.com. The Anthropologie home collection is $12 to $1,998.)
For the spring 2014 ready-to-wear collection in stores now, Hoffman was out to celebrate being happy by "making rainbows" with colorful beaded gowns, tie-dye peasant skirts, print slouch pants, jumpsuits and sleeveless tops in eclectic, global-inspired prints. "I know it sounds corny," she says. "But I don't need to take myself too seriously, because no one else does! I want you to feel happy and beautiful when you put on my things. It's all about finding a way to do that."
While Hoffman plans to keep her home in Williamsburg, which she shares with her husband, artist Javier Piñon, and their 3-year-old son Joaquin, she's looking forward to making her L.A. dreams come true, including finding a bungalow in Venice and teaching her son how to surf. She hasn't ever been to the Coachella Valley Music and Arts Festival, which seems unfathomable for someone with such a lock on festival style.
But mostly, the designer is ready to take her business to the next level, and she's on the hunt for a partner to help. "We've got a lot of momentum," she says. "I have the ideas and the energy and the vision."