Get Met Gala glam at home by adding silver and shimmer to your face and nails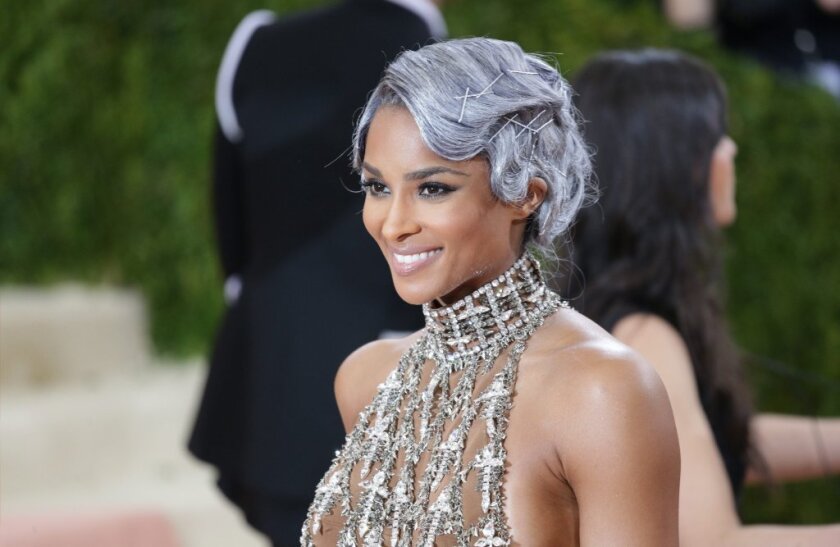 The 2016 Met Gala was filled with plenty of armor-like, heavy metallic creations worn by Taylor Swift, Alicia Vikander, Kylie Jenner, Kim Kardashian West, Jourdan Dunn, Cindy Crawford, Ciara and Julie Macklowe as well as a few actual high-tech designer creations such as Zac Posen's illuminating high-tech gown worn by Claire Danes.
All of these fashion looks were occasion appropriate (with a few misses) considering this year's gala theme, Manus x Machina‪: Fashion in an Age of Technology, which brought fashion-forward, almost robot-like embellishments to Monday's red carpet in New York.
However, wearing a gown with sparkle wasn't the only way to make a bold statement. Beauty trends on the red carpet had an equally standout moment thanks to the use of silver and shimmer. See Ciara's silver hair and Rita Ora's chignon with mirrored appliqués.
And speaking of added shimmer, Dunn and Hailey Baldwin used high-wattage cheek highlighter for their Met Gala looks. If you can get your hands on the fast-selling Pat McGrath Labs Skin Fetish 003 ($72, patmcgrath.com), you can achieve similar red carpet glamour for special occasions.
Silver eye shadow
Take a Met Gala lesson from Jessica Hart, Rita Ora, Elle Fanning, Lara Stone, Olivia Wilde and Kristen Stewart — all of whom had silver sparkle around their eyes, and opt for eye drama with silver eye shadow.
To get started, dab the inner corner of your eye or your eyelid with a silver eye shadow using products such as MAC Eye Shadows in Silver Ring or Knight Divine ($16 each, maccosmetics.com); NYX Cosmetics Baked Shadow in Silver Haze ($6, nyxcosmetics.com); or Obsessive Compulsive Cosmetics Glitter in Mirrorball ($15, occmakeup.com).
Silver nail art
If having professionally colored silver hair is too much for you, then go with a touch of silver via your silver nail art, and follow the Met Gala nail looks of Kate Hudson or Selena Gomez.
Hudson's manicurist, Alicia Torello, said she used OPI Infinite Shine in the color We're in the Black, OPI Infinite Shine in Silver on Ice and OPI Nail Lacquer in Samoan Sand to help create Hudson's nail look (Infinite Shine, $12.50 each and Nail Lacquer, $10 each, ulta.com).
"Metallic nail polish is a growing trend that I incorporated into her look for the Met Gala theme Fashion in an Age of Technology," Torello said Tuesday. "[Kate Hudson] is terrific."
If you're looking for a do-it-yourself beauty project, here are the step-by-step instructions on how to achieve a nail look similar to Hudson's:
Step 1: Prime the nails with one coat of OPI Infinite Shine Base Coat.
Step 2: Then coat the nail in OPI Infinite Shine in Samoan Sand, and at the base of nail, make a moon shape with Infinite Shine in We're In The Black. Then leave negative space and create a deeper moon shape in black toward the tip of the nail.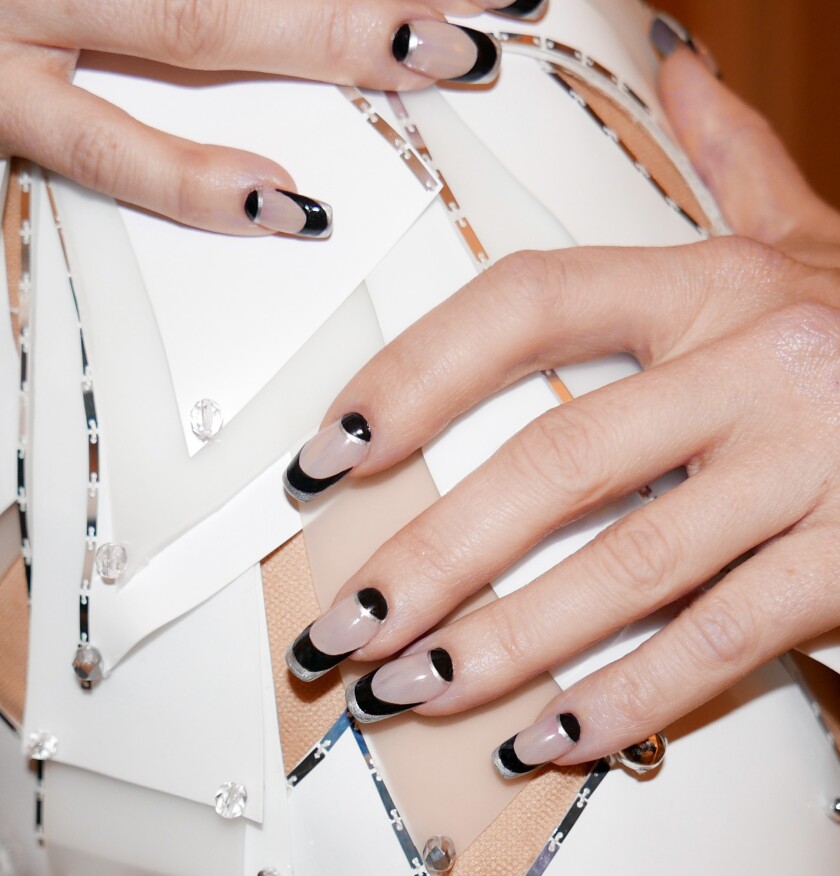 Step 3: Using OPI's Silver on Ice, create the shape of the moon at the base of the nail with a striping brush and trace the silver color along the outside of the moon.
Step 4: At the tip of the nail, follow the same deep moon shape and trace the silver along the outside edges of the tip.
Step 5: Finish the look with one coat of OPI Infinite Shine Gloss Top Coat.
---