How do you turn dinner for 100 into dinner for 20,000? If you're the U.N. World Food Program, it's by aligning yourself with fashion designer Michael Kors and actress Kate Hudson. The former threw a private, celebrity-studded dinner in Beverly Hills on Wednesday night to celebrate the latter's recent appointment as a goodwill ambassador for the Rome-based World Food Program, and cards at each seat informed guests that Kors had donated 200 meals to the program on their behalf.
An impressive and thoughtful gesture by any measure, but, as it turns out, one not as costly as you might think. That was one of the surprises to come out of a dinner that saw Kors and Hudson mingling with the likes of Sofia Vergara, Camilla Belle, Alessandra Ambrosio, Olivia Munn, Molly Sims, Kurt Russell, Rachel Bilson, artist Catherine Opie (herself recently feted at the 2018 LACMA Art+Film Gala), and a deep bench of fashion-industry power players including Rachel Zoe, jewelry designer Jen Meyer, the Elder Statesman's Greg Chait, W magazine editor Stefano Tonchi, Chrome Hearts' Laurie Stark and stylist Jen Rade. (Another surprise was the seven-time Grammy winner who closed out the event during a tabletop s'mores-toasting session — more on that below.)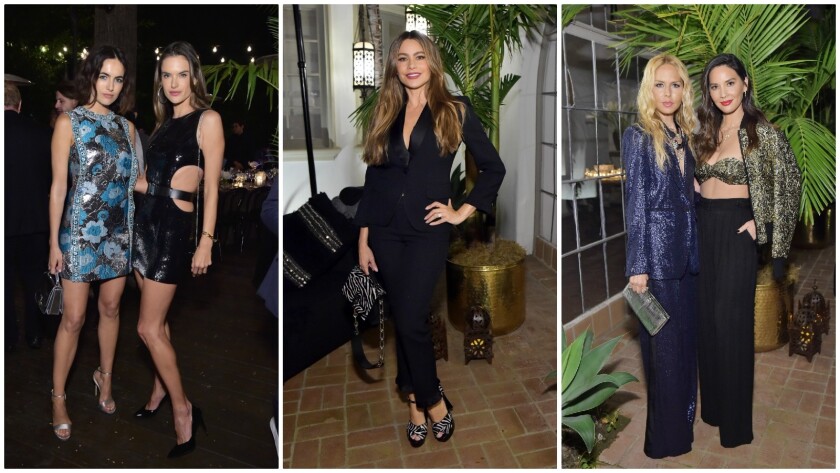 The U.N. program's chief of staff, Rehan Asad, who was seated across from us during dinner, said the organization has been a longtime beneficiary of the Michael Kors brand through the Watch Hunger Stop Program, which focuses on feeding children through school meals. "In the last four years — through 2017 — they've contributed around 17 million meals," Asad said, "and the total is higher than that if you include this year."
Asad added that Hudson's relationship with Kors — and her support of his ongoing hunger-fighting efforts through the U.N. program — resulted in her being named goodwill ambassador Nov. 1. "It's very important to create awareness," Asad said, "and as a celebrity, Kate Hudson can do that. People need to know what it costs."
What, exactly, does it cost? To answer that, Asad brandished his phone and launched an app called ShareTheMeal that serves up all manner of facts and figures about global hunger (and, more important, allows users to easily donate to the U.N. program). It turns out, according to the app, that 50 cents can feed a child for a day through the program. Over the course of our own meal, Asad shared a few more mind-boggling numbers. "There are 821 million people around the world who are hungry," he said. "Of that number, 124 million people don't know where their next meal is coming from — we call those the most severely hungry people — and of those, the World Food Program feeds 93 million people every single day in 83 countries around the world."
After dinner, Kors took to the stage to toast the guest of honor, whom he said he'd be referring to as "Ambassador Hudson" from now on. "Kate, I have to say that by lending your voice, your platform, your time, your energy, your joy, your intelligence, your humanity and your big heart to the cause, you have changed the lives of so many people around the world. Luckily for the world, I know that [being] Ambassador Hudson will help you to do even more. This ambassadorship is going to take you even further. Your energy and compassion inspires everyone here."
After urging everyone to raise a glass and to the freshly minted U.N. World Food Program goodwill ambassador, Kors introduced the evening's surprise musical guest — "Empress of Soul" Gladys Knight — whose five-song set brought the night to a close. Before launching into her final tune, Knight had one simple favor to ask. "I've got these wonderful background singers," Knight said, "but I don't have my Pips. Will you be my Pips?"
Everyone enthusiastically obliged, leaping to their feet to sing along to "Midnight Train to Georgia," after which Ambassador Hudson and the 99 Pips called it a memorable night.
For more musings on all things fashion and style, follow me at @ARTschorn
---