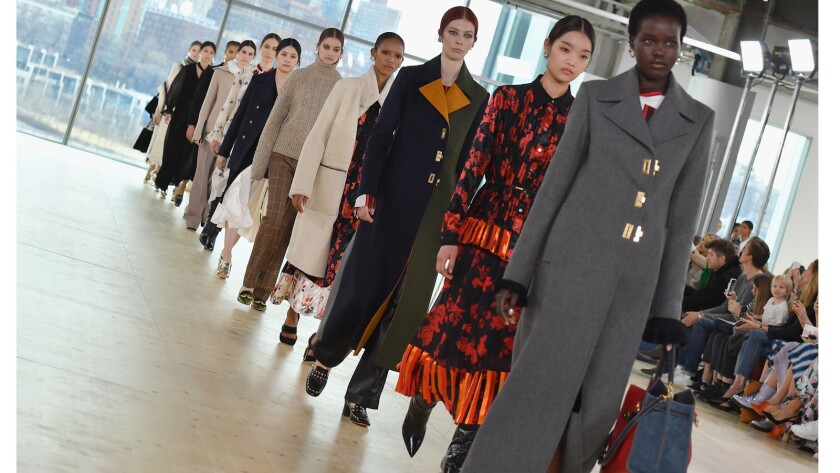 For her fall and winter 2019 collection, Tory Burch found inspiration in Black Mountain College, an experimental and influential college that opened in rural North Carolina in 1933, shuttered in 1957 and counted among its faculty and students Robert Rauschenberg, Cy Twombley, Buckminster Fuller, Merce Cunningham and John Cage.
(L.A.-area museum-goers might be familiar with the legendary school and its impressive list of faculty and students from the 2016 exhibition "Leap Before You Look" at the UCLA Hammer Museum.)
"It was so interesting," Burch told The Times backstage before the Sunday show here, "because it was founded in 1933 and what I found amazing — for back then — was the inclusivity. It was so progressive and I love that the professors came from [the] Bauhaus [school] in Germany. It was extraordinary when you think about the fact that it was in North Carolina — the Deep South — and that it informed the trajectory of modern art in America."
The former art history major — who often turns to the field for inspiration (her pre-fall collection was inspired by Georgia O'Keeffe) — said the inspirational starting point was less about the specific artists affiliated with the school and more about their interaction and collaboration. "That's [the reason behind] the manipulation of fabrics," Burch explained, "the knife pleats and the ruffles but then also a little bit of a sportier vibe."
The result was a collection heavy on the mixing and matching and slicing and dicing of Tory Burch classics; florals, bold stripes and paisleys cavorted in the same garment or layered one over another. Herringbones and checks lived peacefully side by side. Solid, structured coats with chunky metal hardware and crisp blazers played off billowy trousers (wide-legged — and particularly flared — pant leg is having a serious runway moment this week).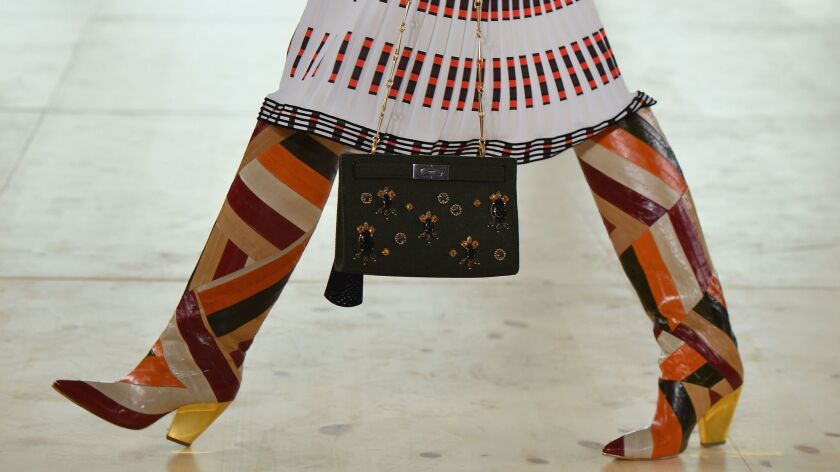 The juxtaposition of disparate elements was underscored even further by a collage print that melded archival photos with whimsical illustrations.
It was also reflected in the footwear — sneakers married to platforms, loafers that combined velvet with leather and finished off with brass hardware and knee-high leather boots with patchwork stripe patterns.
The collection felt like a departure from recent seasons but, at the same time, served up the Tory Burch DNA by way of references to archival prints and patterns — a little of the familiar combined with a little of the new, different and unknown.
With a little art history thrown in for good measure. What's not to like?
For more musings on all things fashion and style, follow me at @ARTschorn
---