Paris Fashion Week: The wet 'n' wild west takes center stage at Saint Laurent for spring and summer 2019
Reporting from Paris —
The Saint Laurent fashion show returned to its high-profile venue atop the Trocadéro fountain to present its spring and summer 2019 women's collection against the backdrop of the Eiffel Tower.
Only this time the fountain served as a sort of catch basin for the runoff cascading from a runway flooded with a good three inches of water through which the models dutifully slogged, kicking and splashing sprays of water as they went.
It was the perfect way to showcase the collection's most striking footwear silhouette — chunky, towering platform heels — that kept many a model high and dry as they clippity-sloshed the catwalk. It also turned out to be a good way to draw attention to the range of swimsuits that closed the show; nearly all black and most cut so high on the hip and low on the neckline that they resembled an outsized letter V.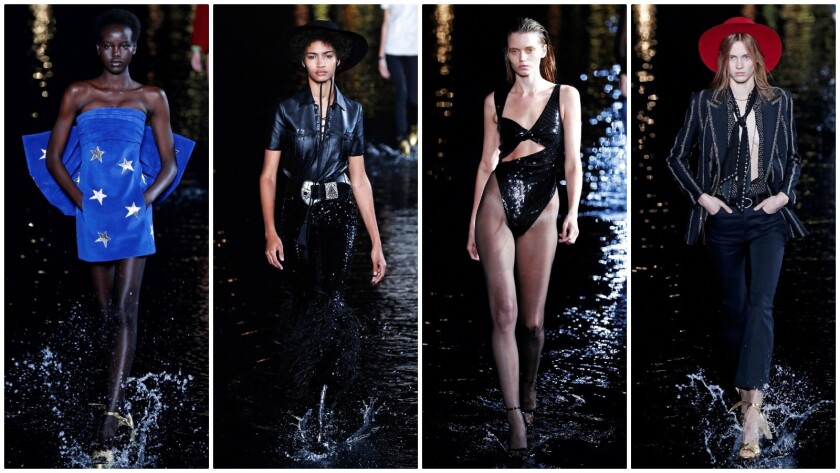 The non-swimwear offerings showed a good deal of skin as well, most notably crystal-encrusted mesh T-shirts, chainmail tops that jingled with paillettes the size of Susan B. Anthony dollars and skirts paired with nothing more substantial than feather-trimmed pasties.
Strip away these focus-pullers, though, and there were a lot of wearable pieces in creative director Anthony Vaccarello's latest collection for the house (maybe even more than in his last two collections combined).
And this time, he seemed to tap into a faintly western cowboy-but-not-quite-cowboy vibe, telegraphed by wide leather belts fastened with massive bejeweled buckles; wide-brimmed hats that cinched under the chin; and a recurring five-pointed star motif that, if you squinted at it just right, might possibly remind you of a sheriff's badge. The most memorably star-splashed piece was a blue strapless cocktail dress with an immense bow on the back.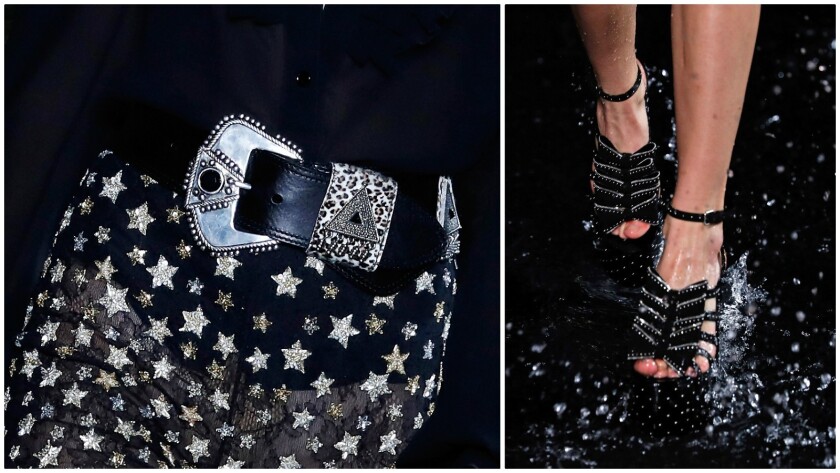 Below the country-and-western belt line was a mixed bag that ranged from super-skimpy denim cutoffs and wide-wale corduroy short-shorts (if the word "corduroy" ever had a chance at being in the same sentence with the word "sexy," this might have been it) to high-waisted, form-fitting trousers. Above the belt, the spring and summer 2019 collection was heavy on jackets: velvet marching-band jackets, suede jackets festooned with star appliques and gold lame varsity jackets to name just a few.
Notably, the collection was flush with ruffles and bows: animal-print scarves knotted at the neck, polka-dotted fabrics cascading from shirt fronts and sleeves ending in flourishes of fabric that cocooned the hands. Taken together with the velvet band jackets and the wide-brimmed hats, it was hard not to feel as if the ghost of Hedi Slimane, who left the creative helm of the house in early 2016 (and is showing his first collection for Céline here later this week), was hovering somewhere over the watery catwalk.
Proof, perhaps, that five seasons in, the Eiffel Tower isn't the only thing casting a shadow over Vaccarello's Saint Laurent runway.
For more musings on all things fashion and style, follow me at @ARTschorn
---