Paris Fashion Week: For spring and summer 2019, it's adieu ready-to-wear and bonjour easy-to-wear
Reporting from Paris —
From afar, the recently wrapped run of spring and summer 2019 women's shows here looked about as exciting as a box of Band-Aids, especially when compared to the bright hues that characterized last month's New York shows. However, what the Paris Fashion Week shows lacked in eye-catching color, they more than made up for in meaning, and they point to a palpable shift in what designers think women want — or should want — from a luxury-level wardrobe. From neutral shades that go with anything to garments that don't sacrifice comfort for couture-level craftsmanship, the defining collections of Paris Fashion Week recast ready-to-wear as easy-to-wear. Here's a closer look at the top trends that helped make that happen.
The neutrals zone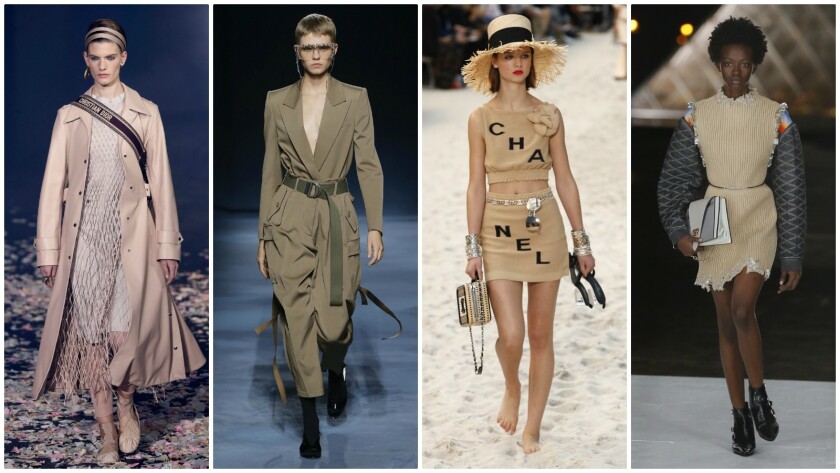 Although several collections served up bright, cheery colors (Thom Browne's seaside tossed salad comes to mind), neutral hues were the big color story here. Think lots of blacks, whites and, most notably, shades of beige, which filled the collections from Dior's dance-themed collection on Day 1 to Louis Vuitton's sci-fi-flavored closer in the courtyard of the Louvre nine days later.
Collections notably heavy on the khaki colorways included Chanel, where sandy shades of beige, taupe and tan approximated the colors of the seaside beach Karl Lagerfeld and company had built inside the Grand Palais (complete with lapping waves, thatched huts and lifeguard chairs); Givenchy, where the brigade of beige was a nod to the non-gender-specific uniformity of military dress; and Chloé, where variations of the color graced a range of free-flowing, easy-wearing dresses.
However, this fashion week's deepest bench of beige could be found in Maria Grazia Chiuri's après-danse collection for Dior, an assortment of bodysuits, tanks and jumpsuits "in an infinity of nude shades" (the brand's words, not ours) that stripped away eye-catching color in an effort to highlight the movements of the body.
Cargo (pocket) loading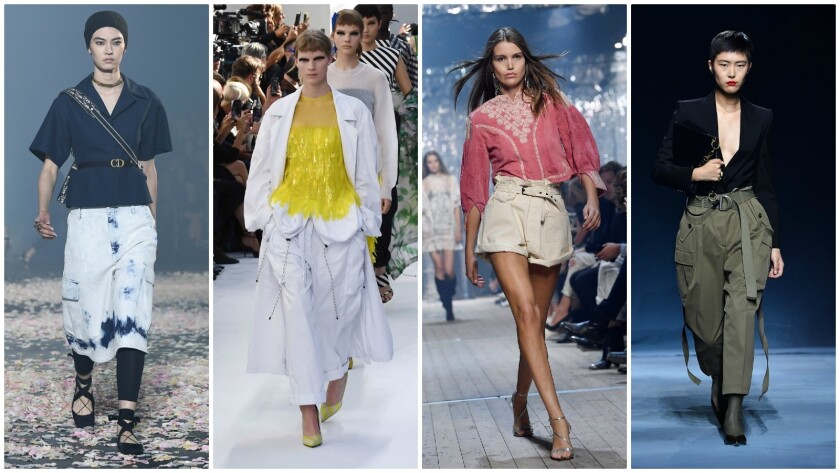 Silhouette-wise, the wide trouser leg that dominated the New York runways was in evidence in Paris as well, often in conjunction with a high waist, resulting in a more elongated look. It was an effect heightened more when paired with tops that dangled super-long sleeves. Gracing many of these pants, not to mention a range of shirts, vests and jackets throughout the collections presented here, was one of this fashion week's most curious trends: the proliferation of the cargo pocket.
At Dior, the large, flapped pockets gave a utilitarian military feel to shorts and blousy trousers. At Dries Van Noten, they gave an upscale workwear vibe to boiler suits, jackets and strapless dresses. And at Chloé, they graced upscale linen pants cinched with twisted silk lariat belts. Generous pocketry — cargo-style and otherwise — could also be seen on the runways of Isabel Marant (on boiler suits and washed-down and high-waisted denim trousers and shorts), Stella McCartney (where they took up residence on trouser-leg real estate south of the knee) and Sacai, where creative director Chitose Abe served up cargo-pocket vests in plaids and florals.
We're not exactly sure what's behind the big boom in cargo pockets for spring and summer 2019. One likely culprit could be the ubiquity of the iPhone and its ilk; although it could just as easily be a response to the recent spate of too-tiny purses. However, come next spring, women's wardrobes won't have any shortage of cargo space.
Gender blending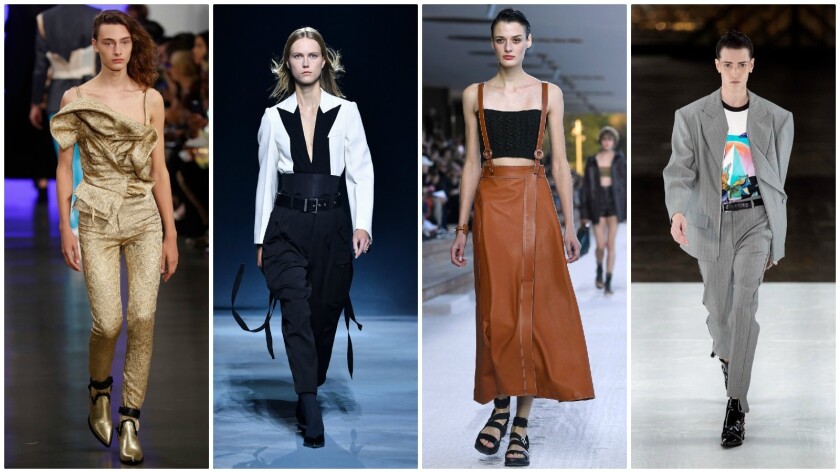 One of the most interesting trends of Paris Fashion Week was the embrace of gender fluidity and the blurring of distinctions between men's and women's wardrobes, a topic tackled pointedly on some runways and more subtly on others.
At Maison Margiela, creative director John Galliano symbolically combined his men's and women's spring and summer 2019 offerings into a "Co-ed" collection of genderless wardrobe staples, hinting in his show notes that breaking free from "binary stigmatization" was nothing short of mutiny. (It turned out that the clothes weren't the only thing doing double duty because the runway show and its #MYMUTINY hashtag served as a launchpad for Mutiny, Galliano's first fragrance for the house.)
The idea of rejecting a rigidly defined either-or wardrobe was also a key part of Hermès spring and summer women's offerings, where the collection's dual inspirations were maritime and equine and the standout silhouette was a body-draping dress inspired by a horse-groomer's apron and belted with boating rope. The question "Why choose between them?" in the show notes pertained specifically to picking the sailor or the saddler, but the sentiment was a powerful one: Why be forced to choose one over the other when it's possible to embrace both?
At Givenchy, where artistic director Clare Waight Keller has presented the men's and women's collections together since taking the helm three seasons ago, the idea of gender cross-pollination came by way of a collection inspired by the personal style of Swiss writer Annemarie Schwarzenbach (1908-1942).
"She was this spectacular-looking woman who just had this very unusual upbringing in that her mother never told her she had to be a boy or a girl," Waight Keller said of Schwarzenbach backstage post-show. "And so she really played — throughout her whole life — with this idea of being super-masculine or hyper-feminine and just really doing it in a way that was quite modest." Waight Keller said that designing for today's woman was less about creating armor and more about finding a way to instill strength from the inside.
"There's a sense of power in being who you want to be at any [particular] time in your life without having to be resistant to the way you look or dress," she said, "[and] to being able to play into that masculinity and still be hyper-feminine at the same time [without] losing any of your spirit or identity as a woman."
Body-con 2.0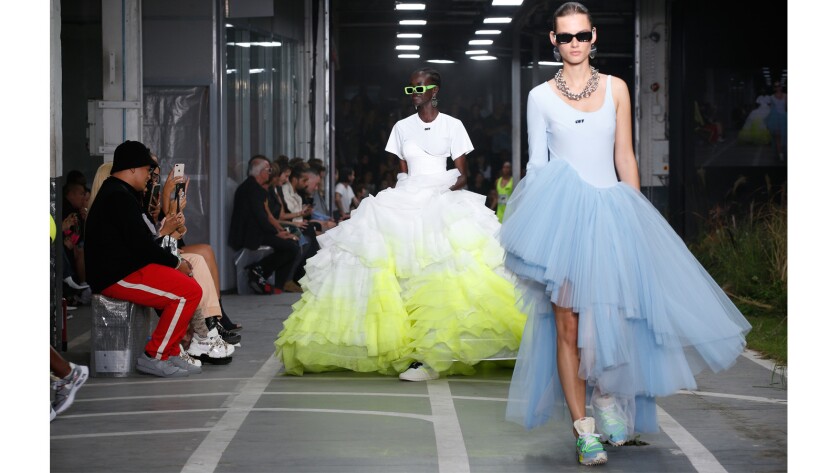 Classically feminine versus traditionally masculine wasn't the only binary wardrobe choice designers were trying to kick to the curb at the Paris shows. Several standout collections tried to marry luxury-level workmanship with silhouettes and fabrications that took the comfort of women's bodies into account. (Because the term "body-con" refers to something that's curve-hugging and form-fitting enough to make the wearer — and everyone else for that matter — conscious of the person's body shape, we'll call this body-con 2.0.) The two collections that really stood out were the aforementioned Dior collection, where an assortment of bodysuits and jersey dresses draped and swaddled the body and tulle-skirted dresses swapped out restrictive corsets for simple tank tops, and Virgil Abloh's Off-White, which took the notion of athleisure to a whole new level.
Off-White's track-and-field-themed collection included a collaboration with athletic wear brand Nike (a handful of Nike-signed track and field athletes walked in the show). The collection offered one-piece, body-hugging running suits (one memorably bearing corset-like details); cycling shorts and tops made from deconstructed and reworked Nike athletic socks; and running tops spliced onto yards of airy tulle, lace or organza. The most over-the-top look — a white gown that was T-shirt-meets-bustier up top and tiered organza on the bottom (the lower third of which had been dip-dyed neon yellow) — looked as if it could have been worn comfortably on the field of play just as easily as down the ESPY Awards red carpet.
Not forcing 21st century women to choose between style and comfort may seem like a no-brainer, but a snippet of conversation overheard outside the penultimate runway show of Paris Fashion Week hammered home the reality that exists for so many women.
"I can't wait to get out of fashion and into something comfortable when this week is over," one woman said to her friend. "I'm going to wear nothing but sweatpants for 10 weeks."
For more musings on all things fashion and style, follow me at @ARTschorn
---