Philipp Plein's New York Fashion Week debut includes Jeremy Meeks, the Naked Cowboy, Tiffany Trump and Madonna
Reporting from New York —
Give designer Philipp Plein credit where credit is due. The man knows how to make an unforgettable first impression. To mark his New York Fashion Week debut on Monday night, the German-born, Switzerland-based designer, who traditionally presents his collections in Milan, turned the foyer of the New York Public Library into a deliciously bizarre, living, breathing repository of 21st century American popular culture, complete with a star-spangled building facade, entrance steps lined with a dozen living, breathing, torch-wielding, all-green Statues of Liberty, an Elvis impersonator (Jay Allan) and the Naked Cowboy (the underwear-wearing, guitar-playing stage name of Robert John Burck), thrown in for good measure.
Just inside the front door, Plein assembled one of the most eclectic front-row lineups of all time: Madonna and photographer Steven Klein sat cheek by jowl with Kylie Jenner and Tyga, while Paris Hilton and sister Nicky Hilton Rothschild were perched not far away. Diagonally across the runway was Tiffany Trump under the watchful eye of her Secret Service detail — and less than a half-dozen seats away from rapper Fat Joe. And that doesn't include the high-profile folks who would eventually (more than an hour after the scheduled start time) hit the runway on Plein's behalf. Among them were Jeremy Meeks (also known as the "Hot Mugshot Guy" who became an Internet sensation), New England Patriots' wide receiver Danny Amendola (fresh off his Super Bowl win), Sofia Richie, top-hatted and masked graffiti artist Alec Monopoly, photographer Sebastian Faena and rappers Young Thug, Desiigner and Fetty Wap.
When the show did finally start, it was kicked off by rapper Nas who took Plein on a sort of pre-show victory lap around the room; their arms slung over each other's shoulders and convivially slapping hands with front-row VIPs.
In a rambling, two-minute address, Plein, who has a Beverly Hills store on Rodeo Drive, repeated (but didn't actually answer) the question scrawled across the look books at each seat ("Who the ... is Philipp Plein????"), thanked the crowd and voiced his resolve to "make New York Fashion Week great again," presumably by welcoming him with open arms. (We get that it was one of the week's many riffs on President Trump's "Make America Great Again" slogan, but it's hardly the kind of shade-throwing likely to endear him to the local fashion community.)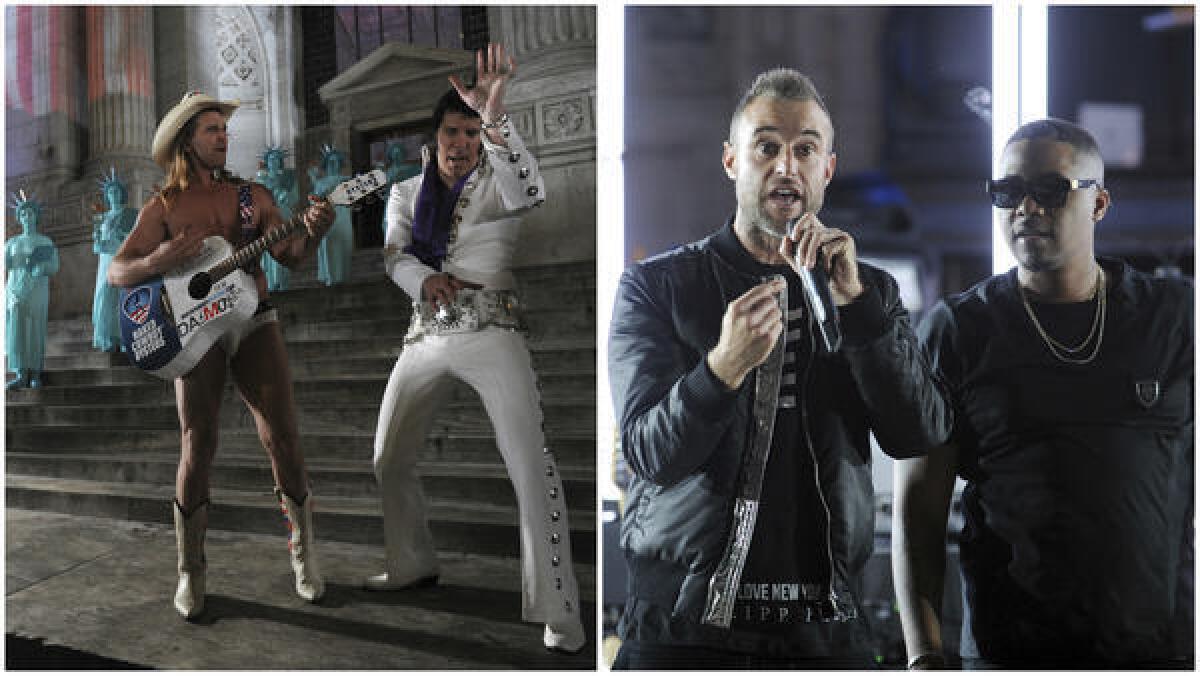 The men's and women's fall/winter 2017 runway collection that followed, accompanied by live music courtesy of the Kills, was grounded in a palette of black with pops of red and white accent colors. It was heavy on the shiny puffer jackets, some in shiny metallics and others with fur-trimmed hoods, many long enough to touch the floor, some tightly cropped at the rib cage.
There were bomber jackets (some with random teddy bear appliqués on the back), sequin-covered dresses (one memorable black dress had a fishtail hem that was embroidered with orange and red sequin flame details), distressed and bedazzled denim, screenprinted T-shirts (several bearing the image of an upside-down American flag), turtlenecks, thigh-high lace-up suede boots and the name Plein plastered across piece after piece in sequins or crystals.
The words "Neighborhood Kings" were nearly as ubiquitous, rendered in a typeface that could have been plucked right off the cover of a 1990s heavy metal band.
The collection was full of prints and patches that referenced the United States in general (the eye-and-pyramid design from the $1 bill appeared as an allover print; the Great Seal of the United States was tweaked to include Plein's name on T-shirt prints) and New York specifically via patches shaped like the Statue of Liberty silhouette with the phrase "An Empire State of Plein" emblazoned across a handful of pieces).
According to the post-show notes, the collection was intended as the designer's personal "love letter to the neighborhoods of New York," though in all honesty the vibe we were feeling was more along the lines of Liberace-level Goth-luxe streetwear, and we haven't spent enough time in New York to know what neighborhood that would be, though it most certainly would include a New York souvenir shop.
Although it's hardly our cup of puffer jacket, the over-the-top, Chinchilla-and-sequin-trimmed collection seemed in keeping with the designer's Fashion Week debut, and it certainly went a long way toward answering that original question.
Aesthetic-wise, it would have been all but impossible to leave the New York Public Library on Monday night without knowing exactly who the heck Philipp Plein is.
For more musings on all things fashion and style, follow me at @ARTschorn.
ALSO:
Politics and protest are on trend at New York Fashion Week
Raf Simons' debut at Calvin Klein is an homage to America — warts and all
It's a run for the roses during day one of New York Fashion Week