New York Fashion Week: Prabal Gurung's prayer-flag-colored collection adds menswear to the mix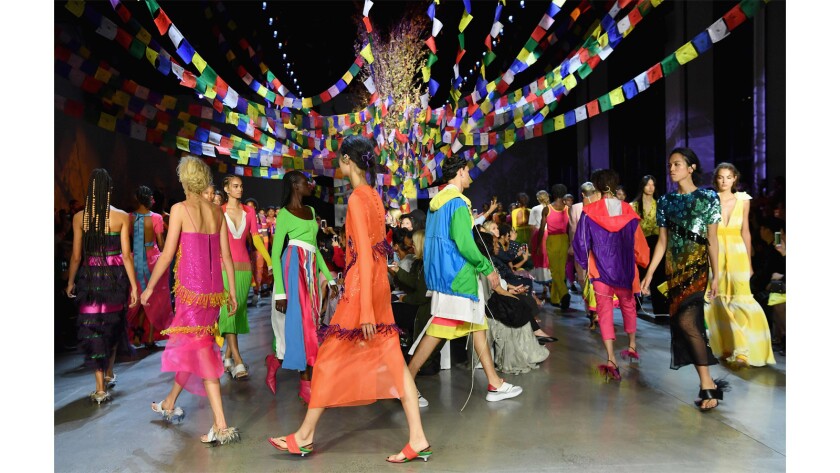 Reporting from New York —
First, an up-front confession: Prabal Gurung's spring and summer runway collection had me in tears long before the first look hit the runway. That's because the ceiling of the venue had been strung with more than a dozen Tibetan prayer flags — rectangles of blue, white, red, green and yellow fabric — meant to symbolize health and harmony.
Two strings of such flags had fluttered through my life recently; one stung between garden fence posts at my family's Vermont homestead during the last years of my dad's life; another between a couple of office cubicles in The Times' former downtown L.A. offices before the newspaper pulled up stakes and relocated its headquarters to El Segundo. In both cases, the colorful flags came to represent — at least for me — moments of great transition and change.
While Gurung didn't address the presence of these flags directly (the show notes cited the Nepalese Rana Tharus tribe as inspiration), the collection that came down the catwalk was rooted in the same color palette as the flags (with some signature Prabal pinks and bright oranges thrown in for good measure) and marked a transition point for the brand with the introduction of menswear.
Overall the collection was heavy on bold colorblocking, abstract florals and rib-knits; with standouts on the women's side including the show opener — a lemon yellow rib-knit bodysuit with fuchsia-tipped sleeves paired with a peridot green silk-chiffon skirt trimmed in fuchsia silk — and a blue, white and yellow ombre cashmere hoodie paired with indigo denim jodhpur pants embellished with ostrich feathers.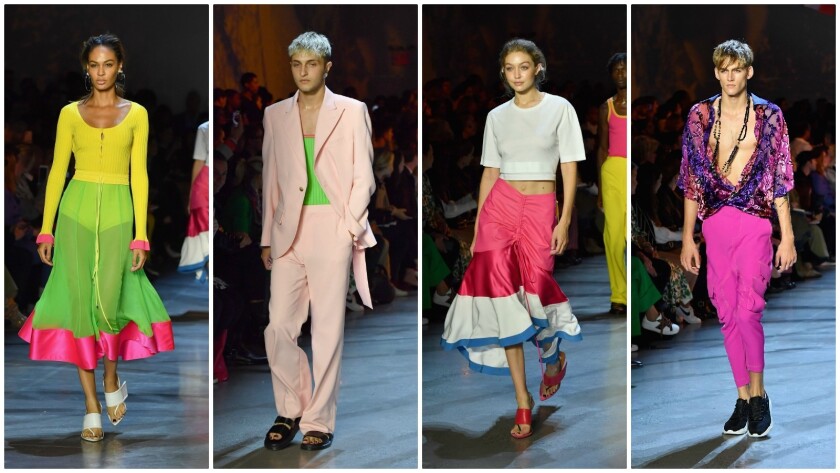 Memorable men's looks included a rose-colored suit with flare-legged trousers and a single-breasted jacket worn over a peridot green rib-knit tank top and a purple, stylized bowling shirt and cargo-pant ensemble.
Thanks to the abundance of red, white, yellow and blue colorblocking, a few of the vertically striped pieces called to mind (unintentionally, we presume) Hot Dog on a Stick uniforms, but those were the rare exception to a runway full of beautiful, joyous, colorful clothes that, at the runway finale, seemed to flutter like the Tibetan prayer flags overhead, a sartorial symbol of health and harmony if ever there was one.
For more musings on all things fashion and style, follow me at @ARTschorn
---