A Parisian pop-up, lab-grown diamonds and 18 limited-edition hobo bags
A spot of Parisian elegance arrived in Culver City earlier this month with the opening of a pop-up shop from fashion brand Rouje Paris. Founded in 2016 by influencer, model and "It" girl Jeanne Damas, the French brand is known for its breezy dresses, basket-style bags and matte lip colors.
Damas described the 617-square-foot Culver City outpost as "reimagining a Parisian artist's atelier infused with our French flair, with unframed artwork hung on the walls and vintage-inspired furniture."
The L.A. area, she said, was an obvious choice for her first U.S. retail moment. In late March, the brand opened a corner spot in Galeries Lafayette in Paris.
"When looking to select a city for my first pop-up store in the U.S., I knew I wanted to start with Los Angeles," she said. "L.A. has everything that Paris doesn't — large spaces, the sun, the sea. The city is the perfect dreamy background for our first Rouje store."
Inside the pop-up, shoppers will find a selection of spring/summer styles, including the best-selling Gabin dress, a wrap-front short-sleeved dress in floral prints, and the leather J bag. Prices range from $29 to $300.
Rouje pop-up, Platform, 8850 Washington Blvd., Culver City, through June 30, rouje.com
The Sak
To celebrate its 30th anniversary, the Sak has released limited-edition varieties of its original 120 Hobo style. The 18 iterations are handmade by Balinese artisans and are "a nod to our heritage and the first bag that really put the Sak on the map," said Mark Talucci, chief executive of the brand, which began in San Francisco and is now headquartered in New York.
The initiative, he said, was to "honor and support the women of Bali … [and] marks a commitment to sustainability, fair trade practices and an extension of our charitable efforts."
Each hand-crocheted bag, priced at $129, takes three days to make. Styles in the line include the Ragam (the Indonesian word for "diversity"), which Talucci said "celebrates Bali's rich multicultural identity." The Water style features natural rope and a handmade macrame fringe panel. Overall, the bag styles are casual and made from natural materials such as bamboo and cotton. Talucci said he worked with the brand's in-house design team on the patterns, which were sent to the artisans to work from. The capsule collection will be available through 2019, with additional pieces being unveiled each season.
The Sak, thesak.com and macys.com
Âme
In keeping with the trend in lab-grown diamonds for which Penelope Cruz and Meghan, Duchess of Sussex, have proclaimed their support — New York-based brand Âme opened a Los Angeles location on April 12 at Westfield Century City shopping center.
Employees at the 1,075-square-foot store are on hand to educate shoppers about lab-grown diamonds, which creative director Elinor Avni said have no real difference from conventionally mined stones other than the speed at which they are produced.
"The conditions that make it happen underground over millions of years are recreated in a lab," Avni said. "It's a complex, expensive process, but it takes just a few weeks."
She said the shift toward ethically sourced, conflict-free stones is driving interest in the brand. In addition, Âme pieces have a streamlined aesthetic designed for everyday wear, meaning they aren't so blingy that they can be worn only on special occasions.
"Âme is making fine diamond jewelry wearable," she said. "It's about a transformation from the kind of pieces that are mostly kept in a safe to those that can be worn every day."
Avni noted that the laborious process by which lab-grown diamonds are made doesn't make them inexpensive. Prices in the Âme line start at $850 for a single ear cuff to $19,500 for a bracelet containing more than 5 carats of diamonds. The pieces — earrings, rings, neckwear and bracelets — are designed with a modern, spare aesthetic. For example, a open-ended octagonal pendant is studded with small baguette diamonds.
Âme, Westfield Century City, 10250 Santa Monica Blvd., Los Angeles, ame.jewelry
Warby Parker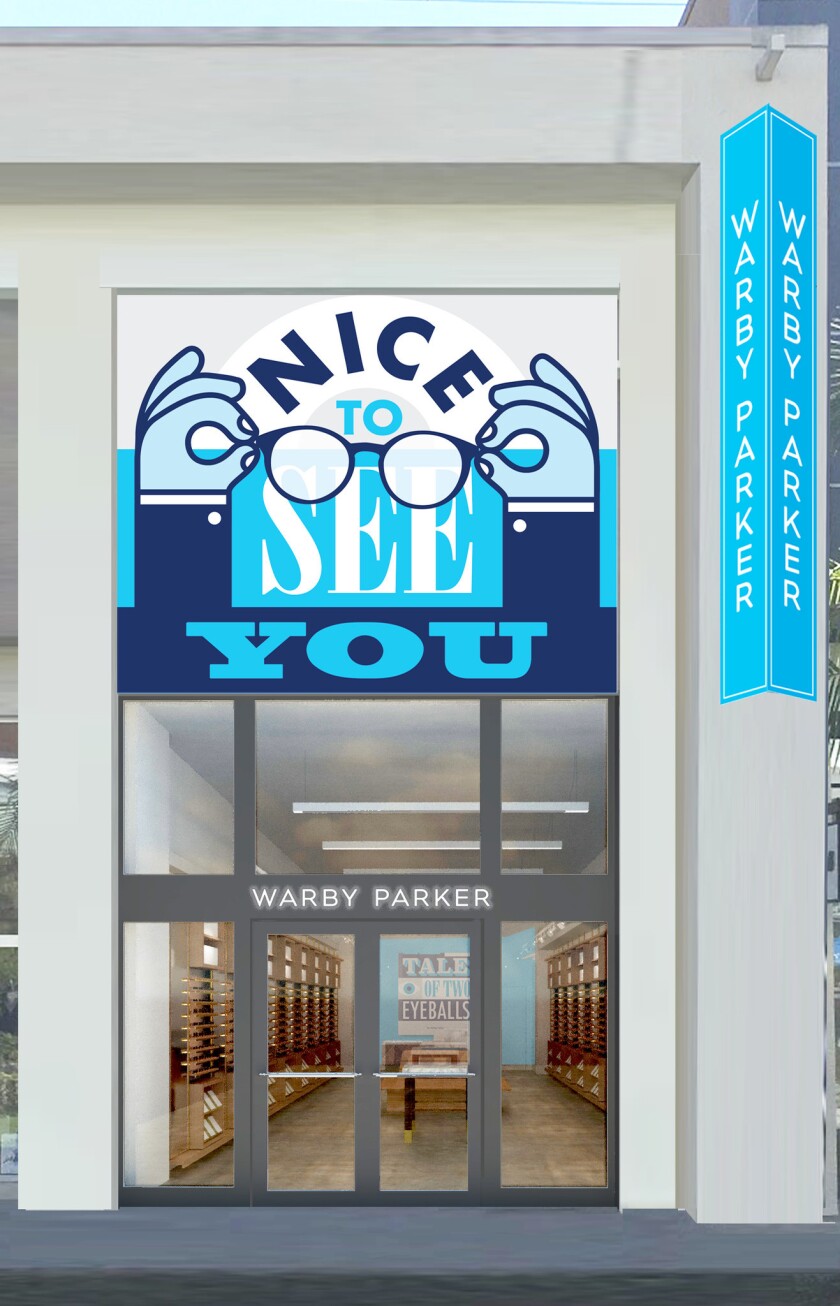 Eyewear brand Warby Parker continued its expansion drive in the Los Angeles market with the opening of its newest local store in El Segundo last month. The interior and exterior of the boutique are decorated with works by artist Jeff Canham. (A bold blue "Nice to see you" sign is painted as a welcoming mural above the entrance.)
The new store features the brand's latest offerings, including its Butler style for spring/summer 2019, an oval frame made from hand-polished cellulose acetate in colors such as butterscotch tortoise or shoreline fade. (Eyewear is priced from $95.) The store is also debuting select Warby Parker frames for children: Jr. Jr. is for children ages 4 to 7 and Jr. for ages 8 and older.
Warby Parker, the Point, 850 S. Sepulveda Blvd., El Segundo, warbyparker.com
For fashion news, follow us at @latimesimage on Twitter.
---