True to form, singer Rita Ora was wearing a pair of vertiginous vinyl sandals, which she'd paired with a leopard- and zebra-print minidress from Dundas. "I live in shoes like this," she said, gesturing at her feet.
Ora was on her fashion game in a small, private lounge hidden deep inside Saks Fifth Avenue's Beverly Hills flagship store late last month to talk about a new footwear collection she's created with Italian shoe designer Giuseppe Zanotti. At her side were Zanotti and an interpreter (for Zanotti's benefit). After being asked a question about comfort — and being comfortable, she said while laughing: "Dare you ask. God forbid!"
The British pop star is rarely seen in anything but the highest of heels, which largely explains her new collaboration with Zanotti, whose label is synonymous with red carpet-worthy sexy stilettos.
Getting serious, though, Ora acknowledged that "comfort on stage is important" to her, saying she wouldn't want to risk an injury mid-performance. Off-stage, however, is a different story. She is prepared to make sartorial sacrifices. "I take risks," she said about her looks. "I love fashion so much that off-stage I'm, like, 'You know what? It's fine if I can't breathe for a few hours.'"
Her vision for the footwear collection, which is sold at Saks, Neiman Marcus and Nordstrom and on the Giuseppe Zanotti website, was to give fans a glimpse into her private life through fashion.
"So there's like a story line, like, when it's on the shelf," she said, motioning to the wall of shoes behind her. "You see the pop star and the glamorous red-carpet version and the traveling woman and the streetwear kind of woman."
Occasionally her lifestyle does involve trading stilettos for rather more comfortable slippers, which is why she has thoughtfully included two pairs of flats in the collaboration: one in clear PVC and the other in patent leather. "I travel all over the world," she said. "Like, today I'm going straight to Chile after this. That's a 13-hour flight so I'm going to get into my slips."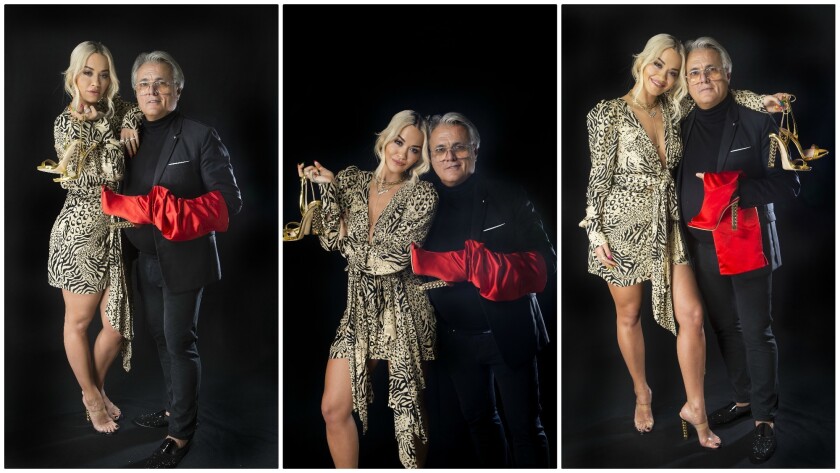 The singer and the designer first drifted into each other's orbit last year when Ora, a longtime fan of Zanotti, commissioned some custom designs for her tour. "We ended up meeting in the summer and in my head I was, like, 'We're gonna get along,'" she said.
Zanotti agreed. "The chemistry is the most important thing," he said, clearly charmed by the 28-year-old singer, who as a baby fled Kosovo with her family before eventually settling in London. "She's not a normal woman," Zanotti added in his Italian-accented English, causing Ora to raise her eyebrows playfully in mock horror. "She's crazy, a little bit, but positive," he continued as Ora nodded along in agreement. "And never satisfied: She wants more fashion."
"That's true," she said.
For convenience the duo met in London — Zanotti is based in Italy — where they discussed ideas for their collection and "played with the elements — with the silk, with the accessories," Zanotti said.
"I said to Giuseppe, 'I love gold. I love the Cuban link,'" Ora said. "I've got lots of jewelry that's thick chains, and I wanted to put that energy and that kind of power across in the shoe." The designer turned out a flurry of sketches on the spot.
The result is a women's capsule in an array of reds, golds and blacks with each shoe featuring gold chain-link detail. Although it includes flats, the collection is dominated by heels. There are thigh-high leather boots, T-bar stilettos, slouchy satin boots with peep toes and strappy sandals.
"At the end of the day, girls want to feel sexy," Ora said unapologetically. "When you're putting on a pair of heels, you're not doing it for no reason. You're doing it because you want to feel glamorous. You want to feel sexy and you want to feel like an elevated version of yourself."
As well as partnering with Zanotti, Ora became a brand ambassador last month for Escada, for whom she has customized a bag. Does she ever worry about fashion industry insiders who are critical of celebrity style collaborations? "I think that used to be the opinion that people had," she said. "I think that time has just changed and that collaborations are more exciting than ever because you bring in so many different factors and so many different audiences."
A palpable way celebrities bring in an audience is through social media. Although Ora took a six-year musical hiatus between her debut and sophomore albums (the latter, "Phoenix," was released last year), she has maintained a healthy presence online, boasting more than 20 million combined followers between Twitter and Instagram. "Social media is the most important political arm in the world," said Zanotti, whose brand, which also makes men's and children's shoes, has 4 million Instagram followers. "It's very important. We need to be connected with this world."
Robert Burke, a former senior vice president at Bergdorf Goodman who now runs a New York-based fashion consultancy, said that for designers, the lure of celebrity and brand partnerships is often because of social media. "They reach a new audience through a celebrity," he said. "The traditional way of a designer designing shoes and selling them to department stores can take a great deal of time. This immediately connects them to a much broader customer base."
That much was evident at Saks' Beverly Hills store, where Ora and Zanotti exited post-interview to the first floor to sign shoes for a queue of fans, predominantly women who appeared to be in their 40s and 50s. Among the first in line was Janelle Carlin, who was once married to Oscar-winning actor Richard Dreyfuss. Carlin, who said she's a fan of Ora and Zanotti, purchased a pair of $995 red slingback sandals, which she planned to pair with an Alexander McQueen dress, for her 54th birthday party the following week at 71 Above in downtown Los Angeles. "I thought the chunky chain and her sex appeal and his beautiful craftsmanship just made a really nice combination," she said.
Noticeable by their absence, however, were Ora's younger fans, who have likely been priced out of the collection, which ranges from $795 for slippers to $2,495 for over-the-knee boots. Still, for luxury designers such as Zanotti, there is real value in having celebrity collaborations.
"There's success in sales and success in exposure," Burke said. "Reaching a new audience is a big measure of success — and creating long-term desire and a new customer base." And as for the future of these celebrity-brand match-ups, he added, "There's no doubt it will continue."
For fashion news, follow us at @latimesimage on Twitter.
---