Tattoo artist Scott Campbell leaves New York for L.A. and opens a tattoo shop and luxury cannabis brand
Scott Campbell began tattooing for the freedom. It allowed him to live in Tokyo, Paris and Madrid, among other places. "And then I found New York. And New York was the one place where you could sit still and still feel like you're moving," said Campbell, 40, at his personal art studio on 6th Street in downtown Los Angeles. "I love this neighborhood. It's like Brooklyn 12 years ago. It's pretty great."
Campbell moved to New York in 2000, but the thriving creative community he fell in love with there has dwindled, he said, and the city has "priced out all the weirdos."
"In New York," he said, "a lot of people are collecting for the investment of it, and they'll buy artwork and put it directly into storage, whereas in L.A. people hang it on a wall. And it has a life."
After spending several winters in L.A., Campbell decided to move to the West Coast. He opened the Southern California version of his New York-born Saved Tattoo studio earlier this year at the new Shinola store on East 3rd Street in the Arts District. (New York eatery the Smile's Di Alba cafe is a neighbor in the space.) The hidden tattoo shop, at the rear of Shinola, has a brick wall featuring a skull painting by Campbell, exposed beams and a skylight, as well as artwork by the other tattoo artists.
Tattoo artist Stephanie Tamez, who became co-owner of Saved Tattoo in Brooklyn in 2012 and has known Campbell for 16 years, said she wasn't surprised when she learned he was moving to L.A. That's because Campbell often traveled between coasts, and Campbell's wife, Lake Bell, is an actress and director. Now Saved Tattoo has artists on both coasts.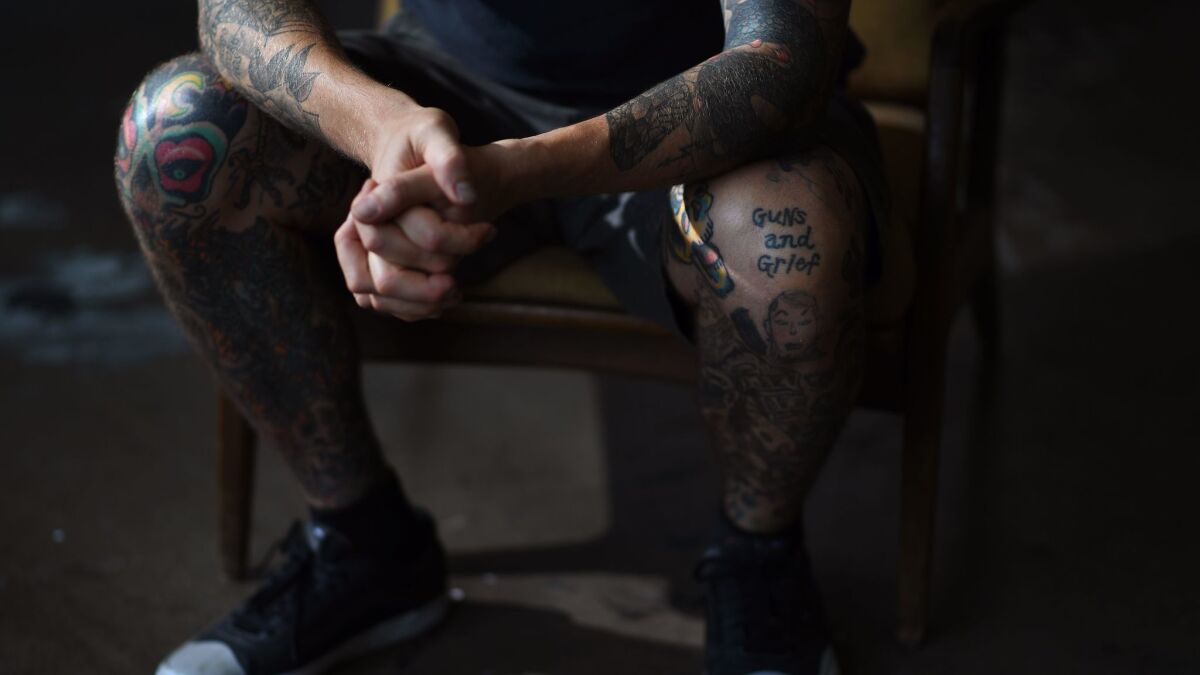 The New York location remains open, but Campbell, Bell and their children appear to be in L.A. to stay. Campbell has set up the new tattoo shop like a co-op, where six artists pitch in to pay the rent but no one makes money off anyone else.
"I don't want a shop to make money," said Campbell, also a co-founder of cannabis brand Beboe, named after his grandmother, who made marijuana brownies for his mother while she battled cancer. (Campbell's mother died when he was 15.) "I want a shop to have a community of people I'm inspired by [who] I enjoy working with."
Nate Kostechko is one of those artists. Kostechko said he got to know Campbell when he started working at Saved Tattoo in New York in 2012. "His vision is always amazing," Kostechko said.
The tattoo artist worked at Memoir Tattoo in L.A., a job he said he wouldn't have left unless it was to work with Campbell. Other artists at new location include Sean Williams, a.k.a. Sean From Texas, Tati Compton and Derrick Snodgrass. (A sixth station is usually open for guest tattoo artists, Campbell said.)
From November of last year to this February, Campbell, who has collaborated with Louis Vuitton on bags, rented a studio across the hall from his art studio so those tattoo artists could work until the permanent shop opened.
"By the way, construction in L.A. is a nightmare," Campbell said last year. "Getting permits here is out of control. … L.A. is just not equipped to handle the growth it's going through right now."
Campbell's journey hasn't been solely an artistic one. Although Campbell was interested in art, he had taken refuge in science — something that was 100% real. He said it took time to come to the conclusion that emotional truths are just as important as scientific ones.
Before Campbell had ever tattooed Marc Jacobs, Robert Downey Jr., Johnny Depp, Jennifer Aniston or Heath Ledger or pursued painting and sculpting, he almost went an entirely different route. At one point, Campbell, who's best friends with Justin Theroux, was considering a career in biochemistry.
I was either going to be a homeless guy drawing pictures or I was going to figure out a way to make money at it, and tattooing is where I ended up.

— Scott Campbell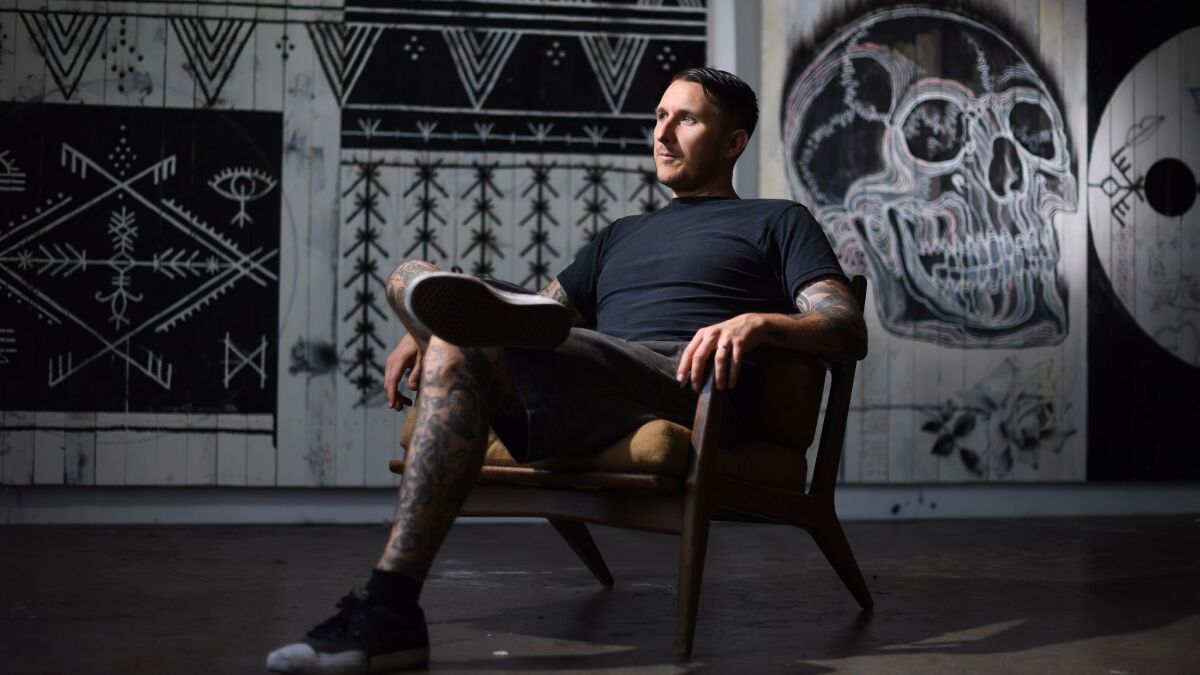 With the desire to make something with his hands every day and not having the attention span of a scientist, Campbell, who spent his younger years in Louisiana and Texas, left the University of Texas and moved to San Francisco, where he began working at a publishing company. Then he started tattooing.
"I was either going to be a homeless guy drawing pictures or I was going to figure out a way to make money at it, and tattooing is where I ended up," said Campbell, who created Saved Wines (he also designed the wine label's labels) with winemaker Clay Brock and released a brass corkscrew last year that he designed in collaboration with Shinola. "I allowed myself to process emotionally the stuff that had happened to me and became someone who would interpret other people's emotional situations and carve it into their arms."
Campbell said a tattoo is a small representation of who a person is on the day that they get one — whether the tattoo is a dolphin someone gets on spring break or an image or phrase that has deeper meaning.
As an angsty, suburban 16-year-old, Campbell, who grew up in a conservative household, took $25 and a fake ID to get his first tattoo. He could afford a skull or a butterfly tattoo at a Houston tattoo shop.
"I was, like, 'All right, I'll take a skull,' kind of understanding that if I said, 'Butterfly,' I would have gotten beaten up," Campbell said.
Getting a permanent skull on his leg was a way of having control during a time when it appeared that so much in his life was out of his control. Reflecting on his experiences, Campell said it's fairly common to see people getting tattoos when they're going through times of transition.
"It's a way of saying, 'With everything that is going on, I'm going to decide that this is going to be on my arm. I'm going to make this decision today that will affect who I am for the rest of my life,'" he said. "And there's a real power in that. There's a real encouragement and strength that comes from realizing that you're the one who's steering this whole thing."
I was, like, 'All right, I'll take a skull,' kind of understanding that if I said, 'Butterfly,' I would have gotten beaten up.

— Scott Campbell
That's until you're not fully in control. In November 2015 and again last summer, Campbell was the tattoo artist in residence for his Whole Glory project, in which people entered themselves into a drawing to be tattooed by Campbell through a hole in a makeshift wall. Participants had no say on what the tattoo would be and didn't get to meet the tattoo artist beforehand.
"I would kind of make up stories in my head about who these people were," said Campbell, adding he might revive the Whole Glory project at a later time after having events in Moscow, London, New York, L.A. and Miami.
Looking back on the project, Campbell said he couldn't tell much about the people on the other side of the wall from seeing just one limb. He could tell gender and gather a few clues from the jewelry a person wore, the person's nail polish or another tattoo.
In New York, an arm came through the hole that caught Campbell off-guard. From the knuckles to elbow, old burn scars covered the dark skin of a man who was probably in his 20s.
"All I could think about was how painful whatever happened was and how painful even just the stigma of being a kid covered in burn scars — what that does to a kid," Campbell said. "I just wanted to make something sweet and beautiful for him to acknowledge whatever he had gone through." The man left with a flower tattooed on top of his scars.
For fashion news, follow us at @latimesimage on Twitter.
ALSO
Kendall Conrad, Lena Wald and Outerknown's John Moore tapped for Wear LACMA's spring 2017 collection
Annual Step Up luncheon honors the cast of 'black-ish,' raises $425,000 for mentorship programs
Hollywood heavy hitters help the homeless take wing with the 16th annual Chrysalis Butterfly Ball
---