Selena Gomez shows off her 'playful side' with her new Coach collaboration and L.A. pop-up shop
Selena Gomez can now add clothing designer to her expansive resume. The singer, actor and television producer recently collaborated with Coach on a capsule collection that includes sweaters, cardigans, windbreakers, hoodies, a camisole, a slip dress, a lace skirt and trousers in addition to handbags, wallets and accessories.
"I am really proud of this line," Gomez, 26, said Tuesday. "It represents my fun, playful side." Although she designed a collection of handbags for Coach last year, this is her first foray into ready-to-wear with the brand.
Gomez, who signed on as the face of Coach in 2016, said the new collection is a natural progression of her relationship with the brand. "It feels so organic," she said. "I know it sounds like such a cliche, but I feel like Coach has become a part of my family. So doing this line felt natural."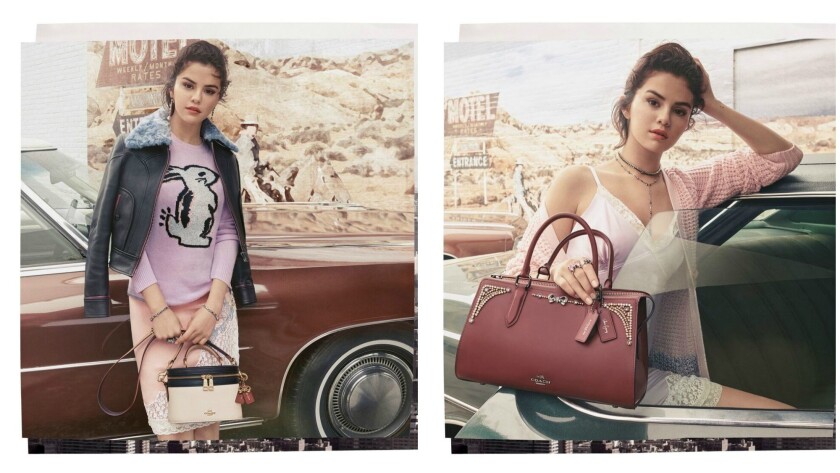 Although the new collection is available on Coach's website, www.coach.com, Angelenos are in luck, because Coach opened a pop-up shop at the Grove in Los Angeles earlier this week, and it will remain open through Monday. Before a Wednesday meet-and-greet at the shopping center, Gomez said she couldn't wait for her fans to see the collection, which was more than eight months in the making.
She said that she wanted to create a line that was "empowering, sophisticated and fun" and that she hoped those themes were reflected in the collection's aesthetics. "It took, maybe, six design sessions," she said of collaborating with Coach's creative director Stuart Vevers. "We sat down and we had pictures and different ideas, different themes. At one point, it had a little bit more of a streetwear [vibe], and I think, maybe, we're going to save that idea for later."
Asked if that meant a streetwear-influenced second capsule would roll out later, Gomez said, "I definitely am open to doing something with Coach."
The new collection, which embraces lilac, lavender and soft blue tones, includes a small leather case for $75, a slip dress for $495 and a black leather jacket with blue faux fur at $1,095, the latter of which is Gomez's favorite piece. "It's a go-to, every-day jacket," she said. "It could look great with a dress or a skirt or leather pants."
She called a black belt bag with a bunny motif from the collaboration "super classic" and added that she recently paired a lace skirt from the collection with a white top for a friend's birthday dinner.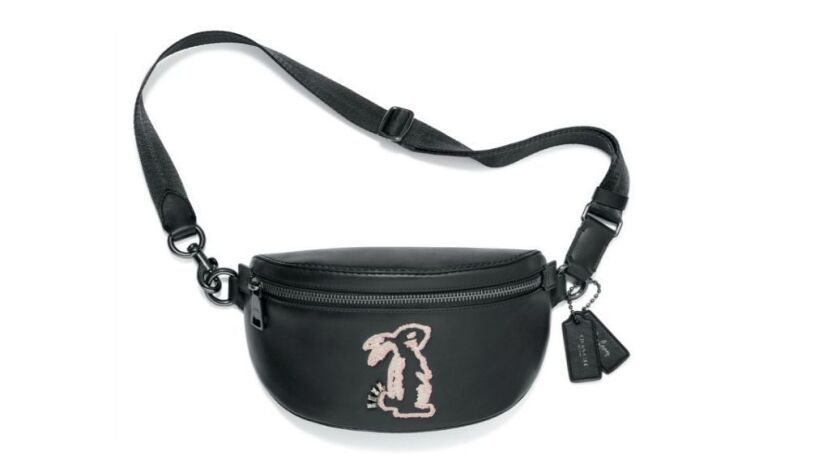 As for the mysterious bunny emblem on numerous pieces, Gomez said the detail was an homage to stuffed animals and safety blankets. "It's my favorite thing I added," she said, sharing that the bunny was based on her favorite travel companion.
"Anywhere in the world, it doesn't matter where I am, I love having a blanket that smells like my home," Gomez said. "And I know that may sound super childish, but it feels nice to have something simple from home when I'm on an airplane or in a hotel room. It makes me feel good, and I think the past year or two has just been me doing my own thing. And it makes me feel like a kid."
Although Coach's Vevers was unavailable for comment for this story, Gomez said her love of the fashion designer extends beyond their working relationship. "My favorite, favorite, favorite thing about Stuart — besides him brilliantly doing what he does so well — is that we're actually the same people when it comes to being awkward at red carpets," Gomez said with a laugh. "It's so funny. We have that in common, and that bonded us completely."
However, the former Disney star is no stranger to the red carpet, having walked her first at age 15. "It's like looking at a yearbook and going back and seeing what you used to wear," she said as she reflected on her previous looks. "It's more than just an outfit. It represents a time in your life."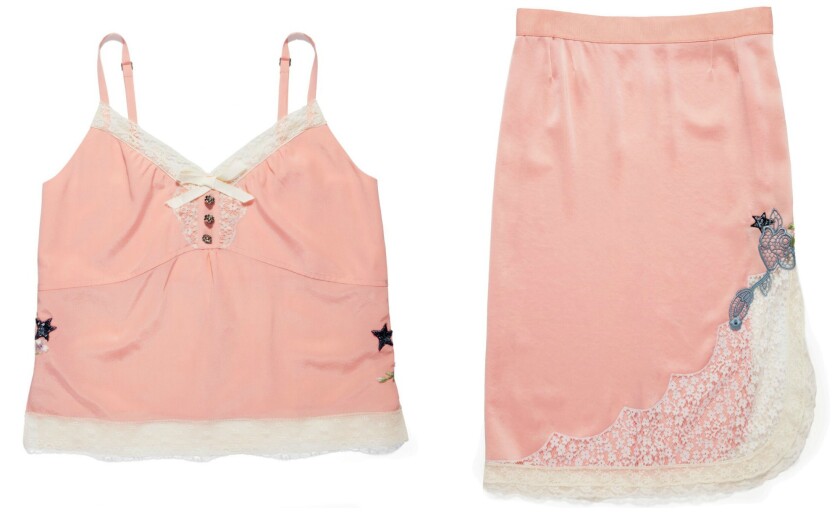 Gomez said her style today differs depending on the setting. "[What I wear on the] red carpet and onstage is completely different, compared to who I am normally," she said. "When I'm on red carpets, essentially, it's a job, but at the same time, it's an art, so I respect the art of fashion." She said she prefers streetwear — think gray sweats paired with a sports bra — for her daily life. That might be why she's also releasing a small collection with Puma called Defy X SG later this month.
And what else is next for the star? Gomez said that new music is coming soon but that a release date and album title haven't been announced. "I've spent about three years putting this record together," she said. "I'm so eager to share everything I've been hiding away working on."
Gomez said she plans to focus on another personal part of her life to close 2018. "My main focus for the rest of the year is my humanitarian work," she said, adding that she has been working closely with A21, an organization that fights against global human trafficking, for the last six months. "I'm going to be doing more trips with them, because it's something that people, obviously, are aware of, but I don't think they understand how brutal it is."
Gomez said she ultimately enjoys staying busy — whether it's philanthropy work or designing. "I don't really feel like I'm confined to one thing," she said. "I really enjoy doing all of it. I'm really blessed to be able to do that."
For fashion news, follow us at @latimesimage on Twitter.
---