In the Serena Williams catsuit kerfuffle, the real problem isn't the dress code, it's the word 'respect'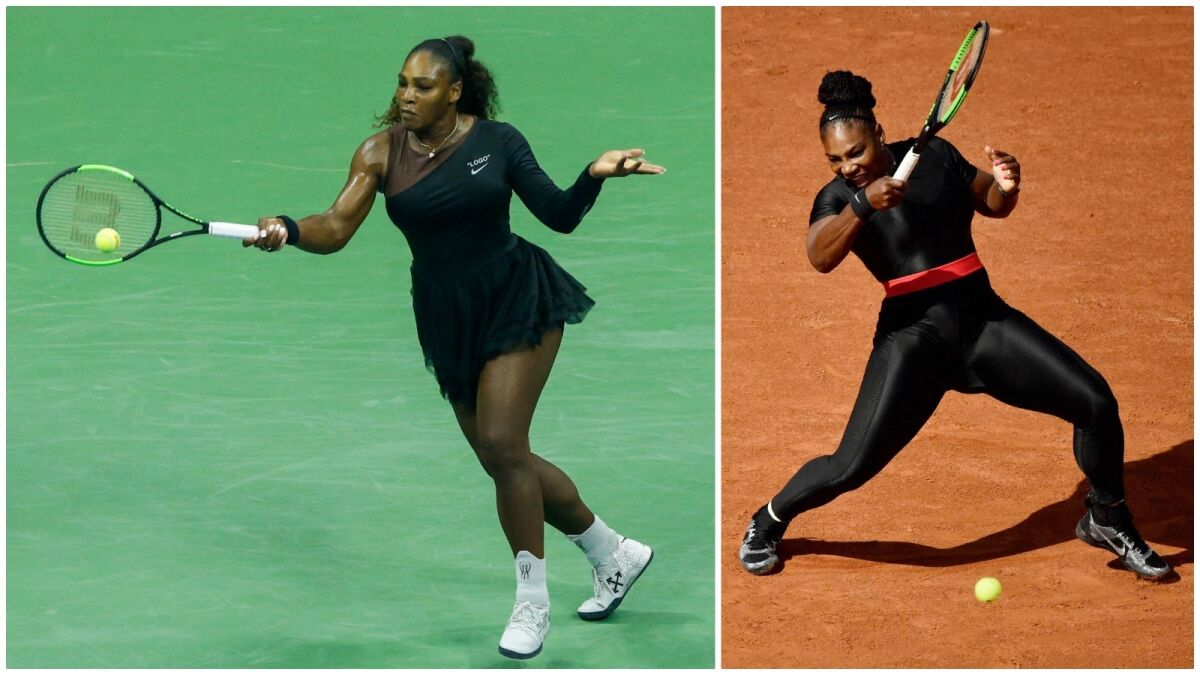 The catsuit kerfuffle goes something like this: Tennis star and new mom Serena Williams wears a black Nike catsuit-like outfit to the French Open in May. Williams posts a picture of herself in said catsuit to Twitter, saying "Catsuit anyone? For all the moms out there who had a tough recovery from pregnancy — here you go. If I can do it, so can you. Love you all!!"
Several months later — just as the U.S. Open is about to get under way, Tennis magazine publishes an interview with French Tennis Federation President Bernard Giudicelli in which he opines that said catsuit would run afoul of a new (but not yet in effect) French Open dress code. "It will no longer be accepted," Giudicelli is quoted as saying. "One must respect the game and the place."
Williams shrugs off said announcement at a pre-U.S. Open news conference by saying she doesn't plan on being a "repeat fashion offender." She follows that up on Monday by hitting the court clad in possibly an even more statement-making outfit — a black bodysuit and skirt Nike X Off-White ensemble. (Off-White, for those not familiar with all things fashion, is Virgil Abloh's white-hot label. Abloh was recently named the men's artistic director of vaunted French fashion house Louis Vuitton.)
Social media response to both came as fast and furious as a Serena Williams volley.
"The policing of women's bodies must end," was how Billie Jean King began her Twitter response. Nike (as the brand behind both outfits, it was probably the biggest winner here) posted "You can take the superhero out of her costume, but you can never take away her superpowers," and even the Girl Scouts jumped into the fray, tweeting yesterday: "After her health-conscious catsuit got banned by the French Open's president, tennis champion and Girl Scout alum @serenawilliams won our hearts — AND her match — in a tutu. What a queen!"
The problem here isn't some not-yet-in-effect dress code that nobody has violated. Dress codes exist in tennis, and if the organizers of the French Open want to ban catsuits, specify logo placement or even require a ceremonial shirt-smearing of brie before each match (now there's an idea!), they're well within their rights to codify it.
Wimbledon, for example, has an extensive dress code — under which both of Williams' recent outfits would be prohibited because they are not "almost entirely white" — and nobody's talking about hurling their strawberries and clotted cream into the Thames over it.
It's Giudicelli's quote about "respect[ing] the game and the place" that seems to take the whole controversy in an ugly direction. Especially because what Williams was wearing on-court at the French Open back in May is no different than what Angelenos see on a Starbucks run on a regular basis. Published reports don't provide any additional details on that front. Was it the all-black color? The fact that it was form-fitting? Perhaps the single stripe of red without including the other two colors of the French Tricolore was what had Giudicelli seeing red.
Is "showing respect" something that organizers of the French Open are writing into the dress code itself? If so, that would obviously push things in the direction of the NFL and its efforts to address the taking a knee/national anthem debate. But I don't think we're quite there yet. As of this writing, the dress code that was alluded to in Tennis magazine has yet to be announced in its entirety.
Once it is, who knows what it will include (all in favor of brie-smearing raise your hand). If, like Wimbledon's rules, there's a provision that addresses "medical supports and equipment" it could actually leave the door open for some variation on the catsuit to come creeping back in. Williams — who suffered from blood clots after giving birth last year — says the compression suit was designed to aid circulation.
And, in the event that there's some respect-demanding language in the dress code that goes into effect at next year's French Open, someone (or maybe everyone) should take to Twitter to remind the French Tennis Federation president that respect can't be codified or demanded into existence. Like the 23 Grand Slam victories the new mother has under her red catsuit belt, it has to be earned.
For more musings on all things fashion and style, follow me at @ARTschorn
---