After the NBA changed its sneaker rules, players are taking high fashion to the court
Anyone watching the opening games of the 2018-19 National Basketball Assn. season would have been hard-pressed — or colorblind — not to notice something seriously afoot on the basketball court. The Boston Celtics' Jayson Tatum kicked off his season wearing a pair of color-blocked Nike sneakers that had more in common with a Piet Mondrian painting than his team uniform. His teammate Jaylen Brown hit the hardwood shod in a pair of mismatched Adidas T-Mac IIIs — bright red on one foot and bright blue on the other. In Detroit, the Pistons' Langston Galloway started the season in a pair of customized Q4s as colorful as a box of melted crayons. For the Cleveland Cavaliers' Jordan Clarkson, opening-day footwear consisted of Grinch-green Nike Kobe 6s, while then-Utah Jazz player Alec Burks went with a pair of impossibly bright pink Adidas Dame 4s that were a nod to Breast Cancer Awareness Month.
Over the next several months, the cavalcade of colorful kicks only grew. Two days after comic book legend Stan Lee's death in November, the Brooklyn Nets' Spencer Dinwiddie pounded the parquet in a pair of sneakers customized with superhero imagery to honor him. In January, just weeks after he was roasted on social media for comments that seemed to question the veracity of manned moon landings, Golden State's Stephen Curry stepped into a game — against the Houston Rockets — sporting a pair of his signature Under Armour Curry 6 sneakers bearing a cratered lunar landscape design. And the slate of Christmas Day games looked — from the ankles down anyway — like an ugly sweater factory had exploded thanks to dancing gingerbread men, pops of plaid, candy-cane stripes, bowler-hatted snowmen, and endless permutations of red and green.
The amped-up sneaker style is no accident; it's the direct result of an NBA rule change removing the color restrictions that previously limited regular-season on-court footwear to combinations of black, white, gray or team colors. (Some restrictions remain, such as a prohibition against reflective fabrics and flashing lights.)
"We made the change to provide our teams and players with a vehicle to showcase their individuality as well as their passion for basketball footwear," said Christopher Arena, the NBA's senior vice president of identity, outfitting and equipment, in an email. "Our NBA All-Star games and some of our special-event games in prior years — where we've allowed any color to be worn — have proved how players embrace the opportunity."
FULL COVERAGE: From Nike to Gucci, a brief history of basketball-inspired sneakers »
Expanding that opportunity for foot-based self-expression from just a handful of games to the whole season might not sound like a big deal, but with half the regular season now firmly in the rear-view mirror, it's clear that the change has done more than simply add pops of color; it's helping reshape the role the sports shoe plays in a modern day-to-day wardrobe. (Nowhere will this footwear-as-fashion element be more evident than in Charlotte, N.C., home to this weekend's NBA All-Star festivities — as well as Charlotte Hornets owner and NBA legend Michael Jordan, who set the signature-sneaker bar.)
Overall, performance basketball shoes — the kind serious athletes wear — are in their fourth year of declining sales. Matt Powell, senior retail analyst for market research firm NPD Group, says U.S. sales peaked in 2015 at $1.3 billion and notched less than $900 million in 2018. But has the NBA change created an uptick in sneaker sales? "I don't see that it's had any effect on sales, and I don't expect it to in the future," Powell said. "It's certainly possible that a color will emerge that kids really like, but I don't see it having a material impact on the business. If those [on-court] shoes ever actually get made for sale, the number they make are really quite small — maybe 5,000 or 10,000 pairs." To put that in perspective, Powell said two of the biggest footwear brands, Nike and Adidas, each sold about 400 million pairs of sneakers last year.
The limited-run sneakers Powell is referring to are player exclusives — either a unique fabrication and/or colorway made exclusively for brands' endorsed athletes or off-the-shelf shoes hand-customized at an athlete's request by sought-after artists such as Los Angeles native Salvador Amezcua, whose nom de shoe is Kickstradomis. In the first category are shoes such as the purple Nike LeBron James 16s — with a cheetah-print heel and jeweled Swoosh — that James wore in his first home game as a Los Angeles Laker. (Part of a Foot Locker promotion, a limited run of the $185 sneakers dropped using a scavenger hunt app the day of the game.)
In the second category are shoes such as those in Los Angeles Clipper Montrezl Harrell's 3,000-pair collection, many of them brightly colored and festooned with cartoon characters (an aesthetic that keys into the art adorning the walls of his L.A. home), including Homer Simpson, Johnny Bravo and Courage the Cowardly Dog. And then there are the 82 pair of Dinwiddie's self-endorsed K8iros sneakers he's vowed to wear — one pair per game — throughout the regular season. Customized by L.A.-based Troy "Kickasso" Cole, each pair honors someone or something meaningful to the Brooklyn Nets player. That's included Rosa Parks, Denzel Washington, former President Obama, Dr. J, Prince, Beyoncé and the media, with most going up for online auction afterward to benefit charities and fetching $350 to $561 per pair. (Speaking of auctions, the aforementioned one-off Under Armour "Moon Landing" Curry 6s also went up for online bid, gaveling out at $58,100, which Curry donated to benefit STEM education in Bay Area schools.)
Like Powell, Isack Fadlon, owner and chief executive of Melrose Avenue indie retailer Sportie L.A., hasn't seen this season's cornucopia of on-court sneaker color translate to cash-register green. But he has noticed something else. "We're seeing a shift in the viewpoint," Fadlon said. "These basketball shoes used to be seen as performance [gear], but because of all these [on-court] expressions of individuality, it's moving toward more of a fashion statement, which I think will really bode well for the category."
In other words, by putting one stylishly shod foot in the fashion camp while keeping the other in performance, brands big (Nike and Adidas) and small (Q4 and K8iros) will be able to key into the prevailing athleisure trend that's somehow made yoga pants de facto streetwear. It's an approach that could pay dividends based on a 2019 year-ahead forecast by one of Powell's NPD Group colleagues, Beth Goldstein, an industry analyst of accessories and footwear, who points to the "athletic-as-fashion" trend as a major driver of growth in the fashion footwear category.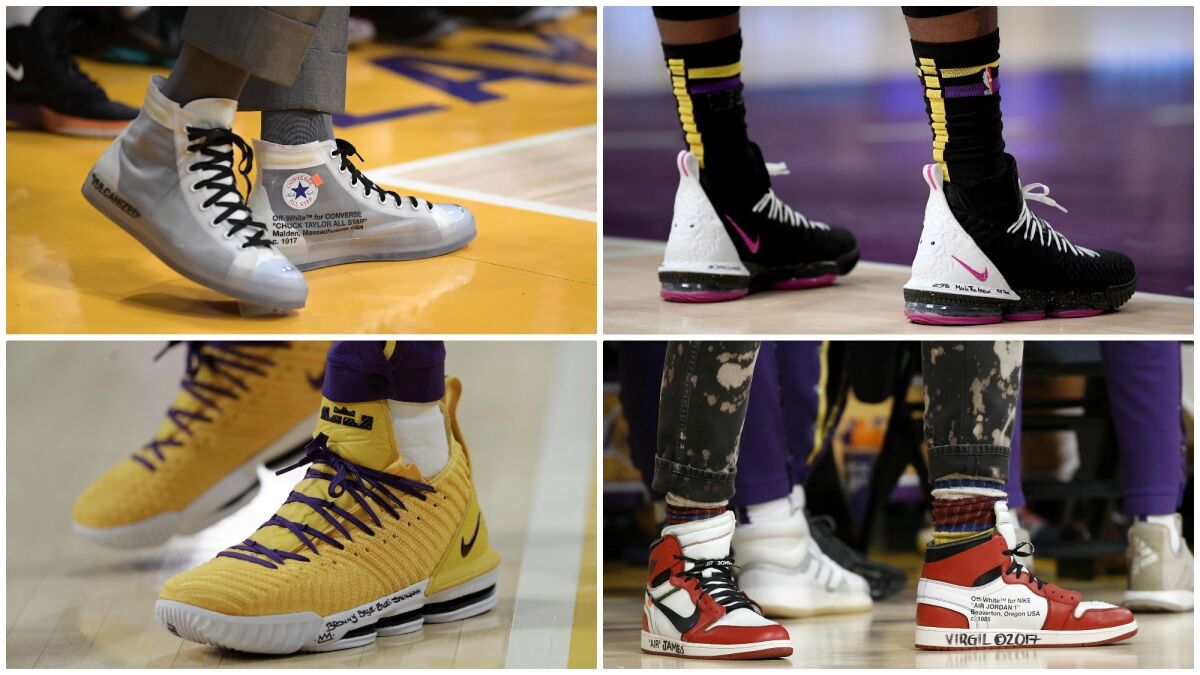 "Even before they lifted the ban on colors," Fadlon said, "[people] were focused on the players walking through the tunnel [into the arena] — talking about what they're wearing before the game and after the game. Now we get to talk about what they're wearing on the court too. ... It's like there was one kind of camera lens [on watching the game], and the NBA has pulled the lens off. And now we can see it all."
The NBA is perfectly positioned to leverage high style thanks to model-tall players, a lack of body-morphing or face-obscuring protective gear and an already established reputation for dressing to the nines off the court, itself the result of another NBA rule change — an off-court dress code instituted at the start of the 2005-06 season. Today some of the more fashion-forward players' arena-arrival tunnel walks are covered by broadcast networks, glossy men's magazines and sneakerhead websites with the level of detail and enthusiasm once rarely seen outside of fashion week reviews.
FULL COVERAGE: From Nike to Gucci, a brief history of basketball-inspired sneakers »
Bob Carney, the NBA's vice president for social and digital content, said in an email that the league has seen an increased level of interest in players' sneakers since the beginning of the season. "#NBAkicks has always been a major component of our social media strategy," he said, "and as a result of that growing demand, we launched @NBAkicks on Instagram and Twitter to provide dedicated accounts for NBA fans to consume the latest footwear content from around the league." (Since launching in October, the Twitter feed has attracted more than 11,000 followers, and the @NBAkicks Instagram account, which went live a few days before Christmas, has more than 89,000 followers.)
The opportunities surrounding an expanded roundball runway haven't been lost on Nike (which the NPD Group's Powell pegs at having about an 80% share of the U.S. basketball shoe market) either. When the Beaverton, Ore.,-based sports gear behemoth took over as the official supplier of NBA uniforms last season, one of the most visible immediate changes for teams was a shift from dedicated "home" and "away" team jerseys to a new option: themed jerseys, all available for fans to purchase. Among the current season's city edition offerings, for example, are a purple-and-black Prince-inspired uniform (for the Minnesota Timberwolves) and a Philadelphia 76ers jersey that pays homage to the "Rocky" franchise. In a June 2018 earnings call that followed Nike's first year as the official uniform supplier, Mark Parker, Nike chairman, president and chief executive, credited the program with "driving significantly higher NBA jersey sales than the league has ever had." (It's noteworthy that Nike has also tried to capitalize on the attention paid to the tunnel walk by seeding its sportswear to athletes specifically for the walk into the arena.) In the same earnings call, Parker referred to the NBA as "the ultimate sneaker runway."
According to Josh Benedek, Nike's North America media relations director, the lifting of the color restrictions has another benefit: It gives Nike — and therefore, rivals Adidas and Under Armour and every maker and customizer of shoes — a way to see what generates interest and social media buzz. "If Kyle Kuzma, for example, wants to wear a custom colorway of a particular shoe and there ends up being a fervor around it, that might inspire a future colorway," Benedek said.
If this sort of synergistic showcase sounds familiar, it should; luxury fashion brands have been doing this on the catwalk — and the awards-show red carpet — long before the NBA was in short pants (or in existence for that matter). And, as any student of sneaker history can tell you, a heightened hardwood profile has the potential to catapult a single pair of colorful kicks into the pop-culture pantheon.
That's because "on or around Oct. 18, 1984," according to a letter from the NBA to Nike, Jordan stepped into a pre-season game wearing "certain black and red NIKE basketball shoes" that violated league policy. Legend has it that Jordan continued to wear the noncompliant color combination, incurring a $5,000 per game fine from the NBA — a fine that, also according to lore, Nike was more than willing to pay to reap the publicity windfall.
Neither the league nor Nike would confirm to The Times that such fines were actually threatened, levied or collected (although the NBA furnished a copy of the letter from its archives). However, a quarter of a century later, what actually happened isn't as important as what Nike did next. Letter in hand, it seized the marketing opportunity surrounding the "banned" color combination by launching an ad campaign.
The result? Not only was the Air Jordan 1 sneaker a huge success right out of the gate, it helped lay the groundwork for an entire Nike-owned Jordan Brand that in 2018 saw $2.86 billion in revenue.
For more musings on all things fashion and style, follow me at @ARTschorn
---