Find out why an L.A. shoe designer has been obsessed with what women put on their feet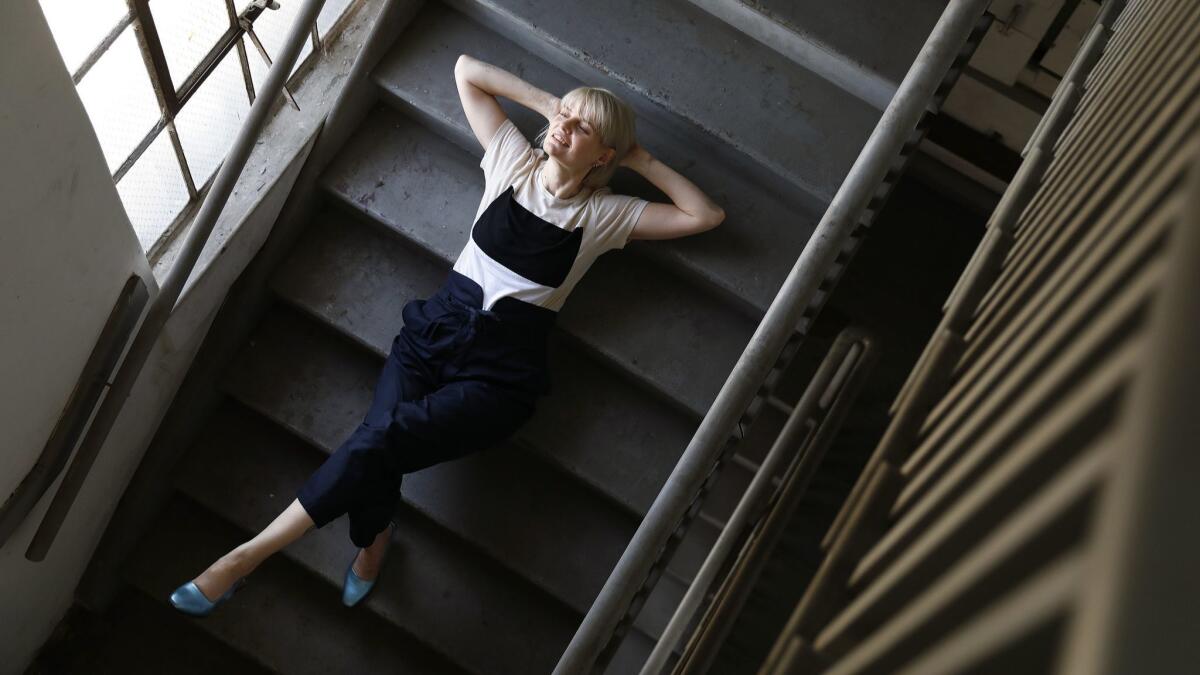 As a kindergartener growing up in Philadelphia, Jessica Taft Langdon had zeroed in on footwear, and it wasn't in a playing-dress-up-in-mom's-pumps kind of way. When her parents talked to her after a school field trip to the zoo, she said, "I told them that it was great to go to the zoo because I saw so many different kinds of shoes." And in high school, as she was "doing all that exploratory work you do as a teenager to figure out who you are, trying ridiculous and fun and weird ways of dressing," Taft Langdon recalled understanding that shoes were the most personal part of her ensembles. "I felt like my Dr. Martens were honestly the most expressive thing about me, like that was the better picture of who I was and who I was trying to become," she said. "It was meaningful for me in terms of starting a relationship with fashion and style."
Taft Langdon's relationship with footwear has evolved significantly since then, thanks in part to studying shoe-making in Milan, which set the direction for her career. Today, living in Silver Lake, the lifelong creative helms her own small, handmade-in-L.A. women's footwear label, the Palatines (thepalatinesshoes.com). It's basically her second chapter in the field that began with a decade designing shoes in New York's runway-driven fashion industry for Alexander Wang, Proenza Schouler, Coach and Vera Wang.
Wardrobe stylist Sissy Sainte-Marie Chacon said, "Jessica is on her own trip. The Palatines are refreshingly unaffected by current trends and manage to hold their own space on the map in a world of sameness."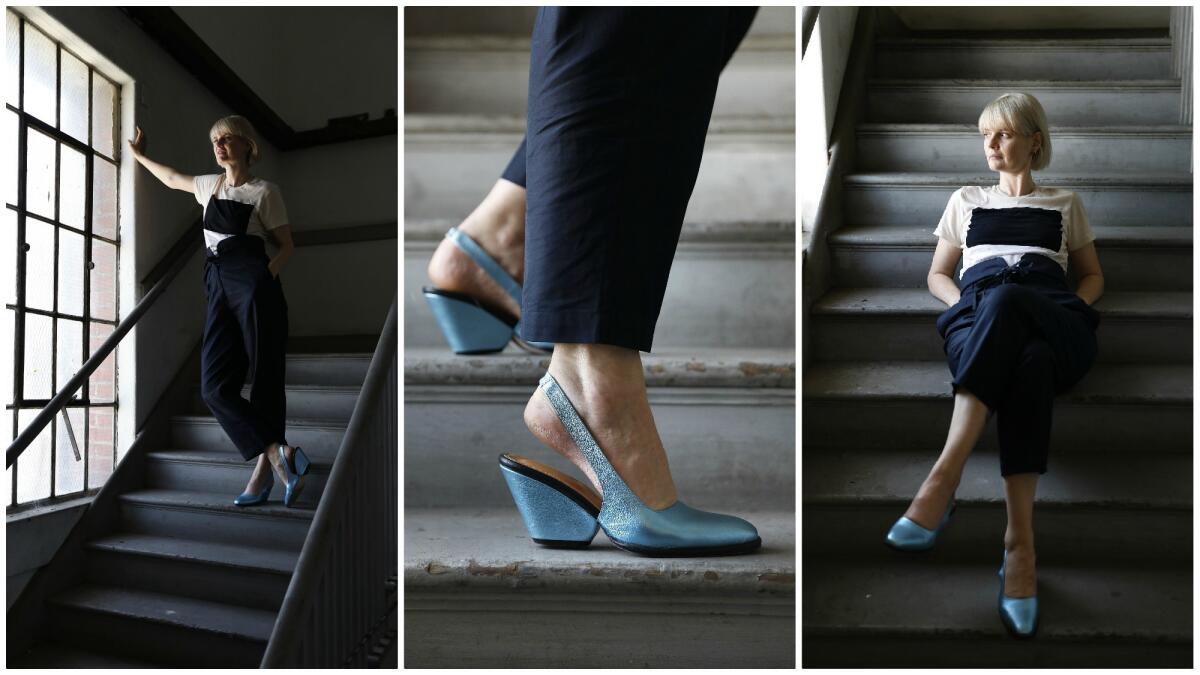 After putting in time and becoming fixated on process, Taft Langdon found her voice upon moving to the West Coast with her husband and discovering footwear makers in Los Angeles, which has a large number of domestic shoe factories. That invigorated her to do her own thing. "I'm somebody who really likes to understand the basis of how things are built before I can really run with creativity and put my own spin on things," Taft Langdon said.
What began in 2013 with four handmade flat sandals has grown in range to include multi-material heeled and flat shoes that might reference a Grecian sandal one minute and a Mary Jane the next — all given Latin names.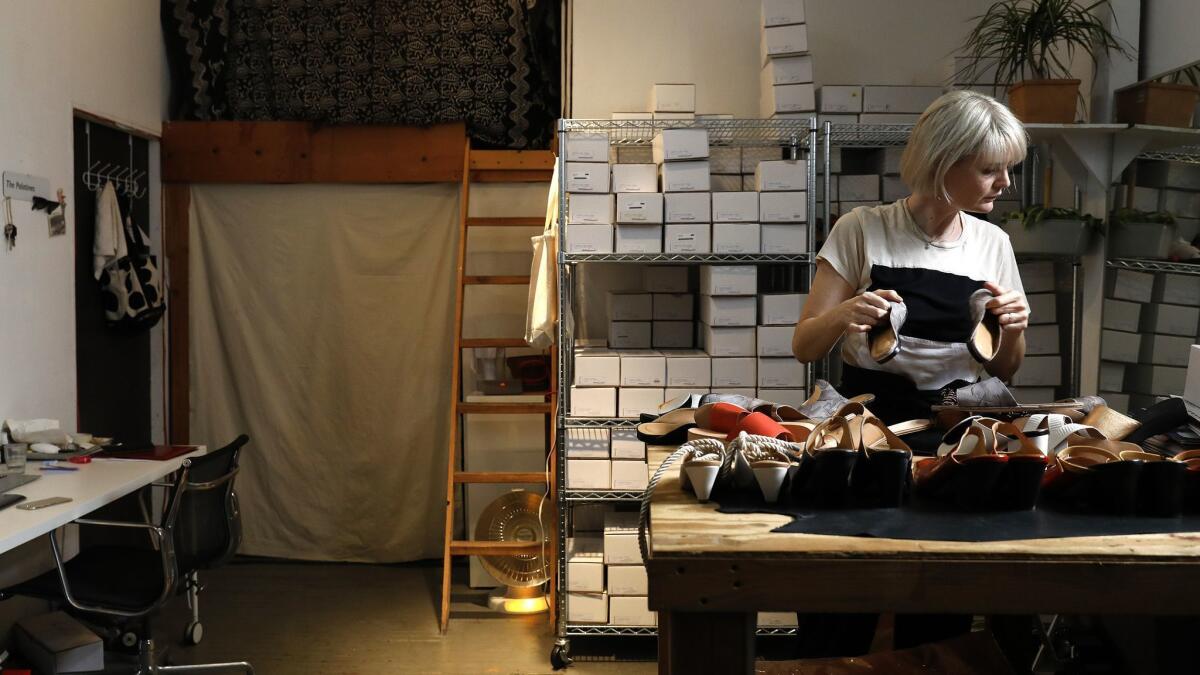 Taft Langdon's approach to her business is best described through an understanding of the label's name. It's a word she came across while researching her family history. Her father's side, she said, comes from a British "county palatine. It meant a place that was self-governed rather than being ruled by the crown directly, and it's what I was hoping to do with the brand. It's the idea you're doing something small and true to yourself in the midst of a larger universe."
As her label has grown recently to four collections a year, Taft Langdon said she is pleased to see L.A. factories growing too. It signals an opportunity, she said, "to define here in L.A. what a high-end domestic footwear product can look like. I think it can start to have its own calling card in the way it's finished. I love the idea of consumers being able to really notice the difference between something made in China, Florence and L.A. My decision to make shoes here in L.A. was one of the ways I knew I could distinguish the Palatines from everything else out there in the world."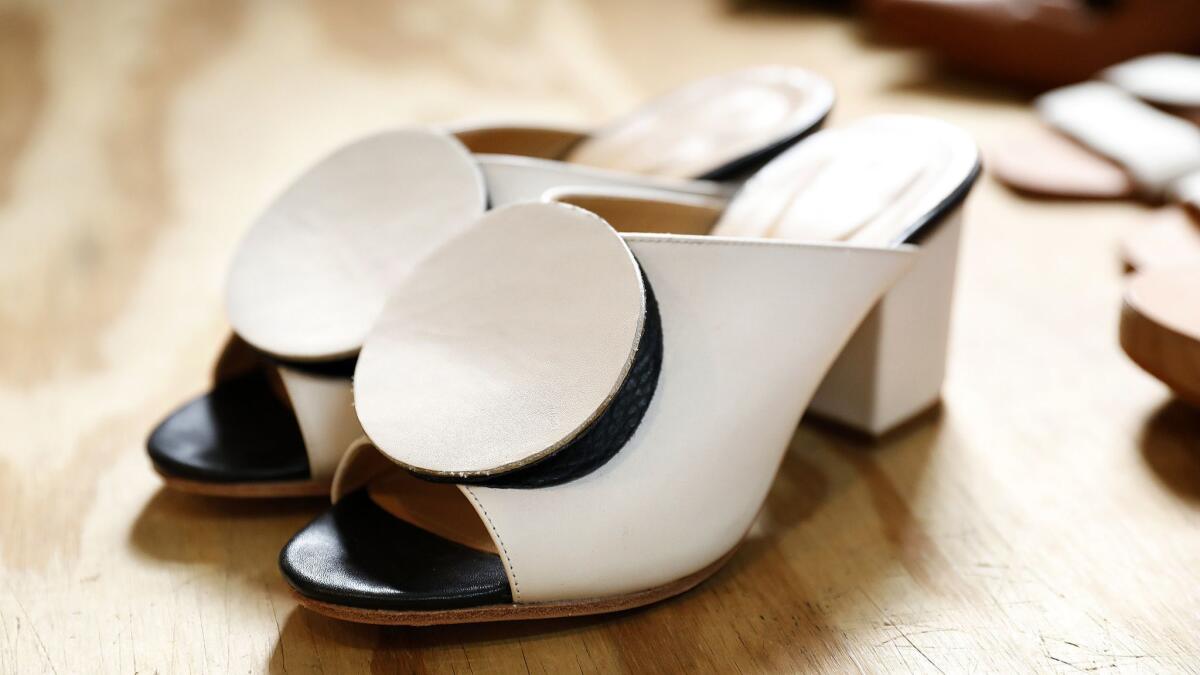 This year has brought along new firsts for the brand, which sells styles in the $260-to-$515 range. The Palatines' first pre-fall collection, which debuted in early June, marked the designer's first collaboration; it was with a good friend, L.A. artist Amanda Antunes. The resulting print, custom rendered on leather, was based on an artwork Langdon loved with a feminine, dreamy, washy watercolor feel.
"There are definitely, as someone put it, some boobs on there, although they're pretty subtle," Taft Langdon said, laughing, adding that the blueish mauve-y palette transitioned well into the fall season. (The designer, a self-described shoe nerd, can also speak to the personalities of different leathers and the fine differences between Oxfords and Derbys for hours.)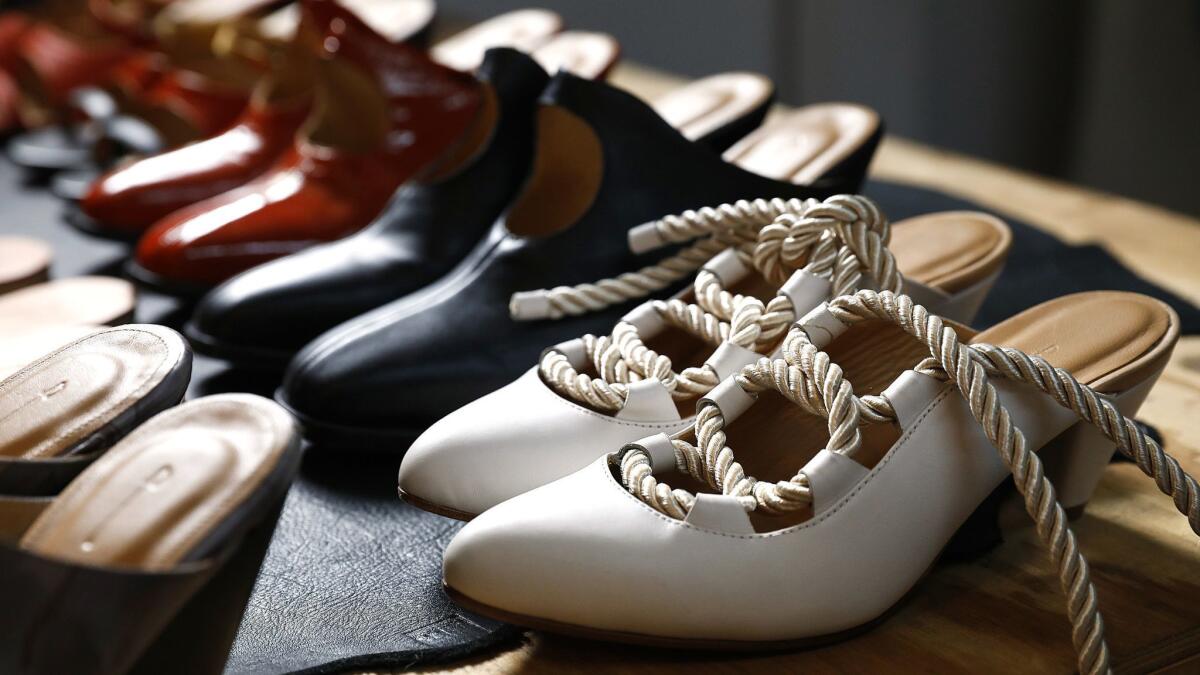 Selling at stores such as Assembly and Opening Ceremony and online at Shopbop is in line with the fan base she has attracted — women such as Solange, Rashida Jones and Feist — interested in curating their environments, politically and culturally. About her customer, Taft Langdon said, "She is somebody who really cares about design and art and an aesthetic."
For Sainte-Marie Chacon, the Palatines' strength, she said, is in the fact "the designs are intriguing and make a statement while being easy to wear and style around."
For fashion news, follow us at @latimesimage on Twitter.