Tone It Up brand offers '70s summer vibe and more with new activewear and swimwear collaborations
It's summertime, and for many that means stepping up a fitness routine such as going to a beach or a park for yoga or a cardio kickboxing class. Maintaining good overall health might be the logical motivator. But this is L.A., and often that means that looking good is equally important.
For the record:
8:40 a.m. July 11, 2018A previous version of this story said Tone It Up was based in Hermosa Beach. The brand is based in Manhattan Beach.
That's where Manhattan Beach-based wellness brand Tone It Up comes in on both accounts — staying healthy and doing so while wearing stylish activewear or a bikini. The latter is thanks to Tone It Up's new fashion collaborations, released last month, of colorful workout clothes and swimwear, priced from $27-$176 and available at toneitup.com.
Tone It Up, which serves as an online global fitness and wellness community to active women on the go, was founded in 2009 by trainers Katrina Scott and Karena Dawn. The lifestyle brand offers daily workouts, protein powder, nutrition plans and healthy recipes.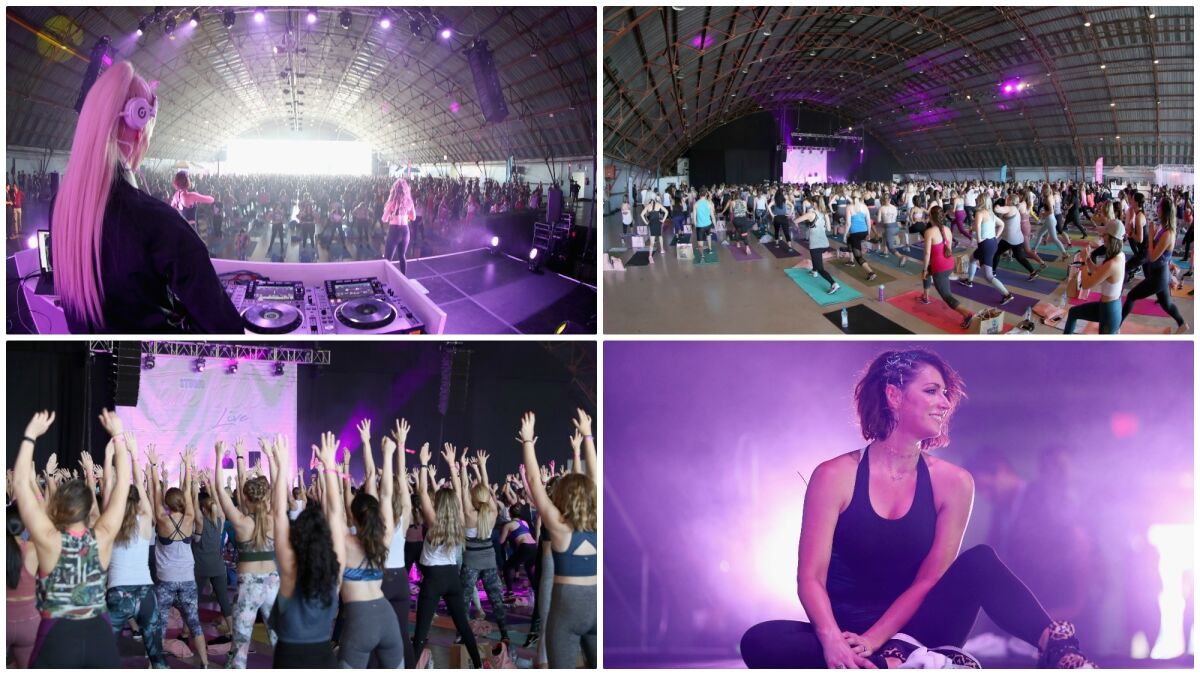 "Our goal is to provide everything a woman needs to live her happiest and healthiest life," Dawn said during a June interview days after a Tone It Up live fitness event at Barker Hanger in Santa Monica.
During the fitness affair, guests were able to try a series of workouts and take in live DJ sets as well as the Victoria's Secret locker room, APL shoe wall and healthy offerings from food trucks.
The event — and recently, another one like it in New York — gave Tone It Up's founders a chance to promote their brand and offer attendees a solid heart-rate-raising time. We caught up with Dawn and Scott last month. Here's an abridged version of our conversation.
What's new with Tone It Up?
Scott: We are curating some of our favorite brands and creating capsule collections. We are launching four different capsule collections on toneitup.com. Karena and I have very unique styles from each other, but they blend really nicely together. Every single month we will incorporate new brands and styles.
Can you give us more details about the new apparel and swim lines?
Scott: We have a line with Avocado for fitness apparel, a very retro '70s line with Goldsheep apparel, a swimwear line with Stone Fox Swim and Maaji. Those are all brands that we have been wearing for years. So it is very exciting. We worked with each one of them to design something super specific to Tone It Up with a '70s summer vibe.
When you were curating these capsule collections, what type of woman did you have in mind?
Scott: A woman who feels confident when she's working out. Also she wants to feel beautiful and colorful. You can go anywhere and get a black pair of leggings and black sports bra, but we wanted to incorporate colors and patterns that were energetic and inspiring.
What do you believe are the most important design features for workout clothing?
Dawn: A nice high waist!
Scott: Yes, accentuating the waistline is really beautiful. Also, V-neck sports bras, and paying attention to detailing.
Athlesiure has become a popular category within the fashion world. Do you believe your line fits into that space as apparel that a person can wear beyond the gym?
Scott: Yes! [laughs] I am wearing them right now in the office. We love pairing leggings with denim or something that is more fashion-y like fashion sneakers or heels.
Dawn: Yeah, it is all about layering to make the pieces more streetwear.
What's your best fitness tip?
Scott: There is nothing like a good old squat. Karena and I do squats even before we go to beach, and you immediately feel amazing. Also, everyone says, "How do you get a beach body?" The answer is you go to the beach with your body. You are beautiful. All women, every single curve and shape, is stunning and exactly how you should be.
Do you have a favorite fashion trend that's going on right now?
Dawn: I am always down for a little leopard, whether it is a little flash in your shoes or your top. It is definitely full force right now and I am loving it! Oh, and fanny packs.
Scott: I just love everything that is happening [with] denim right now. Denim baseball hats and denim-looking fitness apparel, I think it is all so cute.
---