Emmys fashion trends: TV mom and daughter Tracee Ellis Ross, Yara Shahidi go bold in shades of pink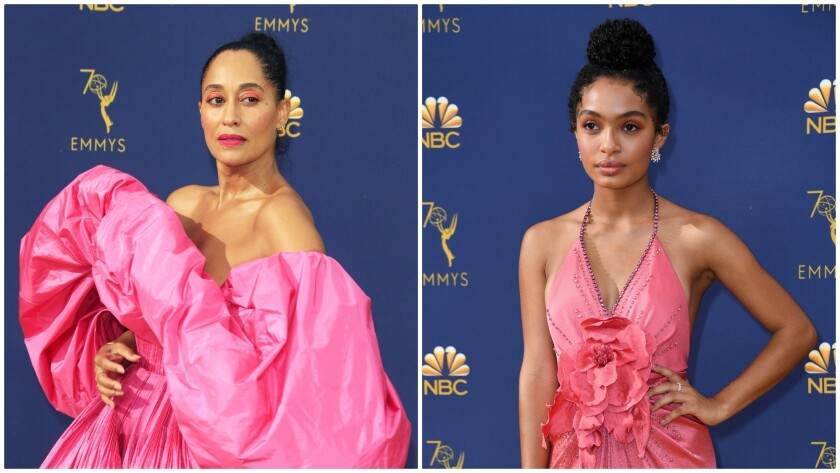 Actresses Tracee Ellis Ross and Yara Shahidi, who portray on-screen mother and daughter, respectively, on ABC's "black-ish," appeared to have also shared style genes at the Emmys on Monday.
Both arrived at the Microsoft Theater for the 70th Primetime Emmy Awards in unconventional pink dresses as well as daring makeup that entailed using lipstick outside their pouts on their eyes and cheeks.
Shahidi, who just started her freshman year at Harvard in Cambridge, Mass., didn't have much time to pick a gown for the big Hollywood event. Her glam team, including fashion stylist Jason Bolden and hairstylist Nai'vasha Johnson, flirted with the idea of showing a bit of her shoulders. Shahidi, who stars in the "black-ish" spinoff "grown-ish" on Freeform, selected a halter dress from Gucci that was accented with crystals along the neckline and a whimsical flower applique at the frock's center.
Check out the major fashion trends from the Emmys »
"It's one of those things where it's her first year at school, playing with the fact that [the dress is] very youthful and fun," Bolden said. "We don't want to take it too serious."
Complementing the topknot that Johnson twisted into Shahidi's hair, the makeup that makeup artist Emily Cheng used on Shahidi's face was inspired by watercolors. "Makeup-wise, we kept it really simple to let the dress shine," Cheng said.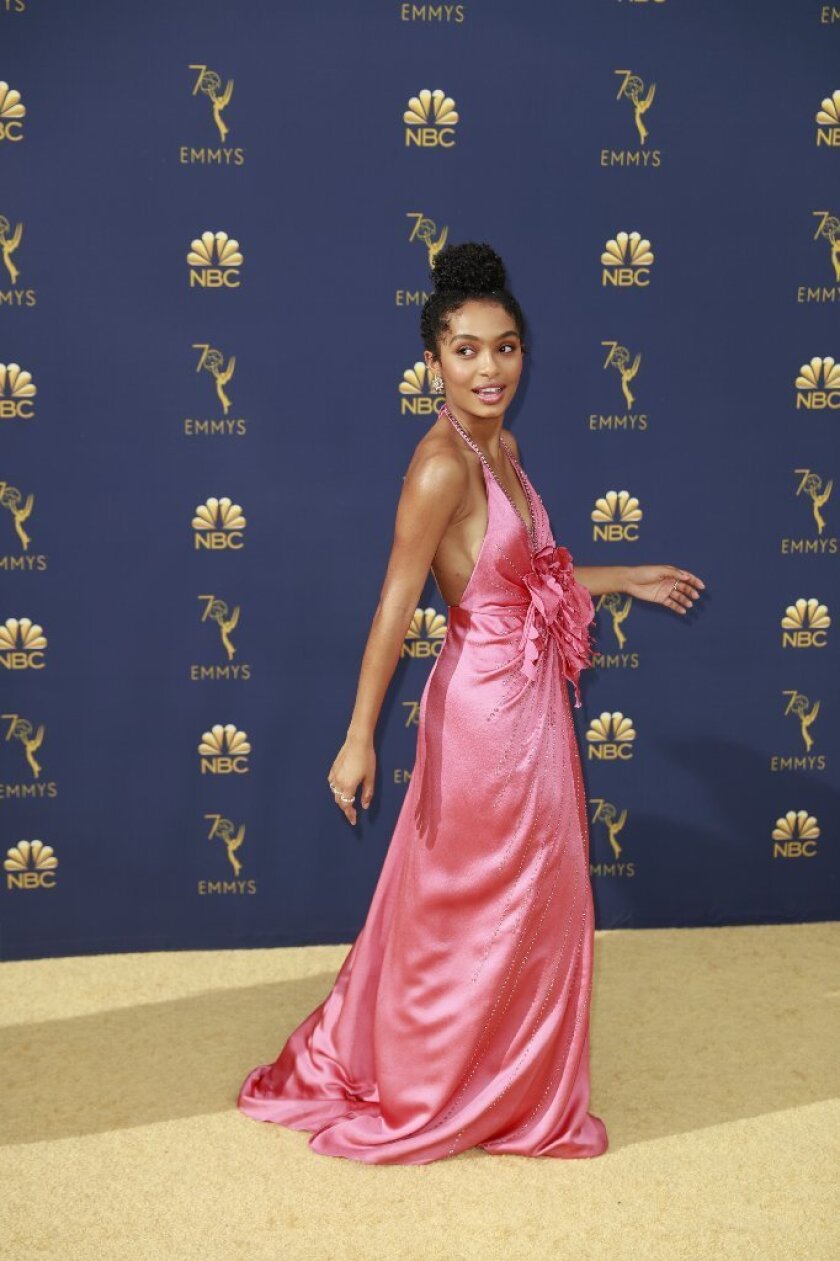 Check out our Emmys best- and worst-dressed photo gallery »
To get the beauty look, Cheng soaked Beautyblender's sponge with SK-II's facial treatment essence and used the sponge to apply Bobbi Brown's foundation in Golden Honey and Warm Almond to Shahidi's face. Cheng also dusted Beautyblender's power pocket puff with powder and packed it in Shahidi's purse in case the actress had to get rid of a shiny complexion on the warm afternoon in L.A.
Cheng then used Bobbi Brown's matte lipstick in burnt cherry on Shahidi's lips, cheeks and eyes. The technique "was harmonious, and it tied together nicely," she said. "It's also an ode to how fun makeup can be."
For Emmy nominee Ross, who wore a voluminous strapless gown in hot pink by Valentino Couture, makeup involved using lipstick in a bold way on her face. Makeup artist Lisa Storey blended Charlotte Tilbury's lipstick in Tell Laura, an orange-red lip shade, over Ross' eyelids and dragged the color to a soft point at the ends with a lip brush.
"I loved the stain the lipstick made. Tell Laura is a fiery matte orange-red. When you blend out, it goes more orangey," Storey said.
She also mixed two shades of Cheek to Chic blusher — Pillow Talk and Love Is the Drug — for Ross' cheeks. On the actress' eyes, Storey rubbed a creamy Eyes to Mesmerise eye shadow in a golden shade called Bette.
"We were very inspired in the moment," Storey said, adding that their challenge was figuring out "how to play with that kind of look and still give it the elegance and make it elevated for [the] red carpet. It was [about] finding the balance on how to do it."
For fashion news, follow us at @latimesimage on Twitter.
---