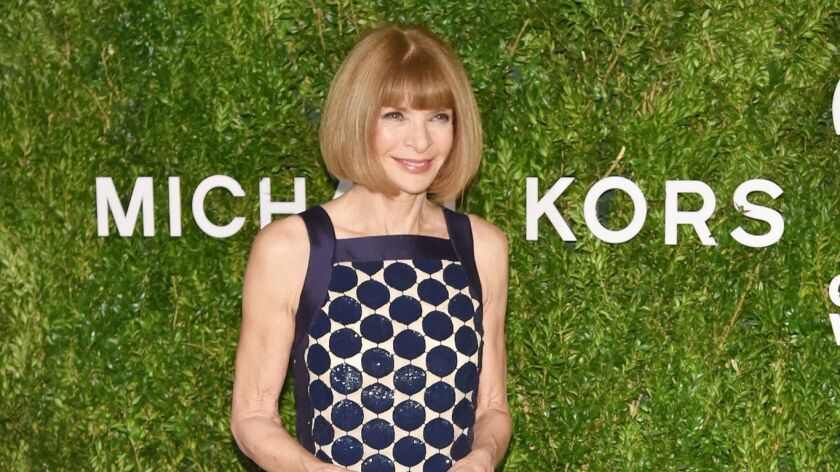 With the birth of her son's first child, Anna Wintour has become a grandmother.
Wintour's son Charlie Shaffer and his wife, Lizzy, have welcomed their first child, a daughter named Caroline. Lizzy posted on her Instagram account that Caroline was born on Tuesday, March 28, weighing six pounds, 14 ounces. Vogue confirmed her full name is Caroline Anne Shaffer.
Wintour's daughter Bee posted a photo to her own page, writing "Welcome little Caroline and congrats @lizzyshaff and @cwshaffer. Looking forward to many more chic hats!!!"
Charlie and Lizzy were married in June 2014 at Wintour's home in Mastic, N.Y. They met attending Oxford University, according to their New York Times wedding announcement.
The baby arrival is the latest in family news for the Vogue editor in chief. Earlier this month, it was revealed that Bee is engaged to be married to Francesco Carrozzini, son of late Italian Vogue editor in chief Franca Sozzani. The question of which designer will design a gown for Ms. Shaffer remains to be seen.
The Vogue first daughter also recently exited her job as a segment producer on "Late Night with Seth Meyers," reportedly for a job in the theater industry.
With the arrival of a grandchild, will more baby clothes be making their way into the pages of Vogue? Will little Caroline be the most well-dressed little one to take on the streets of Manhattan? Stay tuned.
ALSO
Inside Dolce & Gabbana's exclusive celebration of life, love, opera and couture
That '70s runway show: A Rebecca Minkoff showcase of groovy girl power at the Grove
Tommy Hilfiger, Gigi Hadid dip into the '70s for a 'fun and youthful' fashion show in Venice Beach
---