G-Star's fall campaign flaunts diversity, individuality and Pharrell Williams
Pharrell Williams, musician, producer and G-Star Raw's co-owner and head of imagination, features in the brand's fall campaign alongside a diverse crew that includes Adwoa Aboah, Jean Campbell and Lennon Gallagher.
"For this campaign, we specifically chose outspoken individuals with their own sense of style. The energy that happened when this talented group of people came together was beautiful, what set them apart actually brought them together," Williams said.
Art directed by Ronnie Cooke Newhouse of House + Holme and photographed by Collier Schorr, the campaign shows Aboah, model, mental health advocate and founder of Gurls Talk, alongside her younger sister, Kesewa; fellow models Campbell, India Graham and Brooke Perry; Scottish actor and model Connor Newall, and Gallagher, model and son of Oasis frontman Liam Gallagher. The campaign was shot in New York.
The video features the group talking about their view of the world they live in and what matters to them right now, from "friendship," "inclusion" and "solidarity" to "individuality" and "owning what you're about."
All of the models in the campaign are wearing the G-Star Elwood in their own style, from Perry's high-waisted fit to Aboah's loose men's wear styling. The shoot is meant to show that while wearing the same item, each has different looks and diverse backgrounds, making it their own.
"Being in a campaign that brought together people from different backgrounds with diverse looks and let them be themselves in a classic piece of clothing really appealed to me," Aboah said. "Also, the message of the campaign — to be comfortable with yourself and tolerant of those around you — resonated with me. It's a positive starting point for a conversation about accepting yourself and others."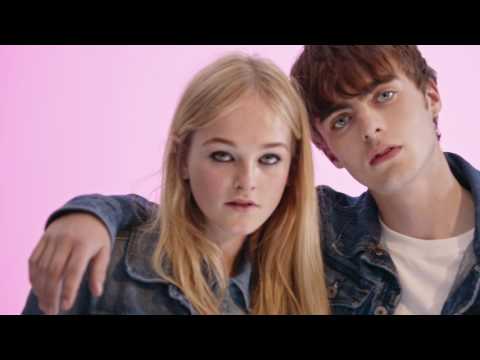 The Elwood jean, created in 1996, was the first pair of jeans ever to be constructed using the 3-D method, built around the wearer rather than the traditional flat pattern.
The campaign also previews G-Star's latest product innovations: EarthColors, new and all-natural dyes applied to the Elwood design, and the second series of G-Star Elwood X25, curated by Williams and expected to be released later this year.
The campaign launches Sept. 1 and will run across print, online and outdoor. It will appear in the October issues of Vogue, W Magazine, GQ, i-D, Dazed, Hypebeast and Highsnobiety.
The company declined to reveal its fall media budget.
ALSO
Stylist Leesa Evans: Clothing makes us more confident and happier on a daily basis
Olivier Rousteing, Balmain's creative director, brings his French style to a fashion army in L.A.
Netflix promotes 'Disjointed' with show-inspired marijuana strains and a pop-up pot dispensary