Stylist Leesa Evans: Clothing makes us more confident and happier on a daily basis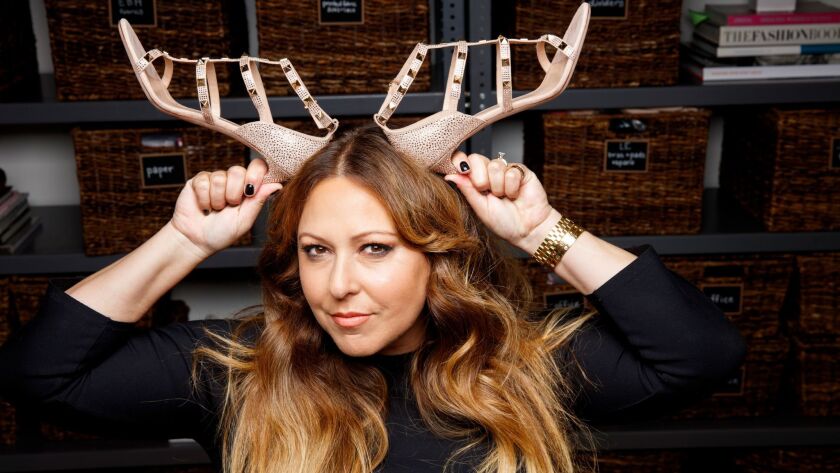 While some stylists focus their work on the flashbulb-fueled moments of the red carpet, costume designer and personal stylist Leesa Evans is just fine delving into the contents of a client's suitcase or the psychology behind sweatpants.
Not that Evans, a Laguna Beach native with 30 private styling clients, lacks any glamour in her career. As a costume designer, she has outfitted the casts of big comedic films including, "Bridesmaids," "Forgetting Sarah Marshall," "Get Him to the Greek," "Zoolander 2," "Trainwreck" and most recently, "Snatched."
As a personal stylist, she works with studio executives, producers, directors and entrepreneurs in Los Angeles and New York to build their everyday and work wardrobes (even packing them for trips) based on her beliefs that it's the person, not the clothes, that is the focal point — and that finding the right silhouette for someone is the key to creating the person's best look, whether that's for a coffee run or a corporate meeting.
"I have this philosophy, which is, 'Clothing makes us feel stronger, more confident, and makes us feel happier on a daily basis,'" Evans says while sitting on a couch in her Beverly Hills styling studio. "I help people with their everyday clothes, which is the gym to the red carpet, and everywhere in between, because when we feel comfortable, we connect with people on a totally different level."
Evans' method of styling leans toward the psychological side. She finds the right silhouette by trying clothes on a client over a period of a week or two, until the ideal and most flattering shape is established. From there, she develops a "daily uniform" or basic sartorial blueprint for the person, so that the client understands what works for any occasion.
It's this straightforward approach that has also enlightened Evans' star client, actress and comedian Amy Schumer, to realize the true potential of fashion. Schumer joined forces with Evans to form Stylefund in 2016. It's an organization that empowers women, regardless of economic level, to use clothing to increase their confidence and, in turn, their success.
Evans and Schumer were introduced through director Judd Apatow in 2014, and during their initial meeting, Evans recalls of Schumer, "I could tell she did not like fashion at all."
The stylist was hesitant to promise Schumer a deep and immediate love for fashion and instead let the star come to her own conclusions. In the end, Schumer has a transformed view of fashion as being a useful and positive tool rather than it being something that's overwhelming and unattainable.
"I was prepared to have my heart broken like I have in most fittings," Schumer says of her first session with Evans. "And it was just the opposite. I left feeling so much better about myself and stronger."
Evans describes Schumer's style arc as evolving from fearful of fashion to more playful, more confident and bold. The actress agrees.
"The more confident I've become, I've gotten attention from people telling me I look great or asking me where to get something," Schumer says.
I "absolutely love the Valentino dress Amy recently wore to the New York premiere of 'Snatched,'" Evans says of one of Schumer's memorable looks. "It's a bold pattern and a lot of dress, because it has the capelet. She couldn't have loved it more. She just really had fun with it."
Of course, wearing the right thing, which for Schumer varies from Valentino to Forever 21 or a T-shirt from Target, has become key to her on-screen characters or comedy performances. For her latest stand-up special, "Amy Schumer: The Leather Special," the comedian and actress was clad in a black leather halter jumpsuit with cropped pants.
"She understands it's about the shape that makes her feel her best self," Evans says. "I've found Amy cute outfits that make sense to her for her everyday life and that helped her feel not just comfortable, but much more confident than just always wearing sweats around. We've continued to just build on that. Of course, she still wears sweatpants, but only when appropriate."
Through events in the community with Goodwill and partnering with retailers including Barneys New York, their Stylefund is spreading the stylist's philosophy to people who may not have the luxury of a personal wardrobe expert.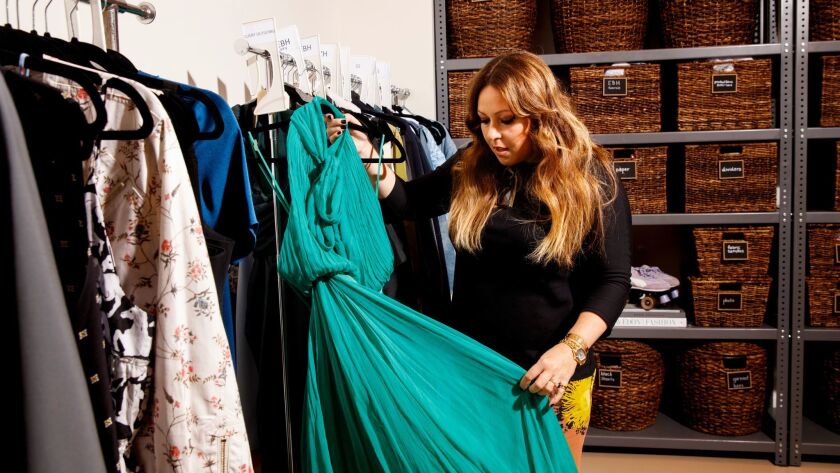 Evans adds that the primary focus of Stylefund is to show that clothing can be a tool for gaining personal strength.
"I have a lot of billionaire clients and then I have people that I'm donating my services to. And you would think that these people would really approach getting dressed so differently, but they don't," Evans says.
For fashion news, follow us at @latimesimage on Twitter.
ALSO
Dolce & Gabbana & 'Giselle': South Coast Plaza soiree celebrates Teatro alla Scala Ballet Company
Zaha Hadid, the late world-famous architect, offers a surprise — a style collaboration with Perrin Paris
It's Valentino in the topiary and Zoe Saldana on the guest list at Lotusland's Avant Garden gala
---