Olivier Rousteing, Balmain's creative director, brings his French style to a fashion army in L.A.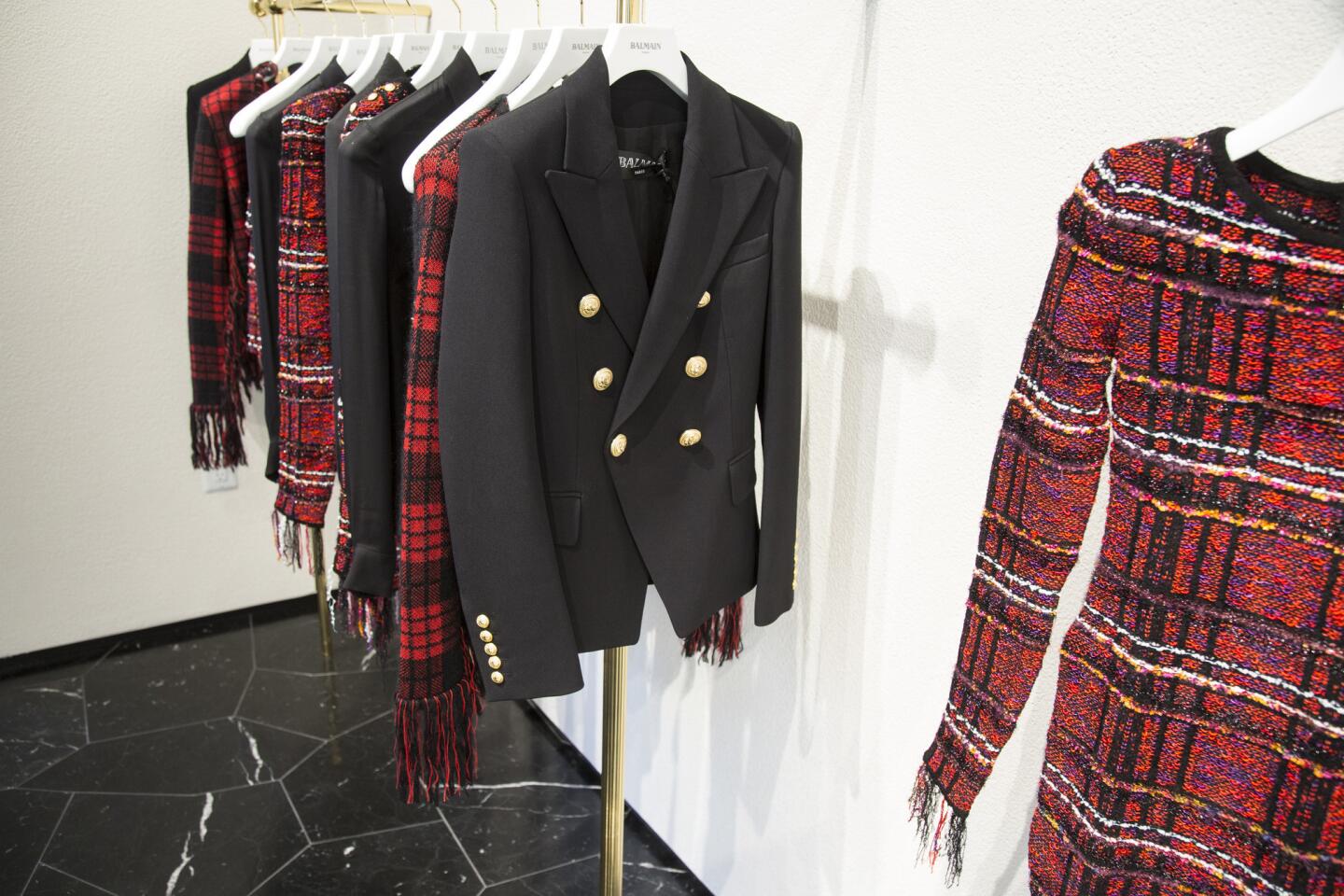 A signature Balmain jacket at the Balmain store, which recently opened on Melrose Place in Los Angeles.
(Ricardo DeAratanha / Los Angeles Times)
You heard it right: The fashion company has opened a new store in Los Angeles.
(Ricardo DeAratanha / Los Angeles Times)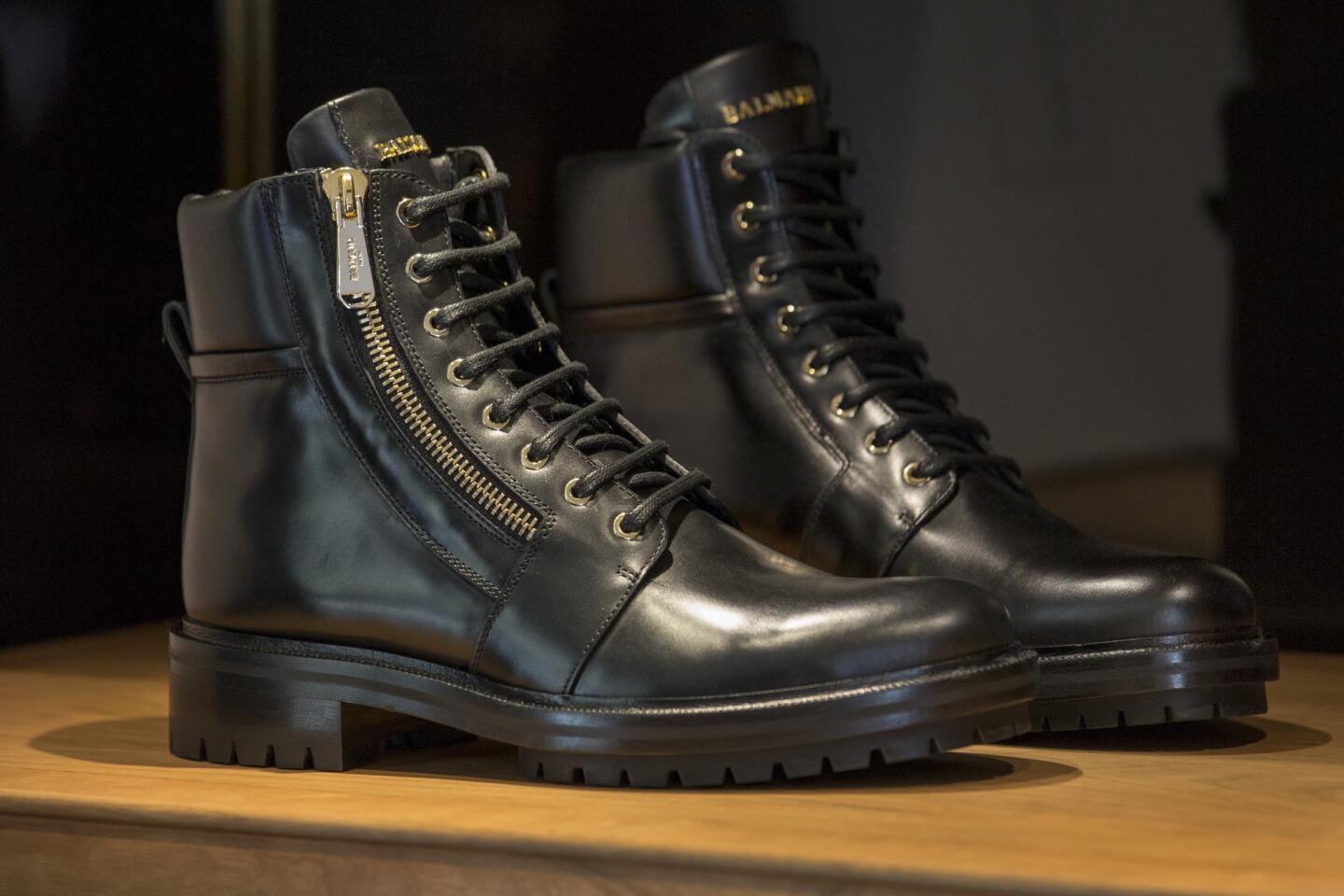 Smooth leather ranger boots ($1,094) at the new Balmain store in L.A.
(Ricardo DeAratanha / Los Angeles Times)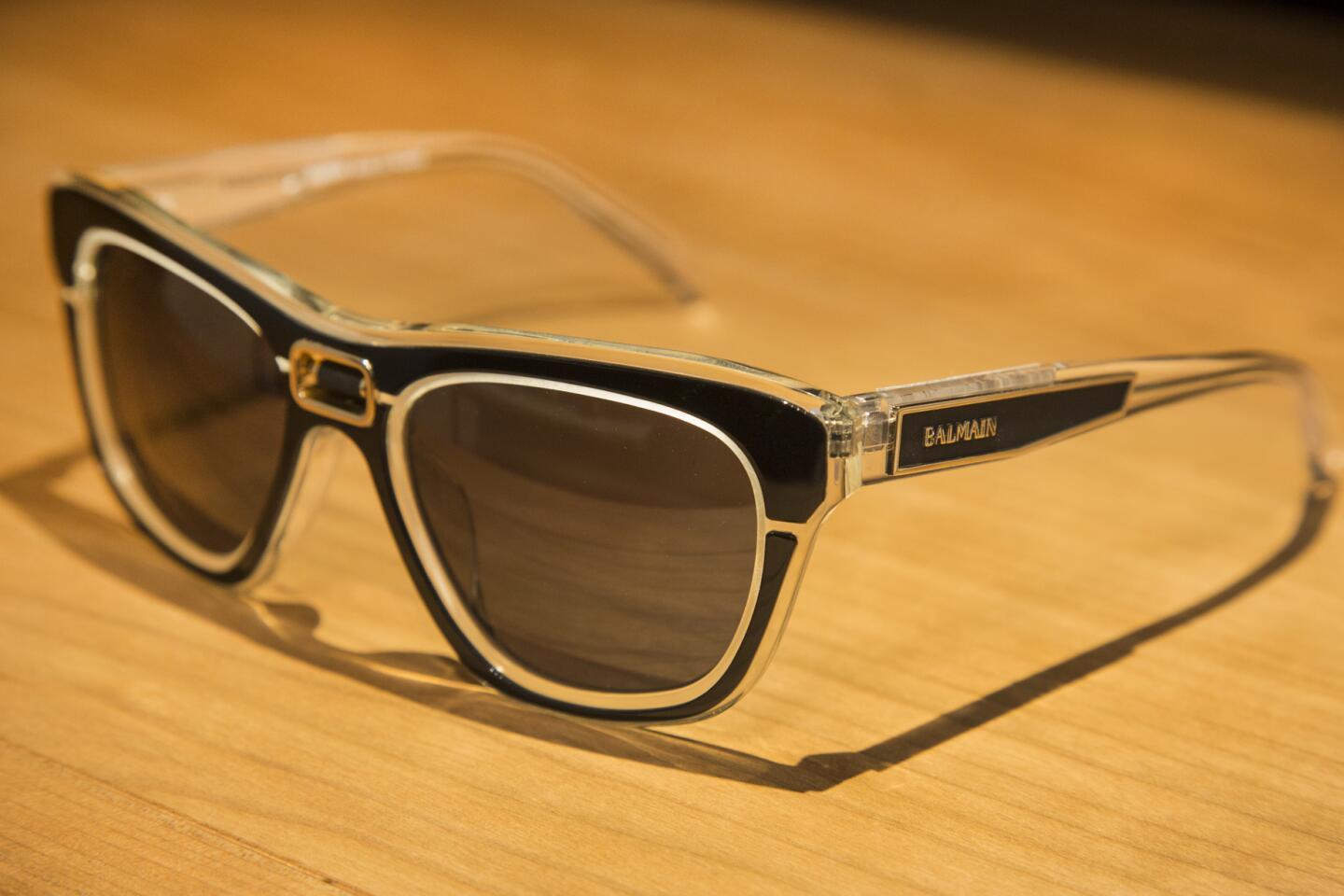 Alex acetate sunglasses ($486) at the new Balmain store in L.A.
(Ricardo DeAratanha / Los Angeles Times)
Balmain Special Edition Beats Studio Wireless ($599.95) and Balmain Special Edition Beats Powerbeats3 Wireless ($249) headphones are available at Balmain's Los Angeles and New York stores, Balmain.com and Apple.com.
(Ricardo DeAratanha / Los Angeles Times)
Renaissance 18 leather bag ($1,608) at the new Balmain store in L.A.
(Ricardo DeAratanha / Los Angeles Times)
Clothing displayed at the new Balmain store in L.A.
(Ricardo DeAratanha / Los Angeles Times)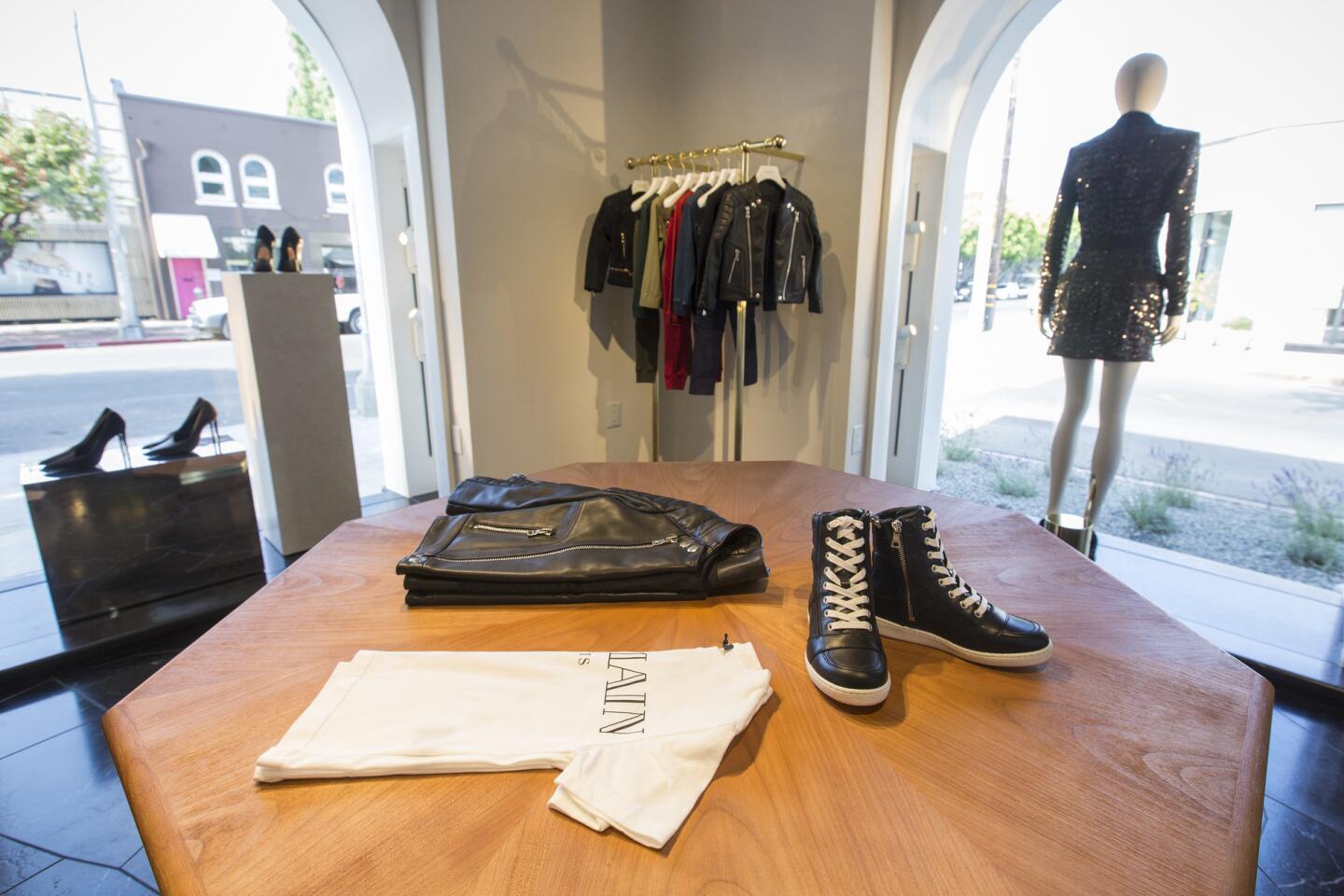 Products on display at the new Balmain store in L.A.
(Ricardo DeAratanha / Los Angeles Times)
Balmain's creative director Olivier Rousteing at the luxury brand's new store in Los Angeles.
(Ricardo DeAratanha / Los Angeles Times)
One thing was clear for the young king of France's venerable house of Balmain on a quiet July morning — and it wasn't just the sky on a sunny day in Los Angeles.
"If there's one city I would move for, it would be L.A.," said Olivier Rousteing, the 31-year-old creative director of the fashion label founded in 1946 by its namesake, Pierre Balmain.
The designer may not be moving to Los Angeles anytime soon, but with the opening of Balmain's new West Coast flagship store on Melrose Place — it's only the second U.S. standalone store after New York — he'll have a good reason to return often to California.
"When I was a kid, I was watching 'Melrose Place' and 'Beverly Hills, 90210,'" said Rousteing, who took over Balmain's atelier in 2011 when he was just 25. "It feels like a dream that never stops. … L.A. is part of my soul. It's part of my spirit. It's part of my dreams."
The creative director, finishing a photo shoot at the new Melrose Place store, was in the midst of a triumphant L.A. visit, with an adoring army of celebrity fans and friends attending a lavish Beverly Hills party to celebrate the opening of the flagship and the release of Balmain's special collection of Beats by Dr. Dre products inspired, he said, by "an urban safari." (To play up the theme, the Balmain and Beats collection comes in color combinations of khaki and gold and "safari" peachy-pink and gold, $249.95 for wireless earphones and $599.95 for wireless headphones, www.balmain.com.)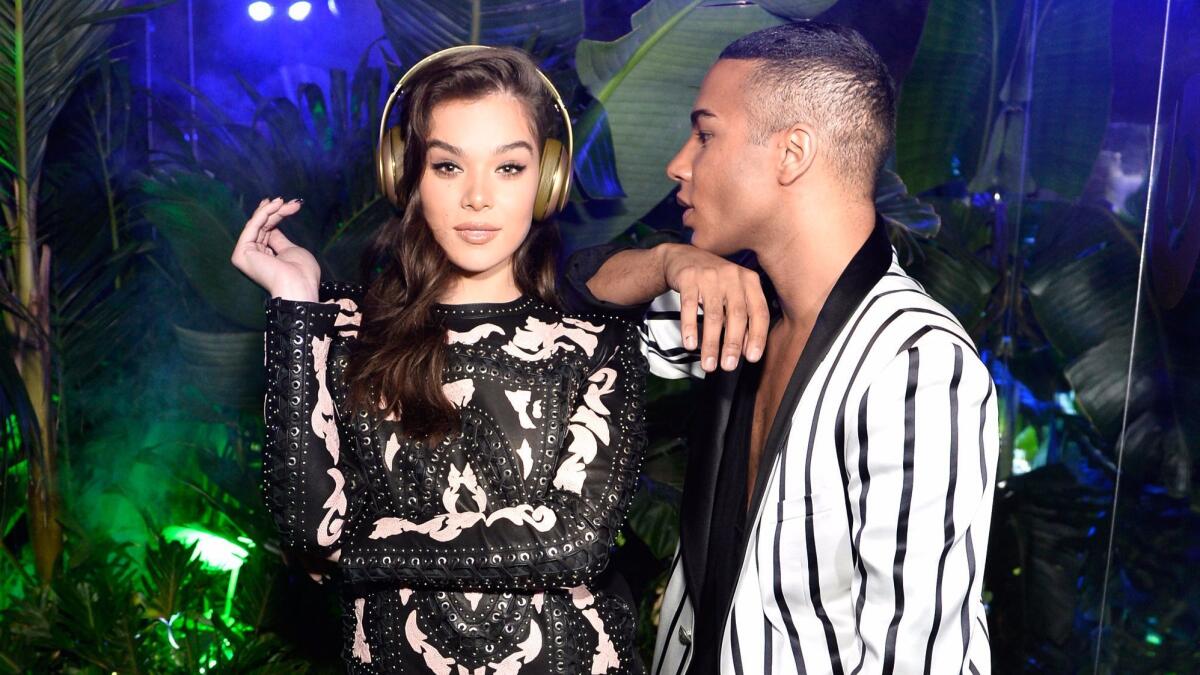 Certainly, Rousteing and Balmain aren't strangers to collaborating. The brand had a successful pairing with H&M in 2015, and in the weeks ahead Rousteing, who worked with Nike on a collaboration released last year, will officially introduce Balmain's new lipstick shades with L'Oréal Paris.
The French label is thriving under Rousteing's direction, and there are plans to continue expanding globally and building Balmain's men's business. Rousteing's fascination with the U.S., social media and pop culture has allowed the brand to be aligned with a bumper crop of stars, including Rousteing's friend, Kim Kardashian West.
"We have a really great connection," Rousteing said. "What I tell her is, like, 'In 50 years, we will open a book, a storybook, and you will be part of it because there will be that moment of the Kim.'"
Just like his reality-star friend, Rousteing is also known for sharing his life on Instagram, down to posting photos of himself in bed and making his signature "fish face" at the camera. (He regularly posts Instagram Stories for his 4.6 million followers to watch.)
A list of well-known names — Kanye West, Celine Dion, Justin Bieber, Nick Jonas, Paris Jackson and her late father, Michael, French first lady Brigitte Macron and Kylie Jenner, the face of the Balmain and Beats by Dr. Dre collaboration — have all worn pieces from the Parisian label.
In particular, Rousteing's recent women's designs, which have the brand's signature embroidery, beading and leatherwork, exude the kind of confidence and sexuality that attract strong celebrity personalities.
"Sexiness is something I love," Rousteing said. "I always thought sexuality was something really, really important and really attractive.… Sexiness is about confidence at the same time. I always loved confidence." He said he built his version of the brand on that very theme.
That confidence comes through in Balmain's new West Coast flagship, a 2,400-square-foot, single-story building at 8421 Melrose Place with black marble floors and Mediterranean interior touches and a Southern European-inspired garden. The store, with its subtle yet elegant decor, is a display of the brand's glamorous-meets-casual men's, women's and children's clothing, eyewear and accessories, including the Beats headphones.
Music often influences Rousteing's designs. Past collections have been inspired by Whitney Houston and Michael Jackson songs. His fall campaign for Balmain was inspired by the music and rebellious teen spirit of Nirvana.
At the Beverly Hills mansion party, hip-hop trio Migos performed a surprise set. Rousteing's Balmain army also got an alfresco presentation of the brand's resort 2018 men's and women's collections, which carried a strong futuristic "My Fair Lady"-glam-queen-King of Pop motif.
"The night was nice," said Rousteing the next day on the patio of the Sunset Tower Hotel in West Hollywood before his flight. "It was kind of like … how you say? A pre-holiday in a way because I'm leaving for holiday on the 29th. You know, in France, everything is closed in August."
L.A. is part of my soul. It's part of my spirit. It's part of my dreams."

— Olivier Rousteing
The evening also gave him a chance to chat, unwind with friends such as Kardashian West and Kerry Washington — and, of course, listen to music. Rousteing said when he was growing up in the '80s and '90s in France, he believed he could rise to greatness after seeing black singers find success.
But can he sing?
"I sing a lot — in my shower," Rousteing said, laughing. "This is it. I'm really bad at singing, and I wish I could have a voice. I'm obsessed with music. To me, music has always been a big part of life. It's inspired me in so many ways. I think music is something that is more than an art. … Every step in your life you have music. You have music that reminds you of every moment of your life."
His favorite singers include Michael Jackson, Rihanna (who appeared in the spring/summer 2014 Balmain campaign) and Barry White. Wait a second — Barry White?
"There are a lot of things that people don't know about me," said Rousteing, who's also an avid boxer.
One thing that is known is that he's a strong advocate for diversity, especially in the French fashion industry, where he said he was once considered a risky investment.
"When I became the creative director," Rousteing said, "I had two different pressures: the fact that I was really young and the fact that I was black. … Sometimes I feel that racism is something that is not obviously obvious in fashion, but you feel it. … You have to prove [yourself] more than the others."
Six years later, he said he now wants to redefine French culture today in the way that designers Gabrielle "Coco" Chanel and Yves St. Laurent did during their heyday.
"I really want to show that I'm French more than ever," Rousteing said. "Because I'm adopted and I really don't know my biological parents, I'm really proud of the values I had because I grew up in France. I'm definitely super-French."
Rousteing's thoughts on identity have also intensified his curiosity about his birth parents, whose identities were never disclosed. As a child, he didn't talk for years, went to therapy and found solace in his imagination, sketching women and different characters and clothes.
"I'm going to start next November to open the research," he said. "I'm curious to know where I come from and to put a name on the color that I am. But I would rather know why my [birth] parents decided to not keep me. That's more important than the color of your skin to me."
The fashion king paused.
"I think it's time for me to open a new chapter and understand why," Rousteing said. "I was thinking this morning, 'I have the chance to have everything. I think I'm part of the 5% of the world. But not knowing where I come from, it's time to face it as well.' I think this will be the hardest moment of my life — facing where I come from. It's time."
Fashion Videos
ALSO
Dolce & Gabbana & 'Giselle': South Coast Plaza soiree celebrates Teatro alla Scala Ballet Company
Zaha Hadid, the late world-famous architect, offers a surprise — a style collaboration with Perrin Paris
It's Valentino in the topiary and Zoe Saldana on the guest list at Lotusland's Avant Garden gala