Fashion alert: Here are some of the big style accessory trends for spring 2019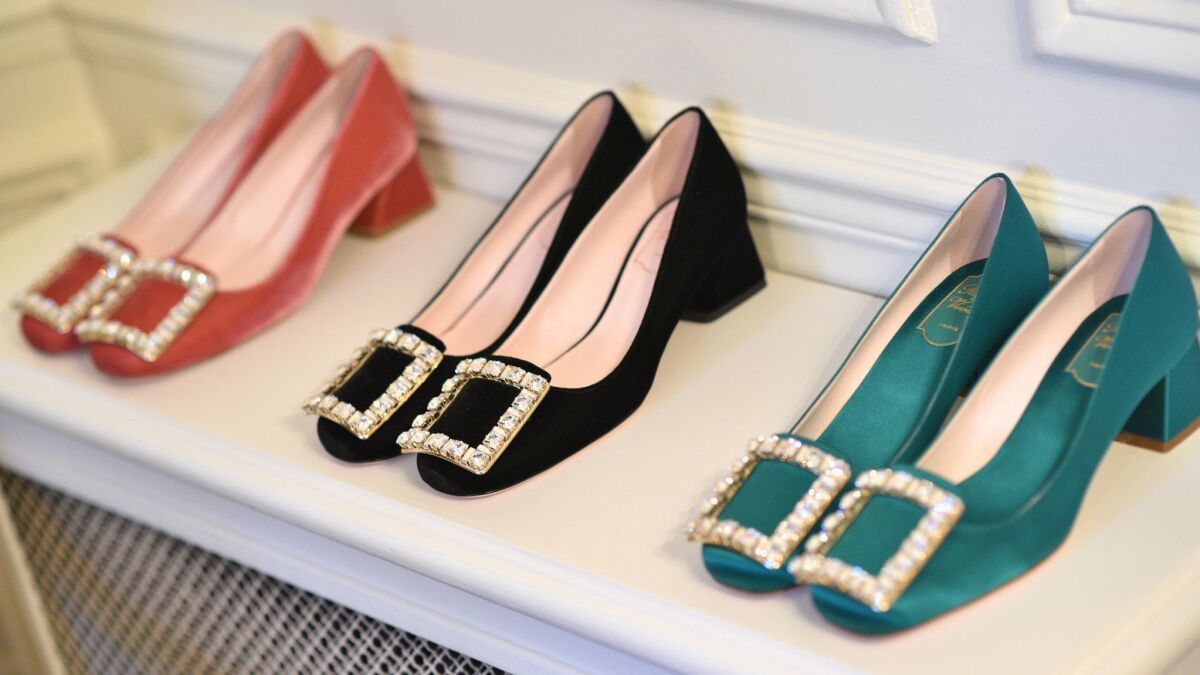 Roger Vivier
For the debut collection under its new creative director, Gherardo Felloni, transformed a stunning hôtel particulier in Paris' 5th arrondissement into the Roger Vivier Hotel.
Women embodying artists, opera singers and actresses, etc., played out their roles in rooms throughout the house, with Felloni's creations showcased alongside statues, a birdcage, and other charming scenarios.
Highlights included the Très Vivier, Felloni's take on the Belle Vivier pump, a shoe closer to the original design with a larger buckle and a new cube-shaped spin on Vivier's signature Virgule heel, and a Sixties-flavored, bright-pink mule with a rhinestone buckle. Other highlights included a range of slingback pumps in crushed velvet, and a pair of leopard-print mary janes with rosebud embellishments. The more flamboyant offerings included the Maharaja slingback embellished with a spray of ostrich feathers. — Katya Foreman
Le Luco
A project led by Hélène Carrouée, in the design seat, and Nathalie Colas, chief executive officer and commercial director, Le Luco, a new Parisian luxury leather goods brand carrying a "less is more" approach, takes its name from a nickname coined by the locals for one of the city's chicest parks: the Luxembourg Gardens.
The debut collection houses six handmade styles mixing noble and high-tech materials.
Highlights include the Equilibre, a revisited shoulder bag, and the Grand Large, inspired by the hull of a sailboat. The line's subtle nature-based palette includes sand, chestnut and dusky rose. — K. F.
Delvaux
Guests arriving at the Delvaux presentation were greeted by an installation showcasing a new Jean Colonna-designed, supersize version of the house's Brillant bag, the l'xxl, with a pump moving the bag up and down like a lung to demonstrate its lightness.
New highlights included the Tempête MM Tzigane with wicker panels and the Brillant Mini Jaipur with its bejeweled bracelet handle made from gold-colored metallic discs encrusted with precious gems.
The collection's equally exotic masterpiece was the Lady Gipset, hand-embroidered with different kinds of gemstones including quartz, tourmaline, sodalite, amazonite and pink jasper. The piece took around 100 hours to make and only 10 pieces will be produced worldwide. — K. F.
Maison Michel
For a former ready-to-wear designer (she had her own fashion line, Pièce d'Anarchive), Priscilla Royer doesn't actually seem to miss creating clothes that much.
"With hats I don't need to think about the silhouette, there is a lot more freedom," says the creative director of Maison Michel. "All I need to do is play with fabrics, colors and shapes."
The collection looked to seabeds and the different creatures that can be found lurking in the darkness. One chapter of the collection focused on glimmering details, like the shine generated by a passing school of fish. Another was reminiscent of corals: metal studs in silver, gold and rose gold replaced Maison Michel's signature ribbon. This was spotted both on a classic taupe hat as well as a bright orange model, with the brand's signature cat-ear detail. Some pieces could be tweaked depending on one's mood: a hybrid between a silk turban and a visor could also be worn as a full turban, simply by turning the visor to the back of the head. A bronze transparent beret was simply stunning. — Fleur Burlet
Yazbukey
The designer transformed the stage of the Théâtre de la Tour Eiffel into a one-of-a-kind fitness center. Models flexed muscles, checked pedometers and submitted to yoga routines wearing a mix of the brand's classic red lip motif — spotted on black bandeau tops, sweatbands and shoe clips — and new designs. A pink-and-green houndstooth motif was inspired by an Alaïa print and plastered over Lycra crop tops and leggings. Protein bars and energy drinks featured on sleeveless tops and shorts, and Plexiglas boxing gloves dangled around necks.
"The bars and bottles all have names taken from workout music songs, like Queen's 'Don't Stop Me Now,' which is both great to listen to at the gym but also for an instant mood lift," said the designer. Net hooded jackets were thrown over the skimpy workout clothes, while a model carried a bottle holder made of a vegetal-based plastic substitute, a first-time use for the brand. — F.B.
Donia Allègue
The designer shot to fame when Beyoncé picked one of her turbans to wear in her profanely named video, filmed at the Louvre, but her namesake brand has been designing elegant headwear since 2014. "I want the turban to become part of women's wardrobe, alongside hats and gloves," said Donia Allègue, who trained at Dior. She demonstrated the different ways a rich burgundy velvet turban could be positioned on the head: flattened like a headband or piled on top like a hat.
"I deliberately stayed away from any Oriental or Art Deco references for this collection, because I want to show how versatile turbans can actually be," said Allègue. The designs are made in France and come in two different sizes. A shimmering bronze model caught the eye, as did a more daring gold creation with an imposing side swoop. — F.B.
Moynat
A gold-coated version of the house's Réjane bag with curved sides was among the showstoppers of the collection, as well as a variation featuring gold particles sprinkled in between the scales of the crocodile skin.
Ramesh Nair also presented elegant Art Deco-inspired clasps with enameling, and new styles made from a single piece of leather.
But holding their own was a series of mini vanity cases in a range of stone finishes, including sandstone and slate, or artsy marquetry versions in abstract colors. — K.F.
---