Jonathan Gold's 101: Where to get sushi, ramen and more Japanese food
The fourth edition of Jonathan Gold's 101 Best Restaurants is now available online for subscribers — and the print edition will be out on Sunday. Of the many terrific places to eat on that list, where can you go for excellent Edo-style sushi, egg tofu with uni, bowls of Hakata-style ramen, izakaya small plates or a kaiseki menu? Here are the eight Japanese restaurants on the 101:
David Schlosser, slicing abalone, puréeing wasabi root with a tool made from sandpaper-rough sharkskin, fussing over the placement of a sliver of jellied fish skin on an arrangement of sea bream sashimi, presides over his dining bar, fashioned from a single 400-year-old cypress trunk, with the intense concentration you find in the very best chefs. His marquee dishes include seared A5 Japanese beef and salmon hot-smoked over smoldering cherry bark, but the real pleasures at Shibumi may lie in the crunch of the lightly salted cucumbers stuffed with shiso leaf.
Los Angeles is blessed with a large contingent of fine sushi chefs, and it is possible to explore more styles of sushi here than in any city outside Japan. But the most transformative sushi meals I have had here have come from Hiroyuki Naruke at the omakase-only Q Sushi downtown, who seems to have the ability to distill all the wonders of nature into careful mouthfuls of rice, vinegar and fish.
We all think we know what to expect from a great sushi meal in Los Angeles, a progression of fish and rice that runs from the vinegared dish at the beginning to the warm crab hand roll at the end. Dinner at Shunji, the playground of Shunji Nakao, is not that, although it is possible to get an all-sushi meal at lunch. The basic unit of consumption in the round dining room, built in the 1930s as a chili restaurant, is the omakase-like tasting menu, a lovely expression of the season.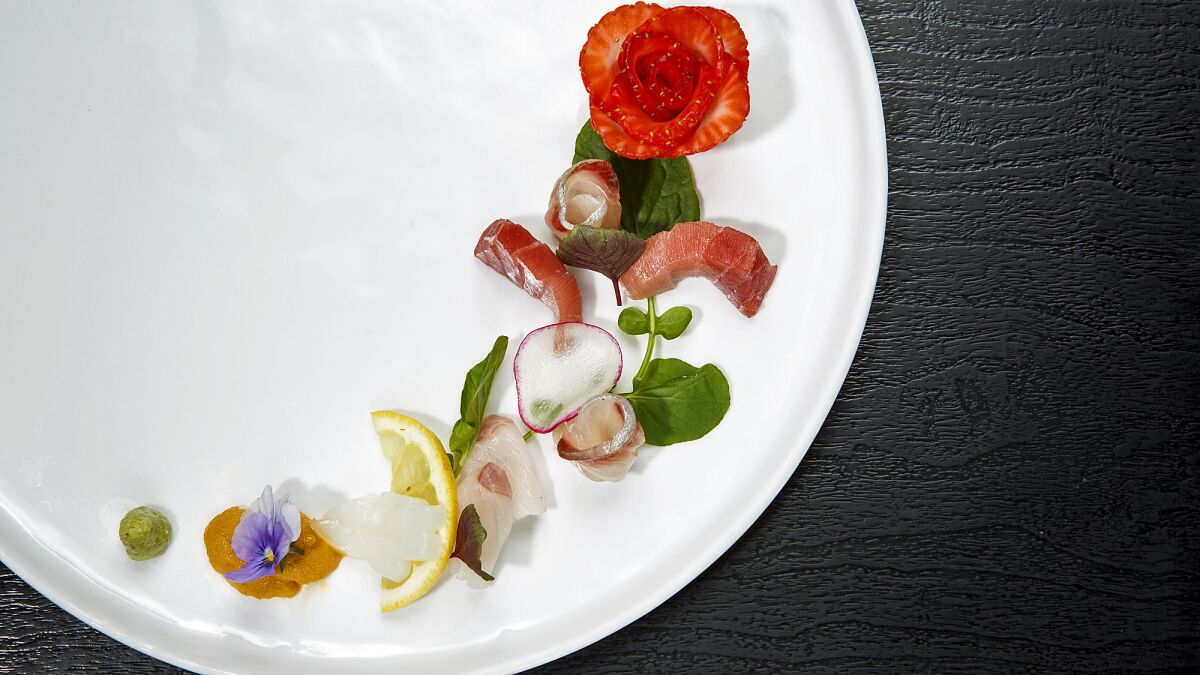 The ideal of Japanese kaiseki, multi-course feasts designed to express the mood of a season, has quietly supplanted the more conventional French model in ambitious California restaurants. N/naka may be as close as we come to kaiseki in Los Angeles, and the tiny Westside bungalow is reserved out three months in advance. Niki Nakayama, whose background includes both local sushi bars and Japanese ryokan, has become a food-world celebrity in the last couple of years, as famous for the herbs and vegetables she grows in her own backyard as she is for the classical rigor with which she might address a classic dobin mushi or a sashimi arrangement.
Far East Plaza has become the white-hot center of the new Chinatown food scene. Alvin Cailan, the auteur of Eggslut, started Ramen Champ upstairs.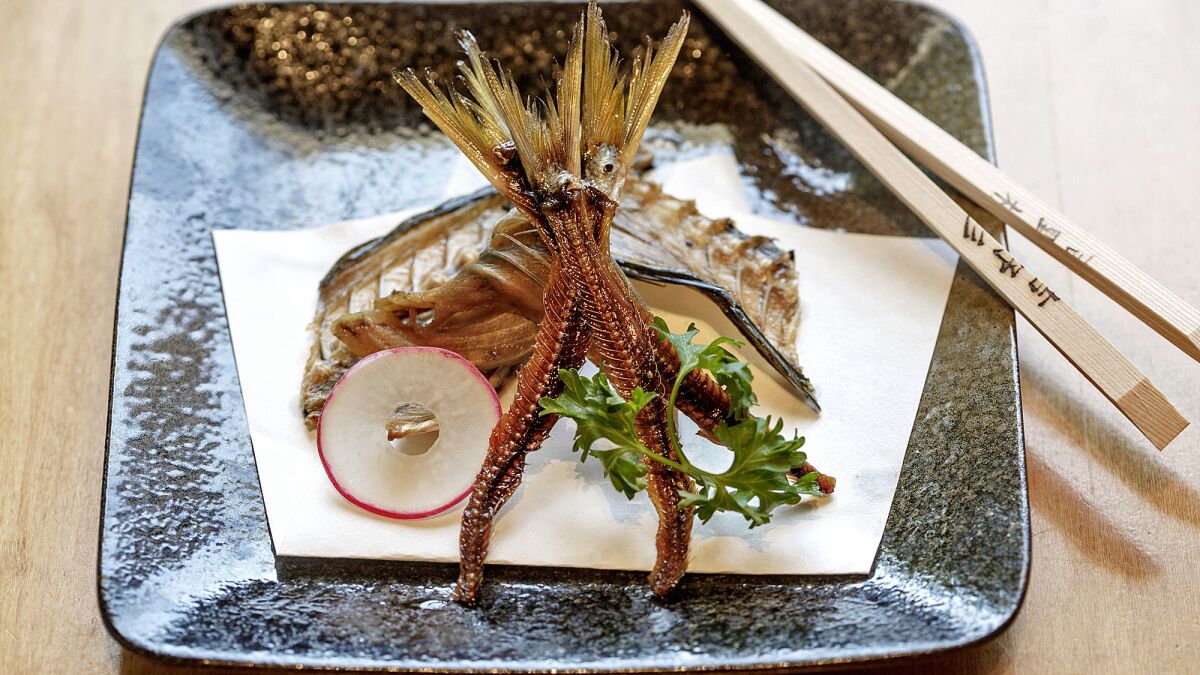 The most impressive knife work I have ever seen may have been at Asanebo last year, a steamed Hokkaido hairy crab whose shell and legs had been scored with an intricate series of trap doors that made it possible to extract every gram of the sweet, delicate flesh. The tiny dish of chawan mushi with uni and a brunoise of fresh wasabi may be the most labor-intensive bite in the San Fernando Valley. Some of the more elaborate sashimi presentations could pass for opera sets.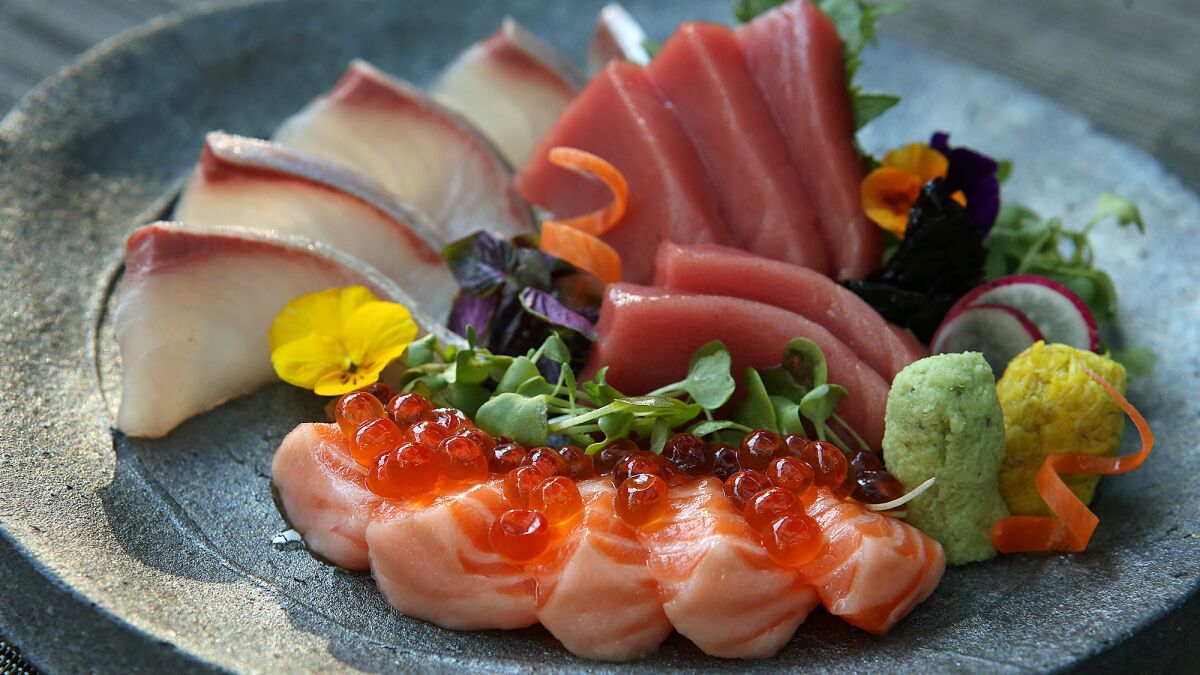 The original Aburiya Raku is a loud, slightly grimy Japanese restaurant in Las Vegas' Chinatown, as famous for its foie gras rice bowls and beef liver sashimi as it is for its fanatical following of chefs. The newish West Hollywood version feels less like Las Vegas than like Japan, all dark wood and private spaces, and an endless sake list. You order too much. And you are half-killed by the onslaught of food — tiny tempura-fried ice fish that look like French fries with eyes; crunchy asparagus wrapped in bacon; firm house-made tofu delicately fried and served in broth; and whole fish served first as sashimi and later fried, its crisp skeleton arching above a jumble of fried filets.
In the few years since Tsujita's debut, there has been a ramen renaissance in Los Angeles, including several regional styles and Tsujita's own Tokyo-style ramen at its annex just across Sawtelle, but its dense broth and weightless noodles are still the ones worth waiting in line for. Even the simmered egg, its yolk a vivid, reddish-yellow custard, is superb.
ALSO:
Jonanthan Gold's top 10 Best Restaurants
Jonathan Gold's Best Restaurants in Southern California
Delicious Food Corner is the most Hong Kong place in the SGV
---
Get our L.A. Goes Out newsletter, with the week's best events, to help you explore and experience our city.
You may occasionally receive promotional content from the Los Angeles Times.