Jonathan Gold's 101 Best Restaurants, 2016: The top 10
After much anticipation and maybe even more very real hunger, Jonathan Gold's new 101 list is finally here. The fourth edition of his 101 Best Restaurants is now available for subscribers — and the print edition will be out on Sunday. Here are Gold's top 10 for 2016:
1. Providence
Once again, Providence embodies what a restaurant should aspire to be. Michael Cimarusti still operates within the context of a modernist seafood chef who embraces flavors from across the globe, but the fish he uses is increasingly local and sustainable. The dining room is lovely and unfussy; the wine list is appropriate to the cuisine. Is the fourth year at No. 1 anticlimactic? Think of it more as a dynasty.
2. Shibumi
David Schlosser, slicing abalone, puréeing wasabi root with a tool made from sandpaper-rough sharkskin, fussing over the placement of a sliver of jellied fish skin on an arrangement of sea bream sashimi, presides over his dining bar, fashioned from a single 400-year-old cypress trunk, with the intense concentration you find in the very best chefs. His marquee dishes include seared A5 Japanese beef and salmon hot-smoked over smoldering cherry bark, but the real pleasures at Shibumi may lie in the crunch of the lightly salted cucumbers stuffed with shiso leaf.
3. Lukshon
Sometimes I think Sang Yoon may be the most underachieving chef in America, a man who will spend a thousand hours developing a perfect dan dan mian and then dump it from his menu because he got bored, or tinker on his fermented XO sauce the way your cousin Gabe works on his old Corvette. It may be beyond easy to underestimate the food at Lukshon. Someday, though, Yoon may decide to streamline all this into a $150 tasting menu. Until then, it's almost a bargain.
4. Spring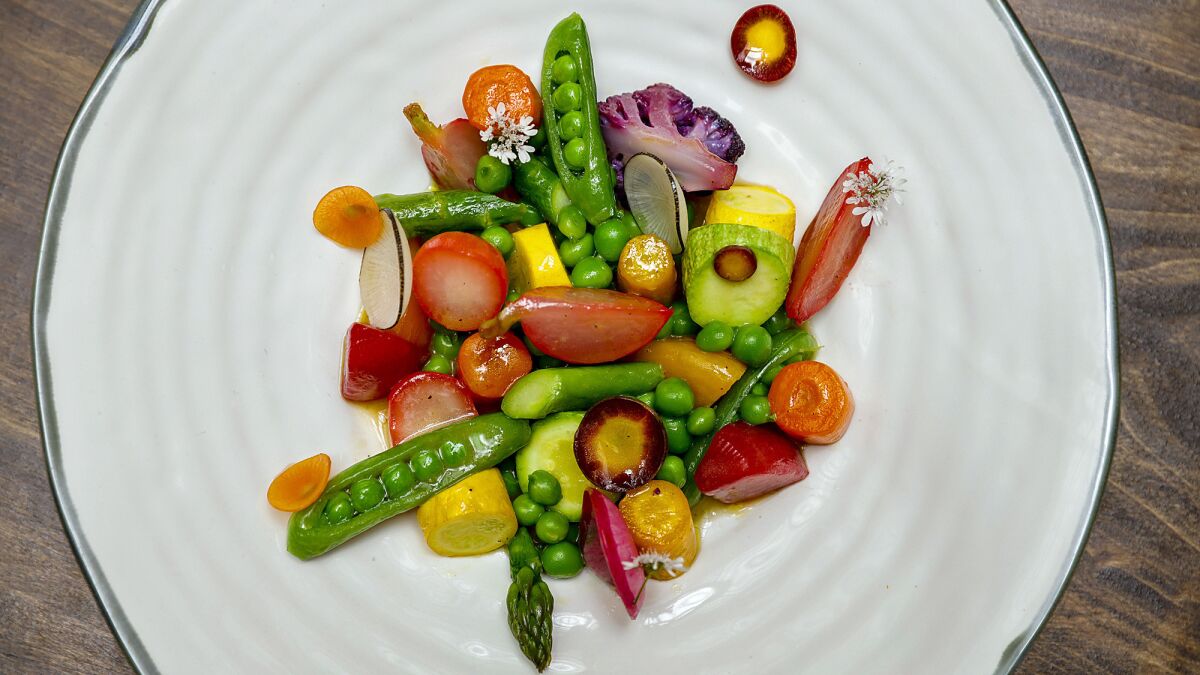 Spring is one of the loveliest restaurant spaces in Los Angeles: an old courtyard, dotted with pepper trees and high-end lawn furniture, under a century-old canopy of cast iron and glass. It is a serious restaurant, its flavors influenced by Provence and California, whose kitchen has achieved an almost fanatical level of execution.
5. Taco Maria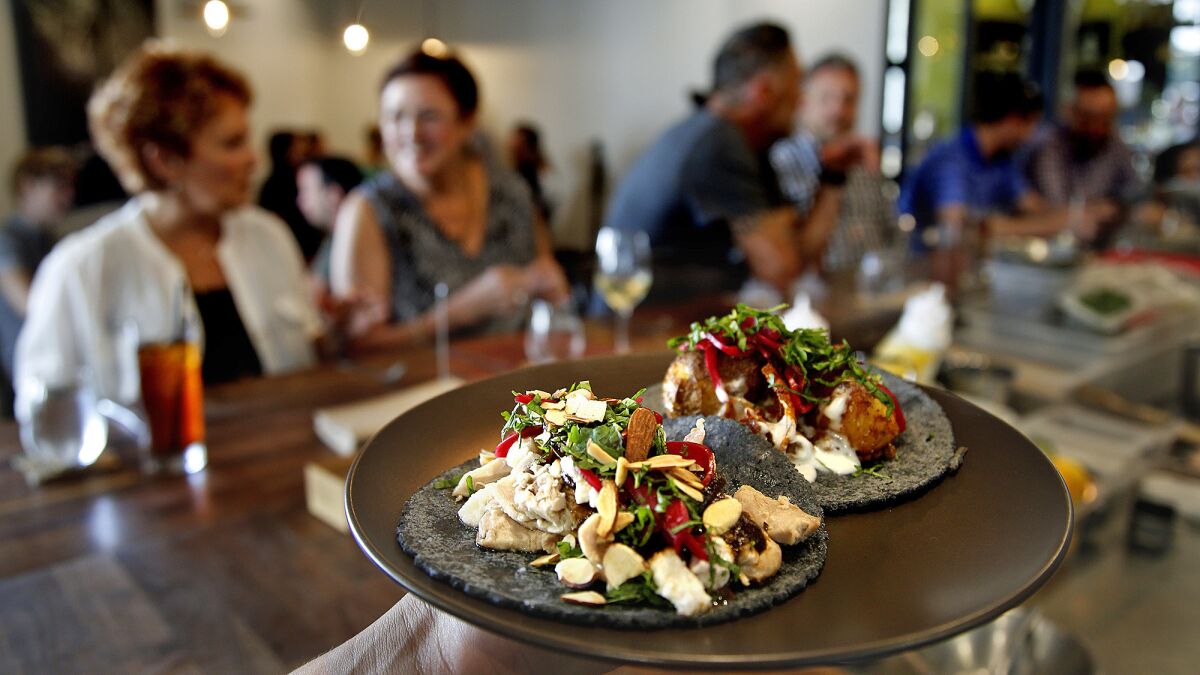 Taco María may be the most unlikely great restaurant in Southern California; a mall place, descended from a food truck, with a scattering of rough-hewn tables, a comfortable patio and piles of Mason jars. It would be easy to mistake Taco María for a genteel enchilada place instead of a restaurant with a $75 prix-fixe tasting menu and a young chef, Carlos Salgado, esteemed by some of the finest culinary minds in both California and Mexico.
6. Spago
Although an almost unimaginable number of people flow through the restaurant now, and it sells a lot of meat and potatoes, Wolfgang Puck, executive chef Lee Hefter and chef de cuisine Tetsu Yahagi manage to keep Spago relevant year after year in an environment where it is not enough to cook fish well, the fish must have meaning — whether it be a take on chirashi sushi served in a rustic crate or steamed loup de mer with a spot of shad-roe cream. Like the elevated pizza, pasta and salad with which the restaurant originally made its reputation, Spago's cooking flickers around the edges of memory and desire while never quite succumbing to them. And when your desires are more concrete, those meat and potatoes — grilled côte de boeuf with potatoes aligot — are awfully good.
7. Cassia
Cassia a busy, bustling megabistro loved for its clay-oven flatbreads with snails or chickpea curry, its grilled lobster with Vietnamese herbs and its versions of Singapore classics like seafood laksa or the coconut braised beef called rendang. There may not be an Instagram account in Santa Monica that hasn't included at least one snap of the egg custard with uni. But Ng, trained at the Cordon Bleu in Paris, is claiming the essence of French cooking as his own: colonizing the colonizers at last.
8. Mozzaplex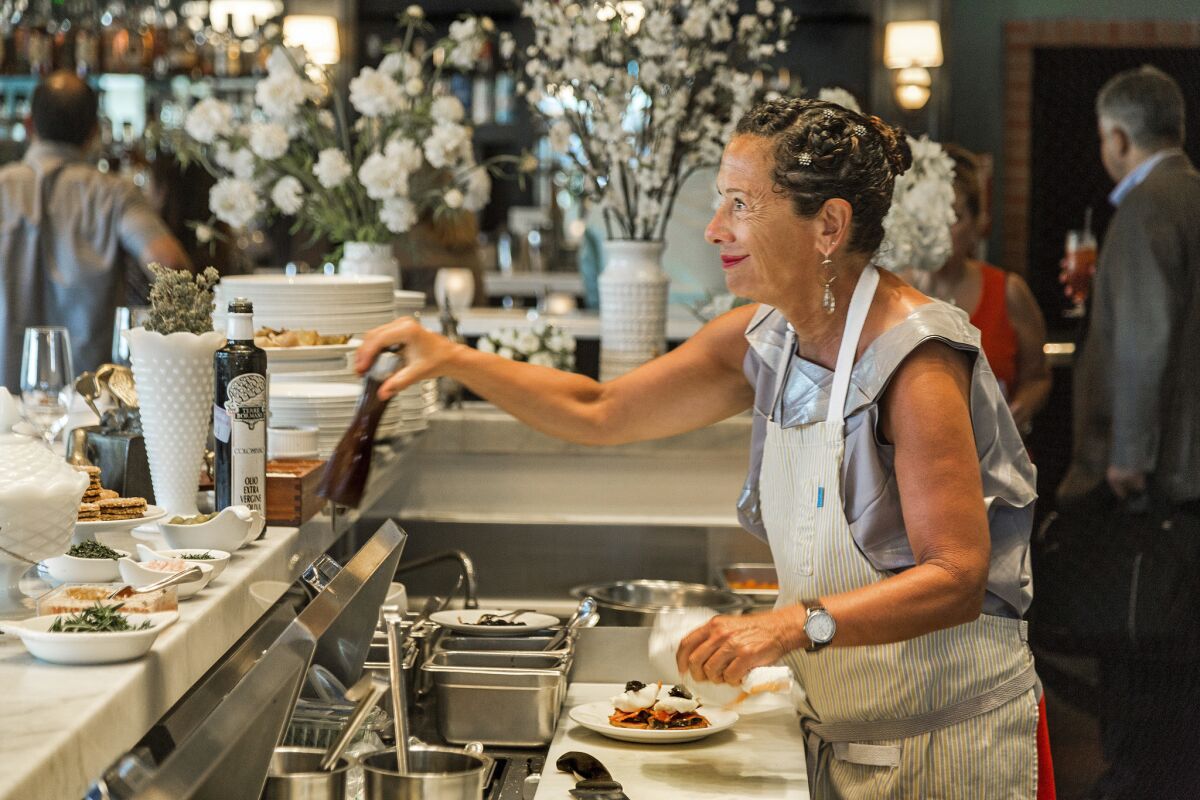 Nancy Silverton presides over the complex of restaurants at the corner of Melrose and Highland avenues. Pizzeria Mozza ranks among the best pizzerias in the United States. Osteria Mozza goes from strength to strength, from the mostly Emilia-Romagna-style fresh pastas to rabbit with sausage. Mozza2Go is the takeout arm, a counter with a small specialty in Puglia-style focaccia, among other things. Chi Spacca is an Italian meat restaurant, famous for mammoth steaks, slow-grilled tomahawk pork chops massaged with fennel pollen, and house-cured salumi.
9. Trois Mec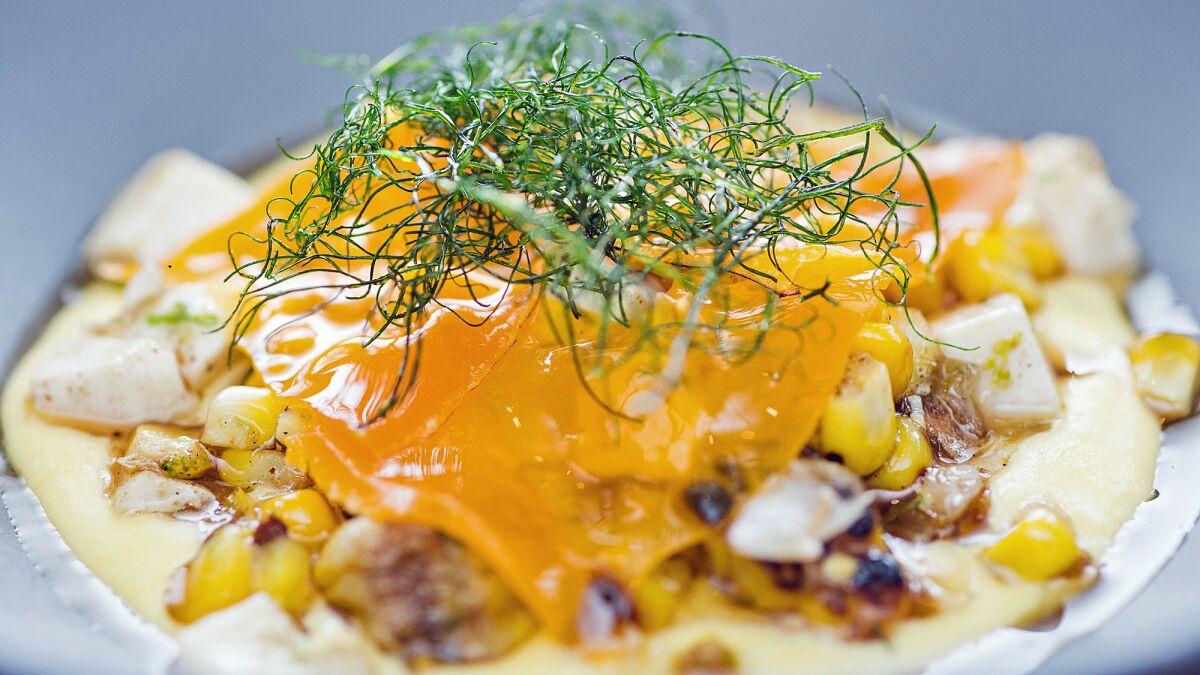 Ludovic Lefebvre is probably the buzziest chef in a city filled with buzzy chefs, the telegenic inventor of the pop-up restaurant; a chef capable of running grand kitchens who prefers to cook for 24 people at a time. Will the tasting menu include mustard crème brûlée, truffled grilled cheese sandwiches with charcoal ice cream, or cold smoked eel with white chocolate mashed potatoes? Or pork and cabbage? They just might.
10. Q Sushi
Los Angeles is blessed with a large contingent of fine sushi chefs, and it is possible to explore more styles of sushi here than in any city outside Japan. But the most transformative sushi meals I have had here have come from Hiroyuki Naruke at the omakase-only Q Sushi downtown, who seems to have the ability to distill all the wonders of nature into careful mouthfuls of rice, vinegar and fish.
Get our L.A. Goes Out newsletter, with the week's best events, to help you explore and experience our city.
You may occasionally receive promotional content from the Los Angeles Times.