11 you-need-these-right-now brownie recipes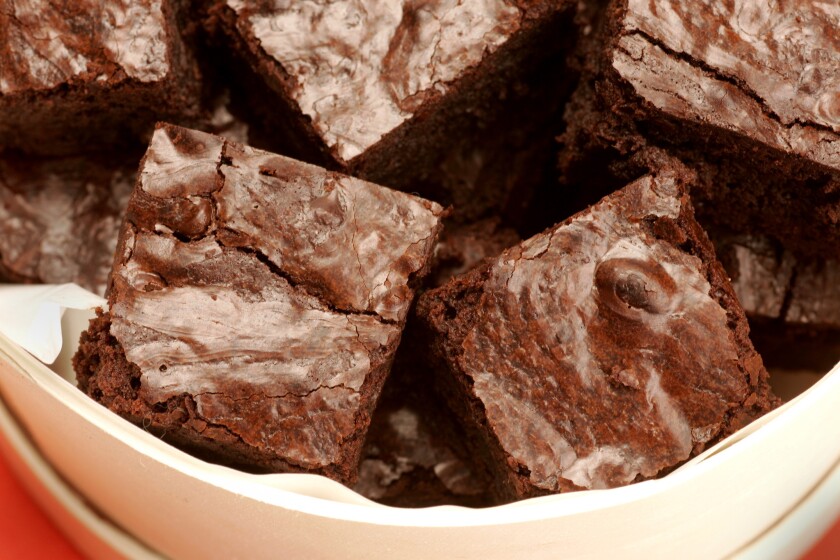 For brownie lovers (everyone with a soul), the mere sight of a pan of brownies can cause hysteria. Don't even think about letting it cool for more than a couple of minutes. It's important to get just the right piece, and then grab five more.
And those corners? The ones you bite into to find they are warm and fudgy in the middle and crisp and crumbly around the edges? They're worth fighting for.
Lucky for you and your grabby hands, making brownies is easy — like really easy. And they're ideal for all kinds of situations, such as potlucks, office meetings, birthday parties or a Tuesday night alone on the couch.
We've compiled 11 brownie recipes to satisfy every sort of sweet tooth imaginable. From extra-dense fudgy piles of goodness, to crumbly cake-like creations, we've got your sweet tooth covered. Classic brownies, spicy brownies, nutty brownies, and extra-rich brownies that combine multiple types of chocolate — because if one chocolate is good, more is always better.
We even have one brownie — the butterscotch brownie from Clementine — that has no chocolate at all, if you need to be contrarian about it. Another recipe, for Midnight chocolate brownie bites, combines three kinds of chocolate, plus some booze. Now all you need is a big glass of milk.
MIDNIGHT CHOCOLATE BROWNIE BITES
Total time: 1 hour | Makes 25 brownies
Note: From former Times Test Kitchen director Donna Deane.
1/2 cup (1 stick) butter plus more to butter the dish
1/2 pound bittersweet chocolate
3/4 cup packed brown sugar
1 teaspoon vanilla
1 tablespoon Grand Marnier
1 1/2 teaspoons lightly packed grated orange peel
2 eggs
1/4 cup best-quality cocoa
1/4 cup flour
1/8 teaspoon salt
1/2 cup mini chocolate chips
1. Heat the oven to 350 degrees. Line an 8-inch-square baking dish with aluminum foil, leaving a 1-inch overhang. Lightly butter the bottom and sides of the foil.
2. Melt the butter and bittersweet chocolate in a medium metal bowl set over simmering water until the mixture is smooth. Stir in the brown sugar until dissolved. Remove from the heat and stir in the vanilla and Grand Marnier, then the grated orange peel.
3. Whisk in the eggs, one at a time, until completely blended and the mixture is shiny and smooth; the mixture will be thickened at this point.
4. Sift together the cocoa, flour and salt, then stir the flour mixture into the batter until blended. Fold in the mini chocolate chips.
5. Spoon the batter into the prepared pan, smoothing the top. Bake for 35 to 40 minutes, until puffed and almost set. Do not overbake. Cool while still in the pan, on a wire rack.
6. Lift the brownies out of the pan, using the foil as a handle, and invert the brownies onto the cooling rack. Gently peel off the foil, then return the brownies to their original position. Cool completely. Cut into 25 squares, trimming off the edges if desired.
Each serving 134 calories; 2 grams protein; 15 grams carbohydrates; 1 gram fiber; 9 grams fat; 5 grams saturated fat; 27 mg. cholesterol; 21 mg. sodium.
Love cooking as much as I do? Follow me @noellecarter
---