$20 for a bottle of water? Your water sommelier will bring the menu right away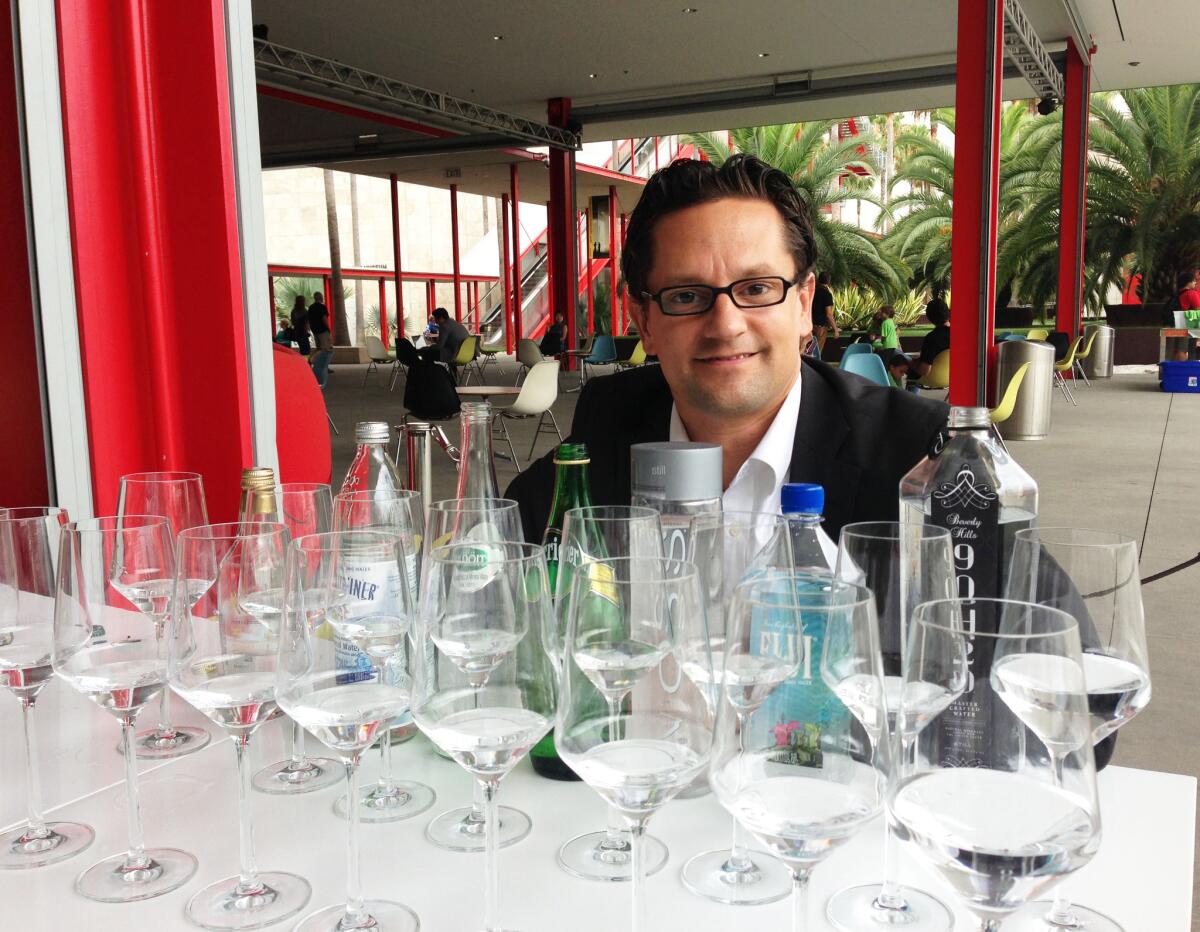 On a hot July afternoon, Martin Riese sits in a suit at one of the patio tables at Ray's and Stark with eight bottles of water and 16 glasses in front of him. He laughs as museum goers pause in front of his table to smirk or make a comment about the odd man with all that water.
There are bottles from France, Norway, Fiji, Germany and the United States, all neatly lined up, from flat to sparkling, ready to be poured for a water tasting.
In case it's not clear, Riese is crazy about H20. He's taking the clear liquid most of us take for granted as a simple necessity and attempting to turn it into a serious business.
Reise is the water sommelier -- yes, there is such a thing -- for the Patina Group of Retaurants. He's launching a water menu Monday at Ray's and Stark, the restaurant at the Los Angeles County Museum of Art, where he is also the general manager. Some of the bottles will be priced as high as $20.
If you're rolling your eyes right now at the thought of water sommeliers, water menus, and pricey bottles of water, know this: Glasses of curated cold water are one of the hottest things showing up on menus.
The concept of water menus has been attempted in Europe, with perhaps the most famous being from Le Water Bar Colette in Paris. It has even been tried in L.A. The Bazaar at the SLS offered a water menu a couple years back, but the concept never really took off.
Riese is hoping his menu with 20 waters from around 10 different countries will create a new experience for diners, one that goes beyond "flat or sparkling."
But on this hot day, one of the glasses in front of Riese is half full with tap water he retrieved from the men's bathroom.
"Smell this tap water. It smells like chlorine," said Riese with a look of disgust. "As a restaurant person here in L.A., I can say I would never drink that water. When you have good food, good wine and good spirits, you don't want to contaminate that with this water."
Riese was certified as a water sommelier after taking a weeklong course in Germany at Doemen's, one of a few schools in the world that offers certification for water specialists, but he insists he was largely self-trained by tasting.
He's worked at Michelin star restaurants all over the world and in 2005, he introduced a 40-label water menu at a German restaurant. He also wrote a book in 2009 about water and his knowledge on the subject earned him a special O-1 visa to live and work in the United States from Germany, awarded to individuals with extraordinary abilities and typically given to scientists and inventors.
"All waters have unique tastes, and a lot of Americans think water is just water, but I completely don't believe in that," said Riese. "Water has so many interesting nuances."
He pours a glass of Fiji water and swirls it like a glass of wine. He then takes a sip, puckers his lips and chews on the water for a bit before swallowing. He then pours a glass of Voss water and follows the same tasting procedure.
"Fiji is more in the smooth area and very light when I'm tasting it," said Riese. "Voss has more of a bitter taste to it. Right away I'm getting it on my palate when I drink the Voss. But Fiji, I don't have that."
Riese recommends Voss, with its bitter notes, for salads and Fiji, with its sweet notes, for desserts. After the water menu launches, Riese will make himself available to guests who would like water pairing recommendations for their food.
Riese's water menu will include 20 brands, including a water he crafted called Beverly Hills 90H20. It retails for $12 a bottle and is made from spring water from the Sierra Nevadas and added minerals. The bottles are made in limited editions of 10,000 individually numbered glass bottles. Other waters on the menu include Fiji water from Fiji, Voss from Norway, Badoit sparkling water from France and Berg from Canada. They will range in price from $8 to $20 a bottle.
"The hardest thing is to get the different waters into the country," said Riese. "For instance, I'm a huge fan of Tasmania rainwater, it's completely cool, but I can't get it here in the United States. So I had to find like waters that I can actually access."
One of his favorites that he'd like to include on the menu is called Iskilde "cold spring" from Denmark. It's a still water that has oxygen bubbles rather than carbon dioxide.
"This water is extremely sweet with a little bit of earthy notes to it as well and it's really interesting."
The menu will include a photo of each water bottle, the history of the water, whether it's sparkling or flat, the content of what's in the water and a dot taste rating system meant to show people how bitter or sweet a certain water tastes.
The prototype menu, if successful, will be introduced to other Patina Group restaurants.
"For me, I want to make it accessible, and I just want people to have fun trying it," said Riese.
ALSO:
There's a family-run sausage factory in L.A., and it's making Fritzi dogs
Just in time for Comic-Con, Wil Wheaton and company unveil their new beer
Food highlights - bacon, Krispy Kreme sloppy Joe and more bacon - at the Orange County Fair

Get our L.A. Goes Out newsletter, with the week's best events, to help you explore and experience our city.
You may occasionally receive promotional content from the Los Angeles Times.