6 ideas for the ultimate breakfast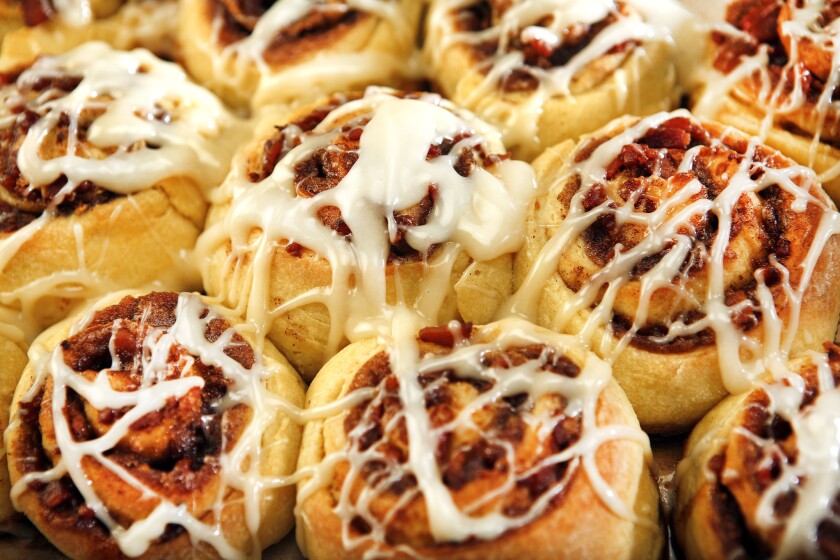 If breakfast is the most important meal of the day, why is it so often the most boring meal of the day? We tend to eat the same thing day in and day out under a variety of conditions, whether we're eternally crunched for time or eternally cutting calories. Sometimes, breakfast just needs to be fun.
Throw your cares, schedule and diet to the wind with these six ideas. And have a great morning.
Croque-madame
Talk about unapologetic goodness on a plate. La Dijonaise's take on this classic French comfort food sandwich is layering rich béchamel sauce and ham between two slices of pullman bread and topped with cheese that's melted to gooey perfection. Then gild the lily with a fried egg (this is what distinguishes the "madame" from the "monsieur").
Bacon and egg risotto
Love bacon? This velvety risotto incorporates the deep flavor of applewood-smoked bacon with arborio rice cooked to perfectly creamy consistency. Fresh-chopped chives and grated Parmigiano-Reggiano lend bright color and subtle tang, and a fresh egg yolk is nestled into each hot portion right before serving for added richness. Look no further, this is pure comfort in a bowl.
Mascarpone-stuffed French toast with orange compote
Have you ever tried stuffed French toast? You'll love this take — small, mascarpone-stuffed rounds, lightly scented with cinnamon and fried, then topped with a bright orange compote. And it's perfect for company; make the compote and assemble the "sandwiches" ahead of time, then fry shortly before serving.
Chocolate Dutch baby
Call them what you will -- Dutch babies, German pancakes, Dutch puffs -- they're all about the souffle factor. They're kind of like Yorkshire puddings or popovers, but supersized. Mix together a few ingredients and pour the batter into a hot buttered skillet, then put it in the oven and watch it swell. In minutes, these babies may puff to more than five times their original size.
For a chocolate pancake, fold sweetened cocoa powder into the batter to flavor, adding just a touch of espresso powder -- you won't taste the coffee, but it will help to bring out the richness of the chocolate. Round out the flavorings with a little almond extract or orange zest, then toss it in the oven. Then savor your creation fresh out of the oven, topped with a big scoop of ice cream.
Maple bacon cinnamon rolls
There will be times in life when nothing beats a big platter of maple bacon cinnamon rolls. They're like traditional cinnamon rolls but a little bigger, with a sweet maple syrup mixture brushed on a soft, yeasted dough before rolling. Sprinkle on a generous amount of crumbled bacon, then roll the dough up and cut the individual portions.
What's great about this dish is you can prepare it up to this point and refrigerate it until ready to bake. Make them the day before, if you'd like, then take them out first thing in the morning, when you're nursing your first cup of coffee, to warm them up slightly before baking. Out of the oven, drizzle them with a rich cream cheese glaze and you're ready to serve.
Coffee doughnut muffins
These treats are like some of the best hits of breakfast rolled into one, with a doughnut-like cake baked in muffin tins, then rolled in sugar mixed with espresso powder for added fun. Go ahead and make a double batch -- they'll go quickly.
Love cooking as much as I do? Follow me on Twitter: @noellecarter
ALSO
From one rotisserie chicken, 25 ideas for dinner
Check out the thousands of recipes on our Recipe Database
Why you're drinking cucumber watermelon mojitos after work tonight
---
Get our weekly Tasting Notes newsletter for reviews, news and more.
You may occasionally receive promotional content from the Los Angeles Times.