Recipe: Ojai Valley Inn's apple-wood-smoked bacon and farm-fresh egg risotto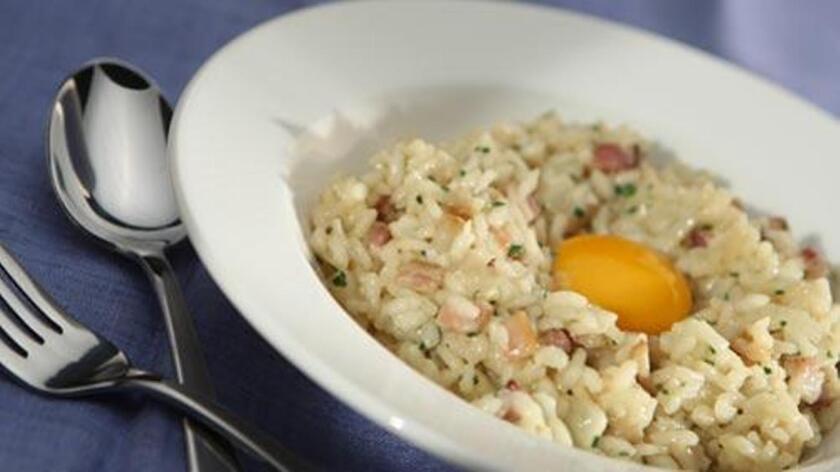 Dear SOS: Four of us recently went to the Ojai Valley Inn and had the best risotto! It was a bacon and egg risotto and had an egg yolk on top, which you broke open over the risotto before digging in. It was so good we all wanted more and could have licked the plate clean! If chef Jamie West would give us the recipe, we would be very grateful.
Lisa Henderson
Pasadena
Dear Lisa: This velvety risotto incorporates the deep flavor of apple-wood-smoked bacon with arborio rice cooked to perfectly creamy consistency. Fresh chopped chives and grated Parmigiano-Reggiano lend bright color and subtle tang, and a fresh egg yolk is nestled into each hot portion right before serving for added richness. Look no further, this is pure comfort in a bowl.
Apple-wood-smoked bacon and farm-fresh egg risottoTotal time: 40 minutesServings: 4Note: Adapted from a recipe by chef Jamie West of Ojai Valley Inn & Spa. Arborio rice can be found at well-stocked supermarkets, cooking stores and Italian markets. Apple-wood-smoked bacon can be found at most well-stocked markets.6 cups reduced-sodium chicken broth1 onion, chopped1 tablespoon butter1 1/2 cups arborio rice1 teaspoon minced garlic5 strips bacon, preferably apple-wood-smoked, cut into 1/4 -inch dice 1/4 cup grated Parmigiano-Reggiano 1/4 cup chopped chives Sea salt Freshly ground black pepper4 egg yolks1. In a medium saucepan, bring the broth to a simmer. Reduce the heat to low to keep the broth warm.2. Meanwhile, in a 4-quart heavy pot over medium heat, cook the onion in the butter until softened, stirring often, about 5 minutes. Stir in the rice, garlic and bacon and cook, stirring frequently, until the bacon begins to brown, about 3 minutes.3. Stir in one-half cup warm broth and continue to cook the rice at a simmer until the broth is absorbed, stirring frequently. Continue to add the broth, one-half cup at a time, stirring constantly until each addition is absorbed before adding the next, until the rice is creamy-looking but still slightly chewy, 18 to 20 minutes (you should have leftover broth).4. Stir in the cheese and chives, and season with salt and pepper to taste.5. Immediately divide the risotto among 4 warmed plates, and make an indentation in each mound of risotto for a yolk. Place a yolk in the center of each mound and serve immediately.Each serving: 302 calories; 12 grams protein; 32 grams carbohydrates; 1 gram fiber; 14 grams fat; 5 grams saturated fat; 225 mg. cholesterol; 1121 mg. sodium.
---
Get our weekly Tasting Notes newsletter for reviews, news and more.
You may occasionally receive promotional content from the Los Angeles Times.