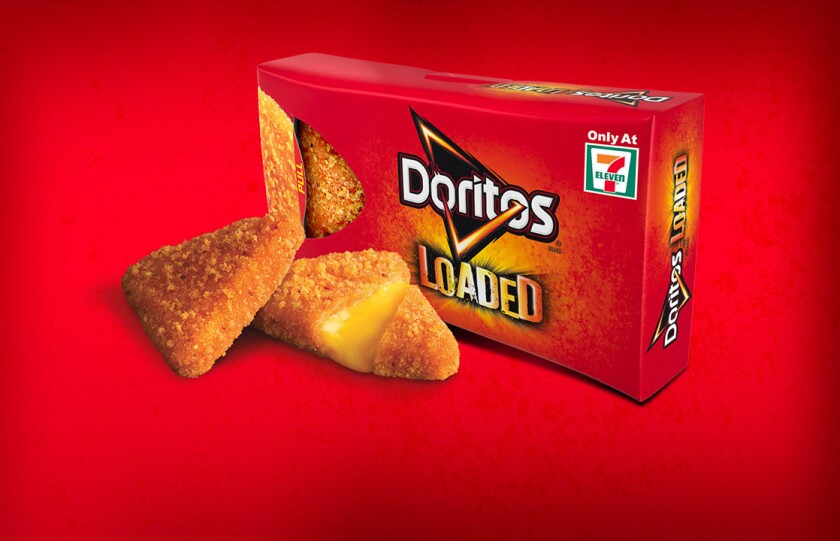 This post has been updated. See note below for details.
Doritos lovers, get ready to have your minds blown. 7-Eleven is giving Angelenos a first look at its new Doritos Loaded warm nacho cheese snacks Friday.
The new Doritos mozzarella stick hybrids are golden triangles of melted cheese encrusted with Doritos nacho cheese flavor. Think Doritos chips dipped in queso.
People looking to snag a sample can head to the 7-Eleven locations at 6077 W. Third St., from 5 to 9 p.m, and at 1810 Cahuenga Blvd., from 12 to 2 p.m., on Friday.
The samples will be available at a Doritos Loaded lounge outside the stores. RSVP online.
The Doritos Loaded will launch at 7-Eleven locations nationwide July 2. A box of four is priced at $1.99.
Washington, D.C., resident Kevin Cobb spotted the Doritos Loaded snacks at a 7-Eleven location in February during a test-run for the product. He described them on Twitter as tasting like Nacho Cheese Doritos and queso and said they reminded him of a cheese stick.
Update at 11:50 a.m.: This post has been updated to reflect 7-Eleven's updated times for its events Friday.
Want more quirky food news? Follow me on Twitter: @Jenn_Harris_
---