How to make an easy 30-minute albacore ceviche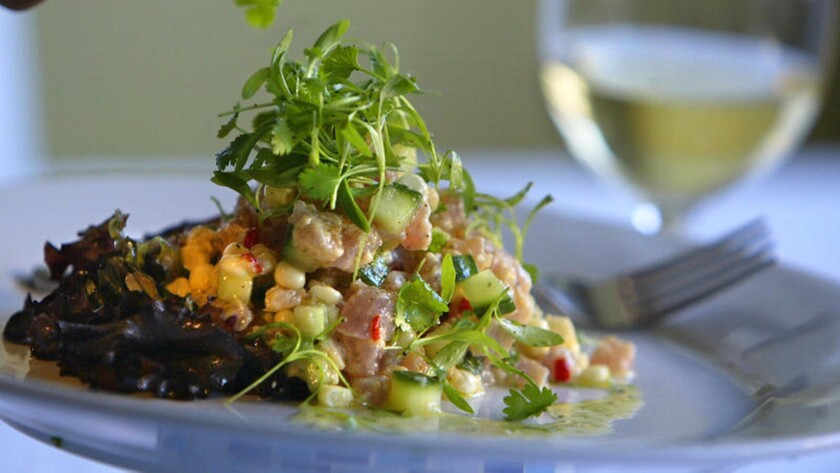 When it comes to a simple, refreshing meal, you can't beat ceviche. In this recipe, albacore is quickly marinated in lime and tangerine juices, mixed with a confetti of diced cilantro, cucumber, radish and corn, then served on red leaf lettuce. The recipe, start to finish, is ready in 30 minutes.
ALBACORE CEVICHE SALAD
Total time: 30 minutes | Serves 6
Note: From Abigail Wolfe and Ian Torres at Chloe in Playa del Rey.
1 cup sweet corn kernels, cut from 1 to 2 cobs
3/4 cup plus 2 teaspoons extra virgin olive oil, divided
Salt, pepper
12 ounces raw albacore tuna
1/2 cup lime juice
4 tablespoons tangerine juice
1 1/3 cups peeled, seeded and diced cucumber
1 cup red radish, julienned
4 tablespoons chopped cilantro
12 leaves red leaf lettuce
2 tablespoons fresh cilantro leaves
1. Cook the corn kernels in 2 teaspoons oil in a small sauté pan for 2 to 3 minutes on low heat until crisp-tender. Season with salt and pepper; place in a small bowl and chill.
2. Remove the sinew from the fish and cut the meat into small dice.
3. Combine the lime and tangerine juices with salt and pepper to taste, then whisk in the remaining 3/4 cup olive oil. Marinate the fish in this mixture for 3 to 5 minutes.
4. Combine the marinated fish with the chilled corn and the cucumber, radish and chopped cilantro. Season with salt and pepper to taste.
5. To serve, place 2 lettuce leaves on each salad plate. Spoon some of the juices onto the leaves. Using a slotted spoon, mound the ceviche onto each plate. Garnish with cilantro.
Each serving: 356 calories; 15 grams protein; 10 grams carbohydrates; 2 grams fiber; 30 grams fat; 4 grams saturated fat; 26 mg. cholesterol; 38 mg. sodium.
Love cooking as much as I do? Follow me @noellecarter
ALSO:
Treat yourself with this brown sugar shortbread recipe
Fix this simple chicken and cantaloupe salad for dinner tonight
Farmers market report: Eggplant is in season. We have 9 great recipes
---
Get our weekly Tasting Notes newsletter for reviews, news and more.
You may occasionally receive promotional content from the Los Angeles Times.