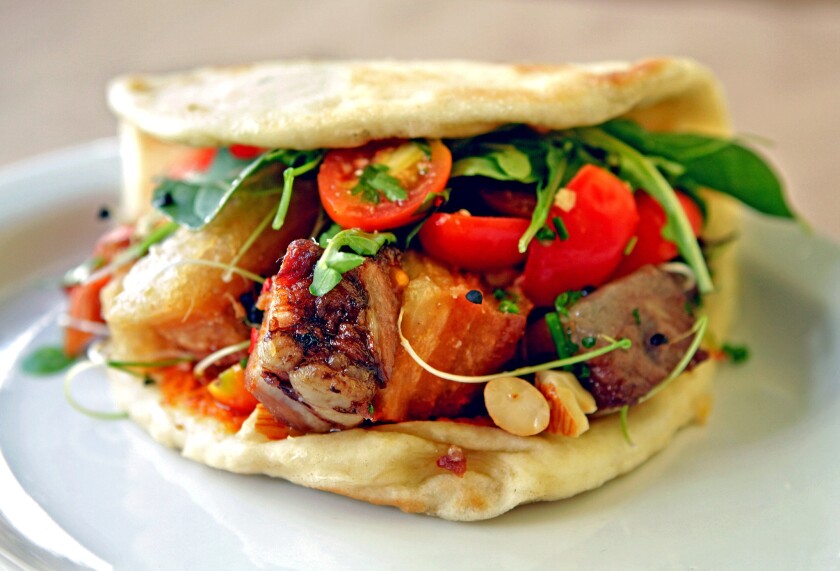 Josef Centeno, the chef behind Bar Ama, Bäco Mercat, Ledlow and Orsa and Winston, all near Fourth Street and Main Street in downtown Los Angeles, plans to open his newest concept, Bäcoshop, in Culver City by the end of the year.
"I don't have a lot to report at this time, but Bäcoshop will be happening in Culver City," Centeno said in an email to The Times. "The emphasis will be a take-away version of Bäco Mercat."
Centeno said the original idea for Bäco Mercat, his restaurant based on his Bäco flatbread, was to be a sandwich shop.
"But it quickly evolved — in a great way — and now I'm getting back to basics," Centeno said.
At Bäcoshop, expect different versions of the Bäco flatbread sandwich Centeno is known for, as well as the Bäcorrito, a Bäco-burrito hybrid.
It's made with dough similar to the Bäco bread dough, which is flattened and cooked like a flour tortilla. It will be used to wrap fillings you may find in some of the Bäco sandwiches, and will look like a burrito.
Although Bäcoshop will be designed as a takeout restaurant, Centeno said there will be some seating inside as well as beer and wine for sale.
The restaurant will take over the space formerly occupied by Chop Daddy, at the corner of Washington Boulevard and Irving Place.
A good burrito is the way to my heart. Follow me on Twitter & Instagram @Jenn_Harris_
ALSO
In the food world, when Instagram is your business card
Cookbook of the week: "A Super Upsetting Cookbook About Sandwiches"
What we're into: Free popcorn that tastes like Doritos from Westbound in the downtown Arts District
---