Bäcoshop, Josef Centeno's Culver City fast-casual restaurant, opens Thursday
Coffee-rubbed steak with charred scallion crema; braised pork cooked with berbere Doro Wat-style; and buttermilk cucumbers with pickled grapes. This is how chef Josef Centeno does fast-casual dining.
If you're familiar with Centeno and his five downtown L.A. restaurants — Orsa & Winston, Ledlow, PYT, Bar Ama and his first, Bäco Mercat — it may seem odd to see the chef outside of downtown. But on Thursday, he'll open his sixth restaurant, a fast-casual spin-off of Bäco Mercat called Bäcoshop — on the corner of Washington Boulevard and Irving Place in downtown Culver City.
While Bäco Mercat is now recognized as one of the best restaurants in the city, Centeno says his original intent was to make it a Bäcoshop, much like his latest restaurant, and centered on those namesake bäcos, sandwiches made with Centeno's signature flatbread.
"The plan was always to get to this and do kind of a Bäco to Go; we were just trying to figure it all out," said Centeno. "This is us figuring it out."
At Bäcoshop, you order at the counter, sit down at one of the tables inside or on the patio, no reservation required. And Centeno says he aims to have you through the line in three to four minutes. Behind the counter is a sort of assembly line that starts with a Somerset dough roller that shapes the bäcos. The bread is then cooked on the flattop. A couple people man the grill, and to the right, bowls are filled with grains and greens, sandwiches are folded, and bäcorritos (the unleavened version of the bäco, used like a tortilla) are wrapped.
The opening menu will include five bäco sandwiches or bäcorritos (you can opt to have either with the fillings): green herb chicken with za'atar, coffee-rubbed steak, braised pork, roasted eggplant and shrimp in a chile de árbol sauce.
Centeno's salads are also on display in a case at the front: a bright orange beet salad with turmeric vinaigrette, "Caesar" Brussels sprouts with pecorino and roasted cauliflower with wild rice, raisins and pecans. There's also a grain bowl with burrata, and an option to order a trio of salads.
To the very right of the counter, there's a selection of grab-and-go items, including salads and the Bäco Snax, a sort of bento box with dips, appetizers and bäco bread or house-baked crackers. This right side of the counter will also act as a sort of express line; if you're running low on time, you can head straight to the end of the counter to grab something to go.
To drink, there are Bäco pops (the sodas Centeno sells at all his restaurants) as well as wines and beers on tap. There will also be bottles of wine available for sale to take to-go.
"I wanted it to be quick and fun, and the bäcos are completely different from downtown," said Centeno. "I still want people to come to downtown and experience the OG stuff."
Designed by Bells and Whistles, the restaurant is a bright, open space with pops of red. "I didn't want it to feel corporate," Centeno said of the design. "It's fast-casual, but I wanted it to have style,"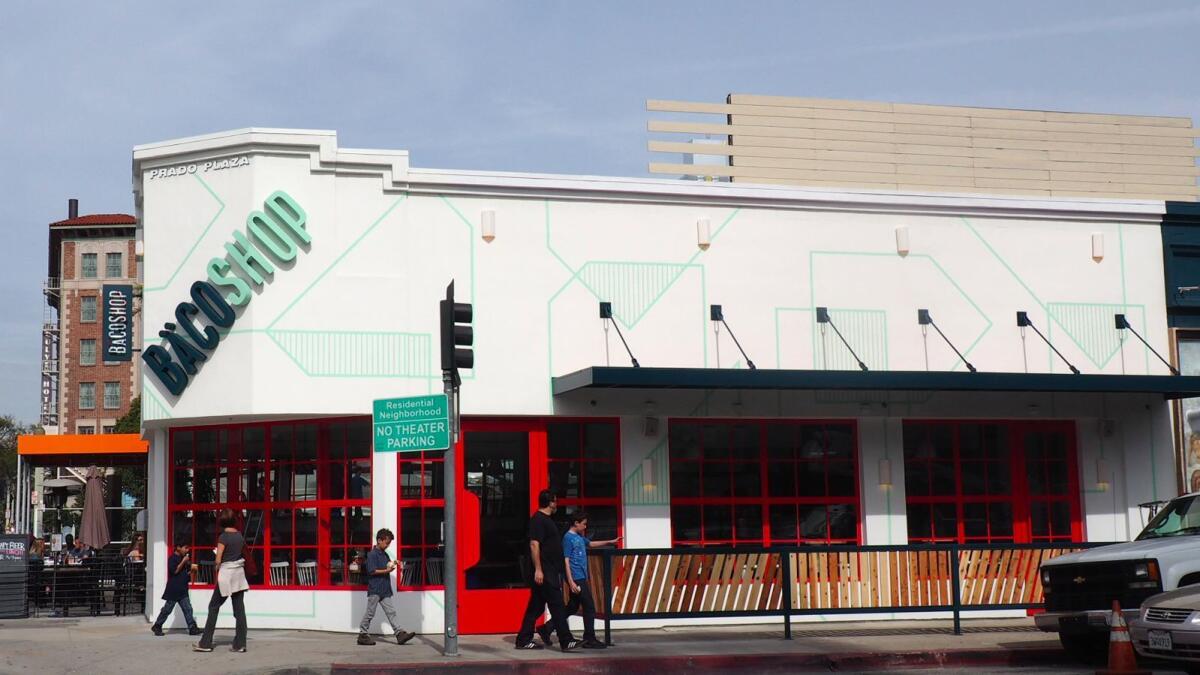 Centeno also knows he's in good company with the new location.
"We had been looking for a long time, but this space came up, and Culver City is having kind of a reinvention." said Centeno. "It's exciting to be here with Jordan [Kahn of Destroyer] down the street, Sang [Yoon of Lukshon and Father's Office] down the street, who has always been ahead of the game, and Akasha [Richmond of Akasha and AR Cucina] across the street."
With this new fast-casual formula, the idea is to have the Culver City location be the first of many.
"It would be cool to open in San Francisco, New York City, Nashville, Chicago … a lot of the really food-centered cities," said Centeno.
Next for the chef is the release of his first cookbook, "Bäco," which he says is based more on his flavors than the actual flatbread. The book is scheduled to be released in September.
9552 Washington Blvd., Culver City, (424) 258-6301, www.baco-shop.com.
ALSO:
Culinary SOS: Turkey chili from Panera Bread
Four reasons to drink beer with your breakfast
Why all the fuss over bone broth? It's just a fancy name for stock
Get our L.A. Goes Out newsletter, with the week's best events, to help you explore and experience our city.
You may occasionally receive promotional content from the Los Angeles Times.