Try this barbecue shrimp recipe, plus great tips for buying shrimp at the market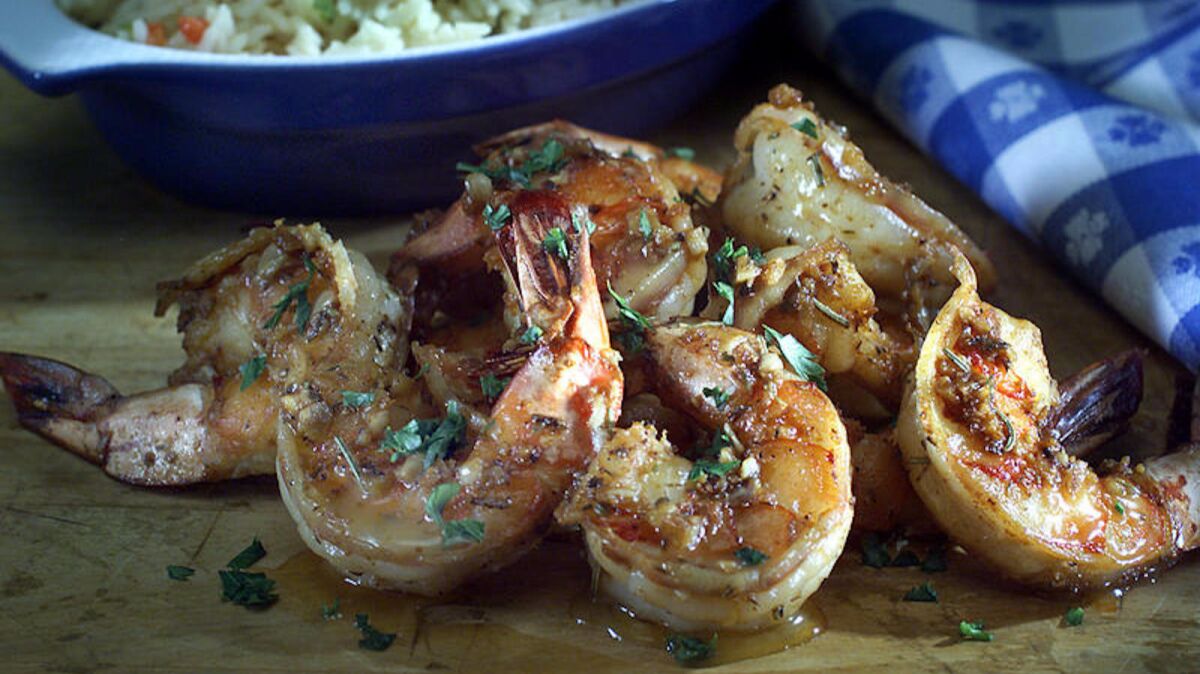 If you're a shrimp fan, you'll love this recipe. Jumbo shrimp are cooked in a sauce full of bold, bright flavor in a dish that comes together in mere minutes. This may not be a traditional dish when you think of "barbecue," but this Louisiana barbecue shrimp shrimp dish channels the flavors and style of the Big Easy for a quick weeknight meal you'll find yourself fixing over and over again. Just be sure to serve it alongside plenty of bread or over rice to sop up all that great sauce.
Kitchen Pro Tip: When it comes to buying shrimp and other fish, "fresh" is not always better. Because they have such a short shelf life, most of the commercial shrimp we buy are caught, cleaned and quickly frozen (labeled IQF, or "individually quick frozen) before shipping to their final destination.
If you buy non-frozen shrimp at your local seafood counter, you might actually be paying extra for the market to thaw the shrimp for you, and you have no idea how long ago it was thawed. Go ahead and buy the shrimp in the frozen aisle — it's often cheaper and more convenient (you can buy in bulk, thawing as you need them). Check out the video for more information.
LOUISIANA BARBECUE SHRIMP
Total time: 20 minutes | Serves 4
2 pounds jumbo shrimp
1 teaspoon cayenne pepper
1/2 teaspoon black pepper
1 teaspoon salt
2 teaspoons minced fresh thyme
2 teaspoons minced fresh rosemary
1/2 cup (1 stick) butter
1 tablespoon minced garlic
1 tablespoon Worcestershire sauce
1. Peel and devein shrimp. Set aside in a medium bowl. Combine cayenne pepper, black pepper, salt, thyme and rosemary and rub into shrimp.
2. Melt butter in a large skillet over medium-high heat. Add garlic and Worcestershire sauce and cook, stirring, until garlic is very fragrant, about 1 minute. Add shrimp and saute, turning shrimp once or twice until they are pink, about 2 to 3 minutes.
Each serving: 366 calories; 1,099 mg sodium; 283 mg cholesterol; 26 grams fat; 3 grams carbohydrates; 30 grams protein; 0.39 gram fiber.
Love cooking as much as I do? Follow me @noellecarter
ALSO
How to slice a steak the right way, and a recipe for tri-tip salad
Farmers market report: Tomatillos are in season. We have recipes
Try this slow-braised rib recipe, and learn how to trim ribs like a pro
Get our L.A. Goes Out newsletter, with the week's best events, to help you explore and experience our city.
You may occasionally receive promotional content from the Los Angeles Times.