Six smartphone apps for beer lovers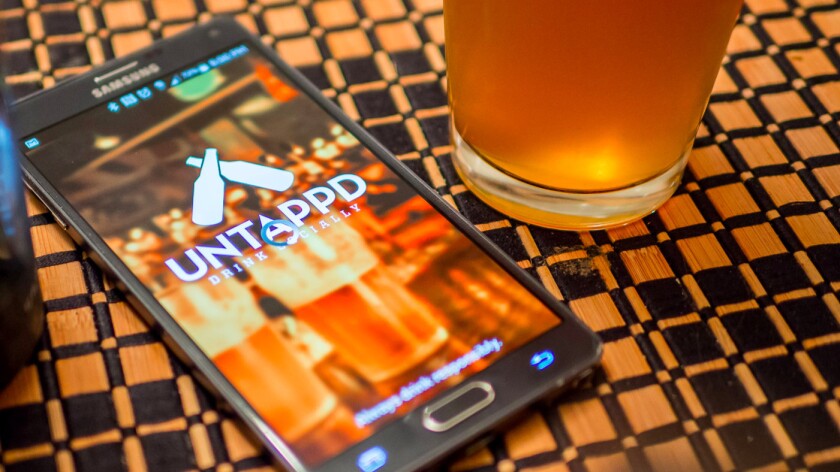 Craft beer can be a rabbit hole of styles, statistics, brands and minutia. It can take years of study to learn all the intricacies of the brewing process and the difference in hop varieties, and to develop your palate into a finely honed beer-tasting machine. Thankfully, you probably already have a useful tool in your pocket for demystifying the nuances of modern beer culture: your smartphone. There are a bevy of apps available that can help you find, taste, rate and understand all the great beer out there.
Here are half a dozen of the most useful tools for becoming a better beer drinker.
Untappd
The reigning king of beer-centered smartphone apps is undoubtedly Untappd. The six-year-old app is feature-rich and remains simple to use — even if you're a few pints in. At its core, Untappd is a beer-rating app dressed up like a social network. Once you've created a profile, you can rate and review the beers that you drink, add friends to your feed to see what brews they are enjoying, get recommendations for beers similar to what you've rated highly and search for nearby bars and bottle shops (often including real-time data about what beers are available).
Untappd is available for free on Android and iOS.
RateBeer Beer Buddy
If you're interested in beer ratings and reviews but don't want to deal with the social-network aspect of Untappd, try the smartphone apps from the popular RateBeer website and database. A respected and nuanced rating site, RateBeer has been a popular place for beer lovers to share reviews on the Internet since 2000, and the site offers a selection of mobile apps for just about every platform — though you'll have to pay for them. The flagship app is Beer Buddy, which offers a bar-code scanner, RateBeer rating integrations and a listing of beer events. The iOS version is $3.99. Android users have it a little easier at just 99 cents.
RateBeer Beer Buddy for Android and iOS.
TapHunter
Taphunter is all about showing you what beers are available nearby or at your favorite watering holes. Bars and restaurants can upload real-time data about what they have on draft or in bottles, and users can search by location or by beer, or view a map to see where the good stuff is pouring. There is also an event listing, so you can catch local tap takeovers or beer festivals, and you can set up the app to notify you when your favorite brews are available close by. Though craft brews are the focus of the service, wine and cocktails are also listed.
TapHunter is available for free on Android and iOS.
BJCP Style Guides
Have you ever pondered a beer list and asked yourself "what's the difference between a maibock and a dopplebock"? With America's craft brewers exploring hundreds of styles and sub-styles, it's easy to get lost. The BJCP — Beer Judge Certification Program — is a well-established organization of home brewers, who maintain a detailed style guide that covers everything from altbier to zwickelbier. The guide also includes a breakdown of a style's quantitative stats (alcohol content, bitterness levels, color) and qualitative descriptions of how the style should look, smell and taste. And the guide is regularly updated. There are a few smartphone-app translations of the style guide, and these apps are a great way to take a deep dive into beer.
BJCP style guides are free for Android and iOS.
Cicerone Brewing Process
The Cicerone Certification Program is similar to the BJCP but focused less on home brewing and more on the service industry. The Chicago-based organization was started in 2008 and offers professional beer certifications that range from straight-forward online tests to become a certified beer server to the highest level two-day exam akin to the master sommelier exam. The program has developed a companion smartphone tutorial that covers the equipment and processes brewers use to make beer. The app is $2, but it's an indispensable resource if you're interested in pursuing the Cicerone certification.
Cicerone Brewing Process is $1.99 for Android or iOS.
Instagram
Although Instagram is obviously not a beer-focused app — you probably already have it installed on your phone — it's indispensable for the dedicated beer lover. Besides posting shots of the rare pint your scored at the bar or the haul of specialty bottles, Instagram is a great way to connect with your favorite local breweries and beer bars. The service is a popular place for brewers to share news and special releases and for bars to announce when fan-favorite brews get tapped. Local breweries such as Monkish, El Segundo Brewing Co., Smog City Brewing and Beachwood Blendery regularly post announcements and specials on Instagram, and a few other breweries are taking their IG game to a whole other level (we're looking at you Noble Ale Works).
Instagram is free on Android and iOS.
ALSO:
Four peach beers to toast the end of summer
Get to know grisette — a saison-like beer built to quench a miner's thirst
Four new happy hours to check out now: Paley in Hollywood, Simbal in Little Tokyo and more
---
Get our weekly Tasting Notes newsletter for reviews, news and more.
You may occasionally receive promotional content from the Los Angeles Times.