Best cookie ever? How to make Milk Bar's compost cookies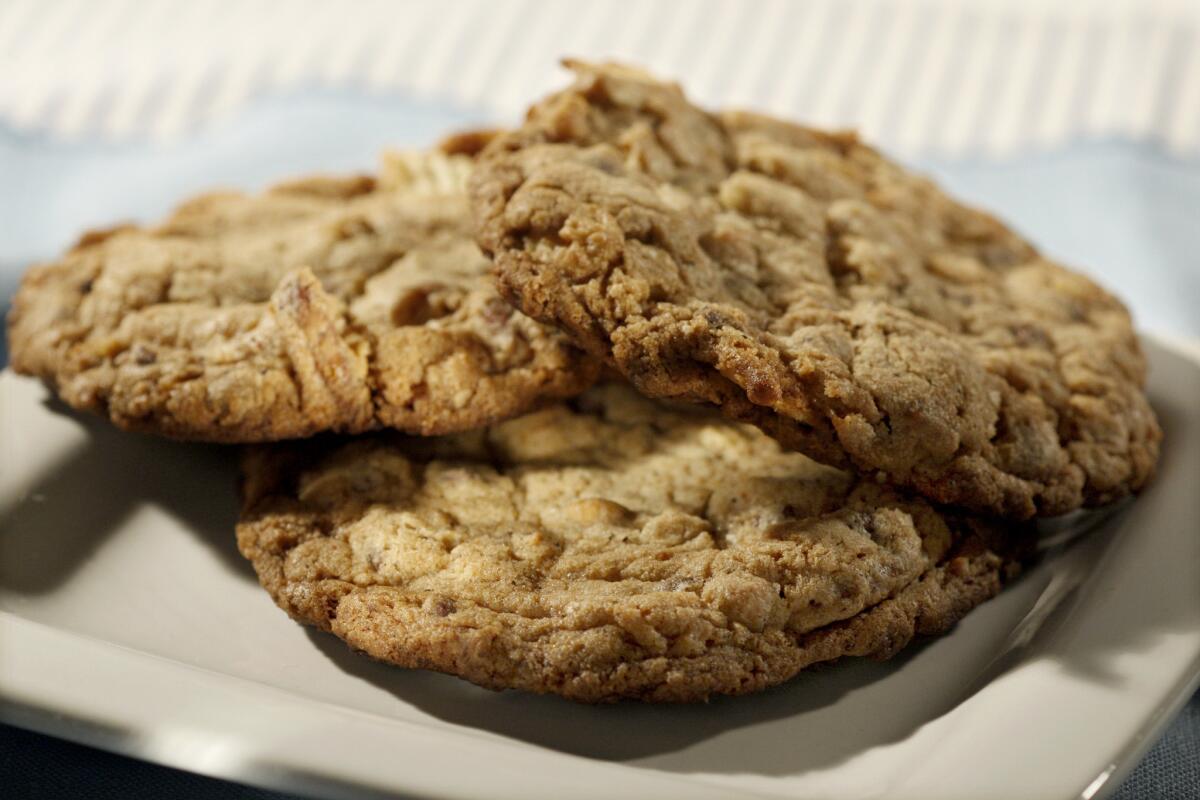 Ever try the compost cookies from chef Christina Tosi at Milk Bar in New York City? You should.
These cookies are like taking everyone's favorite snacks and packaging them in a simple, compact, magical treat. Chocolate chips, butterscotch chips, coffee, graham cracker crust, pretzels and even potato chips are tossed in with a rich cookie dough to turn out something truly inspired.
You'll never look at cookies the same way again.
Sign up for our In the Kitchen newsletter by Russ Parsons
MOMOFUKU MILK BAR'S COMPOST COOKIES
Total time: 1 hour, 20 minutes, plus chilling and cooling times | Servings: This makes 15 to 20 cookies
Note: Adapted from Momofuku Milk Bar in New York. Glucose, mini-chocolate chips and mini-butterscotch chips are available at baking and cooking supply stores.
GRAHAM CRUST
1 1/2 cups (190 grams) graham cracker crumbs
1/4 cup (20 grams) milk powder
2 tablespoons (25 grams) sugar
3/4 teaspoon (3 grams) kosher salt
1/4 cup (1/2 stick) melted butter, more if needed
1/4 cup (55 grams) heavy cream
1. In a medium bowl, toss together the graham cracker crumbs, milk powder, sugar and salt with your hands to evenly distribute.
2. In a separate bowl, whisk together the melted butter and heavy cream. Add to the dry ingredients and toss again to evenly distribute. The butter will act as glue, adhering to the dry ingredients and turning the mixture into a bunch of small clusters. The mixture should hold its shape if squeezed tightly in the palm of your hand. If it is not moist enough to do so, melt an additional 1 to 1 1/2 tablespoons butter and mix it in with the crust base.
3. This makes about 2 cups crust base, more than is needed for the remainder of the recipe. Eat the base, or use as desired in other recipes. Store in an airtight container for up to one week at room temperature, or for one month in the refrigerator or freezer.
COMPOST COOKIES
1 cup (2 sticks) butter, at room temperature
1 cup (200 grams) sugar
2/3 cup (150 grams) light brown sugar
2 tablespoons (50 grams) glucose or light corn syrup
1 egg
1/2 teaspoon (2 grams) vanilla extract
1 1/3 cups (225 grams) flour
1/2 teaspoon (2 grams) baking powder
1/4 teaspoon (1.5 grams) baking soda
1 teaspoon (4 grams) kosher salt
3/4 cup (150 grams) mini chocolate chips
1/2 cup (100 grams) mini butterscotch chips
1/2 cup (1/4 recipe) graham crust
1/3 cup old-fashioned rolled oats
2 1/2 teaspoons ground coffee
2 cups potato chips
1 cup mini pretzels
1. In the bowl of a stand mixer fitted with the paddle attachment, cream together the butter, sugars and glucose on medium-high speed for 2 to 3 minutes. Scrape down the sides of the bowl, add the egg and vanilla, and beat for an additional 7 to 8 minutes.
2. Reduce the speed to low and add the flour, baking powder, baking soda and salt. Mix just until the dough comes together, no longer than 1 minute, being careful not to overmix the dough. Scrape down the sides of the bowl with a spatula.
3. Still on low speed, add the chocolate and butterscotch chips, the graham crust, oats and coffee and mix just until incorporated, about 30 seconds. Add the potato chips and pretzels and beat, still on low speed, just until incorporated, being careful not to overmix or break too many of the pretzels or potato chips. (You deserve a pat on the back if one of your cookies bakes with a whole pretzel standing up in the center.)
4. Using a 2-ounce ice cream scoop or a 1/3-cup measure, portion out the dough onto a parchment-lined sheet pan, spacing each portion roughly 4 inches apart. Pat the tops of the cookie dough domes flat. Wrap the sheet pan tightly in plastic wrap and refrigerate for at least one hour, up to one week. Do not bake the cookies while at room temperature — they will not bake up properly.
5. Heat the oven to 375 degrees.
6. Bake the cookies, one tray at a time on the center rack, 18 to 20 minutes, rotating the cookies halfway through baking for even cooking. The cookies will puff, crackle and spread while baking, and should be very faintly browned on the edges yet still bright in the center. Give them an extra minute or so if needed.
7. Cool the cookies completely on the sheet pans before transferring to a plate or an airtight container for storage. At room temperature, the cookies will keep fresh for 5 days; frozen, they will keep for up to 1 month.
Each of 20 cookies:337 calories; 3 grams protein; 47 grams carbohydrates; 1 gram fiber; 16 grams fat; 10 grams saturated fat; 36 mg cholesterol; 28 grams sugar; 288 mg sodium.
Love cooking as much as I do? Follow me @noellecarter
ALSO:
Peel ginger the easy way VIDEO
Kitchen hack: Homemade nut butter VIDEO
VIDEO: Making potato salad with Average Betty in the Test Kitchen
Get our L.A. Goes Out newsletter, with the week's best events, to help you explore and experience our city.
You may occasionally receive promotional content from the Los Angeles Times.