Barbecue alert: Bigmista's opening a second location in Long Beach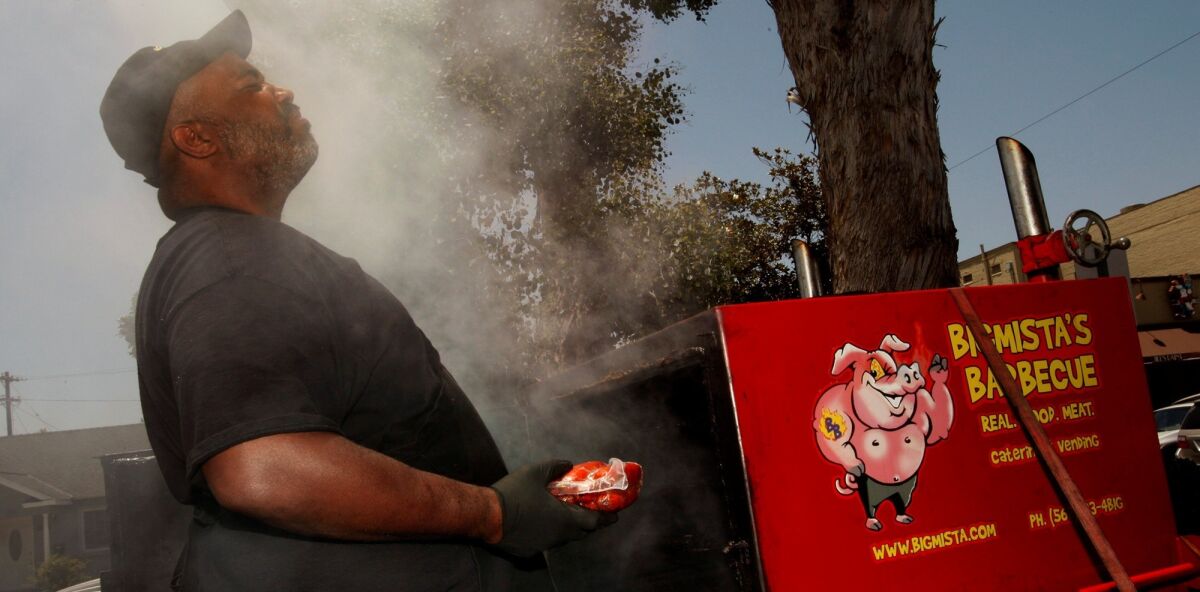 Bigmista's is getting bigger. Neil and Phyllis Strawder, the owners of Long Beach's popular Bigmista's Barbecue and Sammich Shop, are opening a second restaurant.
The new place, which will serve wood-smoked breakfast and lunch dishes, will also be in Long Beach, on Carson Street near the Long Beach City College Campus. It's going to be called Bigmista's Morning Wood, Neil Strawder says.
"That's the whole concept – breakfast smoked meats," he says. "We're working up some new dishes that will involve our own handcrafted links, smoked bacon, things like that, tri-tip and eggs, lots of different things."
The couple are in escrow on the restaurant and hope to have it open within a couple of months. Strawder says part of the appeal of the project was that it was already an existing restaurant, so it needed very little work to make it ready.
"We're just going to move in a smoker and make it our own."
Strawder first came to attention selling barbecue at Southern California farmers markets. The couple opened the restaurant in November 2014. Times restaurant critic Jonathan Gold raved of Strawder's barbecue, writing: "While some people calibrate their weeks to the appearance of Neil Strawder's rig at the Sunday Atwater Farmers Market and the Wednesday market at Pershing Square, many of us need our dose of Bigmista's pig bacon, brisket and mega-smokey pastrami on a somewhat more regular basis."
"We're happy with what we're doing now," Strawder says. "But we're just stepping out on faith again. An opportunity popped up and we were lucky to be able to take advantage of it."
Are you a food geek? Follow me on Twitter @russ_parsons1
Boomtown Brewery opening downtown
Communal serves shrimp and grits in South Pasadena
Get our L.A. Goes Out newsletter, with the week's best events, to help you explore and experience our city.
You may occasionally receive promotional content from the Los Angeles Times.