14 reasons to eat breakfast for dinner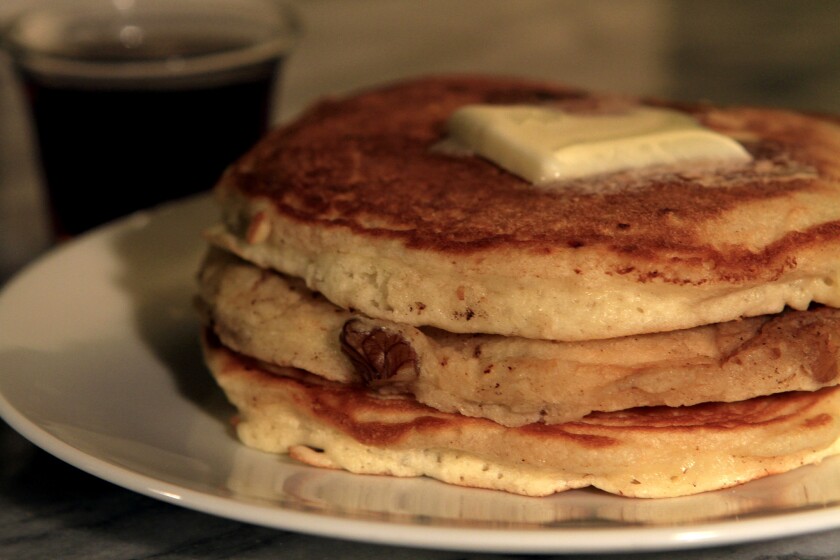 Are you one of those people who likes breakfast for dinner? Why shouldn't you? Sometimes there's nothing better than a plate of pancakes -- any time of the day. Eggs shouldn't be limited to mornings. And waffles can be eaten for breakfast, lunch, dinner or dessert. They're one of those simple culinary marvels -- baked in a hot iron to crisp perfection, these honeycombed breads are made for catching whatever you ladle on top. Warm syrup is always a good idea, but you can't go wrong with glazed fruit, fried chicken and gravy -- even ice cream.
Neil's pancakes from Clinton Street: These are some serious pancakes. Rich in flavor but light in texture (thanks to whipped egg whites), these pancakes are packed with fruit and nuts and dusted with sugar -- a perfect breakfast. You can make them with either blueberries or bananas. Or both. Every day should start -- or end -- like this.
Asparagus with bread crumb-fried eggs: Dinner doesn't get much simpler than a fried egg cooked over crisp bread crumbs, draped over steamed asparagus spears and topped with a drizzle of vinegar for a touch of acidity.
Sour cream waffles: Like a little tang in your waffle? These extra-light waffles get their airy texture from beaten egg whites and delicate cake flour. But it's the sour cream that sets these waffles apart -- you won't taste it, but it does brighten the flavors.
Croque-madame: La Dijonaise's take on this classic French comfort-food sandwich is rich béchamel sauce and ham between two slices of pullman bread, topped with cheese that's melted to gooey perfection. On top of that goes a fried egg (this is what distinguishes the "madame" from the "monsieur"). Yes, it's unapologetic goodness on a plate.
Creamy scrambled eggs: Even scrambled eggs work well at dinnertime. Gently cook them to a soft scramble, sprinkle over chopped fresh herbs and serve alongside toasted baguette slices. It makes for a perfectly light main course.
Yeast-raised waffles: These are food legend Marion Cunningham's yeast-raised waffles. The waffles are simple and straight-forward, though the starter does need some time to get going. Prepare the starter the night before if you want these for breakfast, or first thing in the morning if you're planning dinner.
Blueberry ricotta pancakes: Ricotta cheese adds richness and a gentle tang to these hearty pancakes, studded with plump blueberries. Hungry yet?
Raised buckwheat Belgian waffles with honey butter: Nothing does light and airy quite like the Belgian waffle. While this version is buckwheat-based, a little yeast lends extra height to the finished version, along with a hint of sourdough flavor.
Sign up for our In the Kitchen newsletter by Russ Parsons
Black currant scones: Fan of currants? Then look no further! Each of these scones is packed with those tiny little raisins, so you can be sure every bite has an extra dose of tangy sweetness. They're great served with a little softened butter, honey or marmalade, and make the perfect quick meal.
Corn waffles: As former Test Kitchen director Donna Deane writes, "The modern varieties of supersweet corn are so filled with natural sugar that they make an almost fruity addition to a light waffle batter. Our recipe uses low-fat buttermilk and less butter then most. Beaten egg whites -- which have no fat or cholesterol -- are folded in for added volume and fluffiness. At serving time, skip the maple syrup and butter and try a sprinkle of powdered sugar instead."
Olive oil pancakes: Light and fluffy, these pancakes have that perfect buttermilk tang. But what sets them apart is a touch of olive oil -- rich and fruity. A good olive oil adds wonderful fragrant notes. And chopped dark chocolate adds pure magic to every bite. (Doesn't chopped dark chocolate add a little magic to just about anything?) Drizzle the pancakes with a little honey and fresh mint -- or garnish however you'd like -- and dig in.
Jacqueline Kennedy's waffles: The former first lady's recipe can be found in "Many Happy Returns: The Democrats' Cook Book, or How to Cook a G.O.P. Goose," compiled and edited by Ethel Longstreet and Olga Marcus.
Cornmeal Belgian waffles: For something a little different, this recipe calls for corn flour and cornmeal in the batter, with shredded cheddar folded into the batter, and red pepper flakes and serrano-chile butter to add a little heat. Hungry yet?
New Mex migas: You say chilaquiles, Food columnist Russ Parsons says migas. Whatever you call them, you can't go wrong with this one-dish comfort food combining eggs, chiles, tortilla chips, beans, cheese, sour cream and cilantro. You can find the recipe below.
NEW MEX MIGAS
Total time: 20 minutes | 4 to 6 servings
Note: Out of season, New Mexico chiles can generally be found in containers within the frozen section of well-stocked supermarkets.
2 tablespoons butter
1/3 cup chopped green onion (green parts only)
1/4 to 1/2 cup chopped roasted and peeled green chile, or fresh salsa
8 eggs, beaten until smooth
Salt
4 ounces (about 2 3/4 cups) tortilla chips, preferably stale
1/2 cup grated cotija cheese, divided
1/2 cup cooked black beans
1/4 cup Mexican sour cream, plus more to taste
1/4 cup coarsely chopped cilantro
1. Melt the butter over medium heat in a large nonstick skillet. Add the green onions and cook until they wilt slightly, 1 to 2 minutes. Add the green chile and cook until fragrant, another minute or two.
2. Add the beaten eggs and let sit until they just begin to set, about 1 minute. Salt lightly, sprinkle the tortilla chips over top of the eggs and stir, folding the unset egg over the chips. Cook quickly (to keep the chips from softening), stirring until the eggs are almost set, then stir in half of the cotija cheese.
3. When the eggs are set to your taste, an additional 2 to 3 minutes, divide the mixture evenly among 4 to 6 heated plates, or serve it family style on a large platter. Spoon over the black beans, then the remaining cheese, sour cream and the cilantro. Serve immediately.
Each of 6 servings: Calories 296; Protein 14 grams; Carbohydrates 17 grams; Fiber 3 grams; Fat 19 grams; Saturated fat 8 grams; Cholesterol 271 mg; Sugar 1 gram; Sodium 287 mg.
Love cooking as much as I do? Follow me @noellecarter
ALSO
Kitchen hack: Peel ginger using a spoon
How to get free coffee at Erewhon markets, all week
Back to school means back to snacks: 5 easy recipes
---
Get our weekly Tasting Notes newsletter for reviews, news and more.
You may occasionally receive promotional content from the Los Angeles Times.