Brendan Collins to open Birch in Hollywood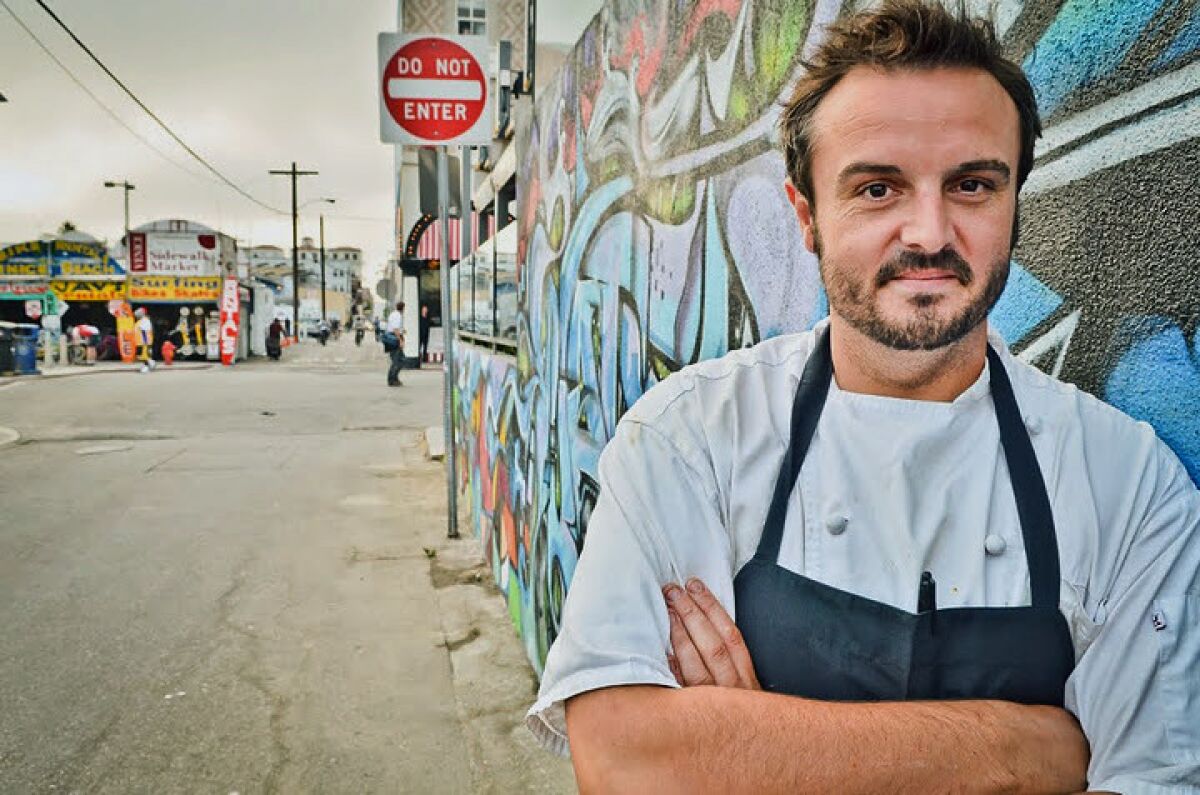 If you've been spending your nights eating chicken liver toast and downing pints at Waterloo & City, mourning its closing, cheer up. Although that Culver City restaurant will have its last service on Friday, chef Brendan Collins will be opening his new restaurant soon enough.
Quite soon, really. If the inspections go as planned, Collins says, Birch will open in Hollywood at the end of this month.
Collins said that since it was announced in November that Waterloo & City was closing, he has been running madly across town, serving his regulars at one place while cleaning out and moving into his new location at 1634 Cahuenga Blvd., a block south of Hollywood Boulevard.
Birch is going into the former location of Fuku Burger, which has been transformed from a study in black and red into a light, bright, airy 2,200 square-foot space with a marble bar and counter seating that fronts the street. There are pale wood tables, lots of white and mirrors and, yes, birch wood.
The birch motif is because Collins is from the middle of England, near Nottingham, where there are a lot of birch trees. And because the chef wanted a Scandinavian, minimalist look, he hired designer Ann Karlstrom, who is Swedish. Which is not to say that fans of Collins' cooking won't find the charcuterie and beer they've come to love -- it's more that Collins is branching out from the gastropub genre.
"Instead of standing at the pass shouting, I'll actually do some cooking," Collins said recently as he showed off his new place.
"The economy is getting better. The gastropub was purposeful between 2008 and now," he said, while adding that he now thinks that we've gone beyond the genre, which is one of the reasons he and his partner sold Waterloo & City.
Birch is to be based around shared plates, but Collins and his chef de cuisine Stuart Gerber -- also chef de cuisine at Waterloo & City -- plan to be doing tasting menus as well. Among the dishes at Birch: duck confit in a steamed bun with black garlic hoisin sauce; monkfish and cucumber salad with pancakes, masala sauce and quince chutney; pork shank with cabbage and za'atar. And yes, you can expect lots of charcuterie and foie gras on the menu.
Collins said the menu will be small, with 10 items each night, but that there will be about 15 dishes in play at a time, meaning that diners who come in at 7 p.m. and stay for a while might see the menu switch out while they're there.
Birch will seat 50 customers inside, with an additional 16 on a patio in the back of the restaurant. Although Collins inherited a big space with a huge kitchen downstairs ("It's one of the reasons I took the place"), he brought in new equipment to the airy open kitchen upstairs, including a Vulcan full plancha and yakitori grills.
"It's a combination of old-school and new-school cooking," he said.
The merging of old and new extends to the marble bars, which designer Karlstrom recycled with other items left over from the previous owners.
Collins kept five of the taps at the bar, where he'll rotate seasonal beers as well as have half a dozen bottles to choose from.
General manager, wine buyer and barman Sal Roses (previously of Manhattan Beach Post), said he's working on a barrel-aged Negroni, a traditional Manhattan and a barrel-aged tequila Old Fashioned, among other cocktails. (Just in case you were worried that all the pale wood would mean anything like temperance.)
As for the future of Waterloo & City, Collins said it will reopen, but that he just doesn't quite know when or where. In the meantime -- because he's clearly not busy enough -- the chef is working with an English publishing house on a forthcoming cookbook "to get men cooking."
Birch: 1634 Cahuenga Blvd., Los Angeles.
Taking pictures of food is almost as much fun as eating it; on Instagram @ascattergood
Get our L.A. Goes Out newsletter, with the week's best events, to help you explore and experience our city.
You may occasionally receive promotional content from the Los Angeles Times.