A look at three new craft breweries in Burbank
Although the number of craft breweries in Los Angeles has climbed past 50, Burbank, home to just a few chain brewpubs (Gordon Biersch and BJ's Restaurant and Brewhouse) has remained insulated. But some veteran restaurateurs and ambitious home brewers have recently staked claims there. One brewery began making beer at the end of 2016, another opened its doors this month and a third is set to start production by spring.
Here's a look at where to grab some fresh and local brews in Burbank.
Simmzy's (Brew)Pub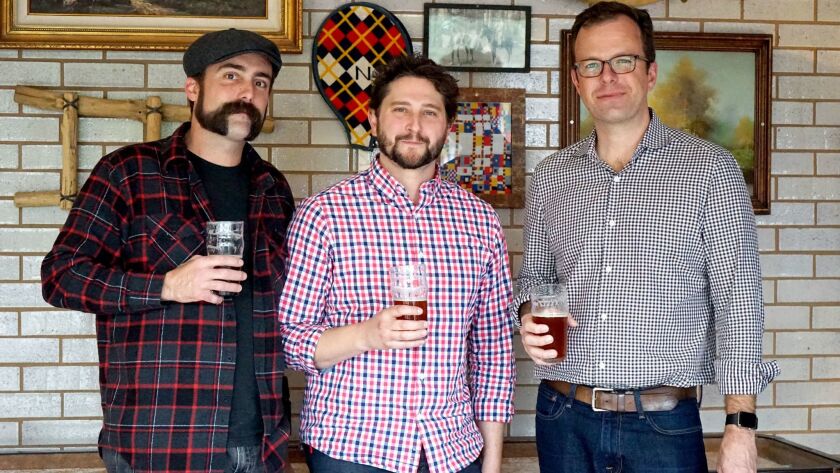 New to brewing but not to beer, Simmzy's, the chain of five craft-focused pubs around L.A. and O.C., is adding a brewery to its Burbank location. Co-founder Mike Simms, who is from Burbank, has wanted to open a brewery in his hometown for a while now. And the addition of a brewhouse was on the road map when the Burbank Simmzy's opened in the former Chadney's restaurant building on Olive Avenue in 2015. The new brewery will include a seven-barrel brewhouse in the upstairs lounge area and a handful of fermentation and conditioning tanks downstairs opposite the bar. Brian Herbertson, formerly of Riverside brewpub Wicks Brewing, who is known for his decorated Paladin Pale Ale, will handle the brewing duties, while Greg Bechtel rejoins the Simmzy's team from El Segundo Brewing Co. Bechtel, a newly minted Advanced Cicerone® (think level III Somm) is overseeing the beer programs at all the Simmzy's locations.
The Simmzy's brewpub will focus on producing a handful of house beer styles for the chain. The house beers were formerly contract-brewed at Golden Road Brewing and Firestone Walker Brewery. While he'll mostly be making just two or three-core brews, Herbertson says he'll squeeze in some specialty beers and exciting one-offs too. "There's still a chance to play with the house beer styles," he says. "We can be nimble, and I want to design beers around the menu — super food-friendly beers." The team hopes to begin brewing by March. 3000 W. Olive Ave., Burbank, (818) 962-2500, www.simmzys.com.
Verdugo West Brewing Co.
The first of the new wave of tasting rooms to open, Verdugo West Brewing Co. (no relation to Glassell Park's Verdugo bar) is backed by co-owners Chipper Pastron and Sal Casola Jr's MCC Hospitality Group (Market City Caffe, Juice Farm). The tasting room and brewery are tucked into a building just over the Burbank Western Channel, south of downtown Burbank. Helming the brewhouse is Chris Walowski, the former head brewer at Smog City Brewery in Torrance. He's assembled a modular mini-lab inside the brewery — a powerful tool for a brewer obsessed with consistency.
The core lineup of four beers includes the light and approachable Wax Wing lager-style beer and the dense and complex Brass Jag imperial red ale. Walowski says he wants maximum diversity in the core lineup (which also includes an oatmeal stout and an IPA), and to bring even more variety to the taproom, he'll make one-off infusions and variants alongside a handful of rotating seasonal releases. He's also already begun barrel aging some brews, and a pair of sour beers (a blond with peaches and a brown with cherries) are pouring in the tasting room.
The tasting room at Verdugo West Brewery is open Wednesday through Sunday, and also features a menu of "burritos and shishitos" prepared at the nearby Market City Cafe. 0156 W Verdugo Ave., Burbank, (818) 841-5040, verdugowestbrewing.com.
Lincoln Beer Co.
Lincoln Beer Co. has been making beer inside a castle-style building north of the Burbank Airport since fall, and friends-turned-business partners Ryan Lipson and Patrick Dunn hope to have the on-site tasting room open by spring. Until then, you'll need to find brews such as the Honeysuckle Session Ale (a pint that splits the difference between blonde ale and American pale ale), the Candy Fields IPA and the piquant seasonal Winter Fiesta at local craft beer bars.
Dunn handles the brewing duties, adapting his favorite homebrew recipes to a full production scale, while Lipson covers the sales side, carting kegs of Lincoln beer around L.A. in a well-worn van with a plastic dip paint job and a big Lincoln Beer logo. They have a hearing with Burbank officials in mid-February for a conditional use permit, and if everything is approved, they can begin building out the tasting room bar. Dunn says he wants to bring more balance back to a beer culture that's gone hop crazy. The early Lincoln beers prominently feature a variety of specialty malts from around the world. Dunn also plans to experiment with fruit and flavor infusions in future batches. "I want the tasting room sales to guide what new beers we brew and what we send out into the marketplace," said Dunn. You can find Lincoln Beer Co. brews at the Federal bar in North Hollywood, Barrel and Ashes in Studio City, Salazar in Frogtown, and two spots at Grand Central Market: Horse Thief and Belcampo. 3083 N. Lima St., Burbank, (818) 355-0326, www.lincolnbeercompany.com.