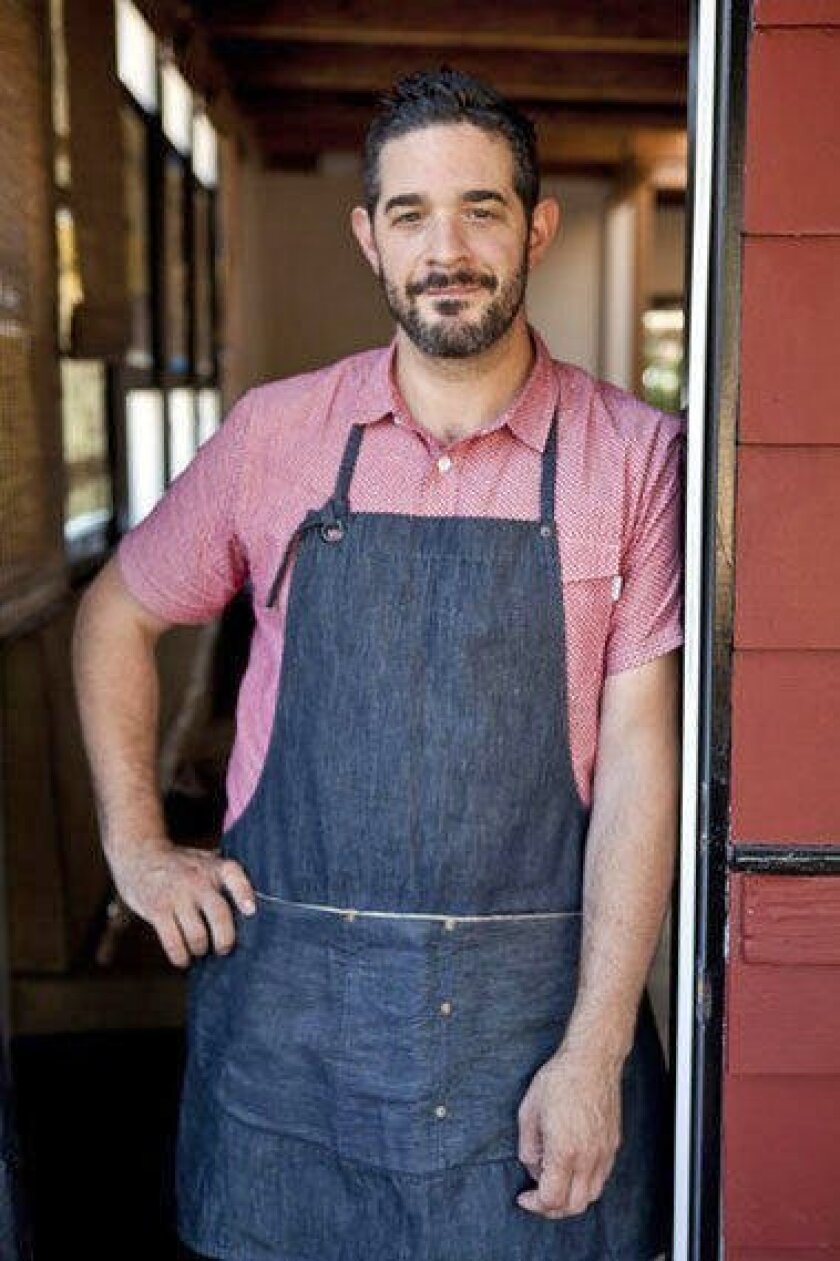 Jeremy Fox, who made waves as the chef of modern-vegetarian restaurant Ubuntu in Napa, Calif., landed this year at Rustic Canyon Wine Bar & Seasonal Kitchen in Santa Monica. The graduate of Johnson & Wales University in South Carolina has worked in high-flying kitchens such as Charles Nob Hill in San Francisco, Gordon Ramsay in London and Manresa in Los Gatos. He's settling in at Rustic Canyon, with a fetching menu of small and big plates. For example: ricotta gnocchi with ham broth and shelling beans; clam and mussel pozole with Rancho Gordo hominy; and prime ribeye with heirloom tomatoes, Point Reyes blue cheese and fried onions. Even the requisite beet salad is beauteous: beets with berries, horseradish cream, pistachios and fennel pollen.
What's coming up next on your menu?
Not quite sure. I haven't cooked during an L.A. fall, or anywhere else for a few years. Unfortunately, it's not like riding a bike for me, so I'm not at a point where I can plan too far ahead.
Latest ingredient obsession?
Dehydrated corn pulp. We're juicing corn kernels for corn pudding and dehydrating the remnants. When you grind the dried pulp, it has the most concentrated corn flavor. Warmed up with reduced corn stock, corn pudding and a little Parmesan, it makes a crazy good polenta.
What restaurant do you find yourself going to again and again?
Besides Huckleberry and Milo & Olive, for obvious reasons [both also owned by Rustic Canyon's Zoe Nathan and Josh Loeb], I probably go to Bestia more than anywhere else. Everything is solid. If the veal tartare on grilled bread with tonnato sauce is available, I'm all over it. Killer desserts and cocktails too!
The one piece of kitchen equipment you can't live without, other than your knives?
I can live without anything. I've learned to work within constraints, whether it's cooking without meat or without even a convection oven, as I am now. All I need is my mind, my hands and my team.
What's your favorite breakfast?
Biscuits and gravy.
Rustic Canyon Wine Bar & Seasonal Kitchen, 1119 Wilshire Blvd., Santa Monica, (310) 393-7050, www.rusticcanyonwinebar.com.
ALSO:
Flores' Angela Hernandez and Rob Lawson
What Scratch Bar's Phillip Lee serves with 'hot dank sauce'

Le Ka's David Feau plays with French onion soup and liquid nitrogen
---