Chef of the Moment: Scratch Bar's Phillip Lee and what he serves with 'hot dank sauce'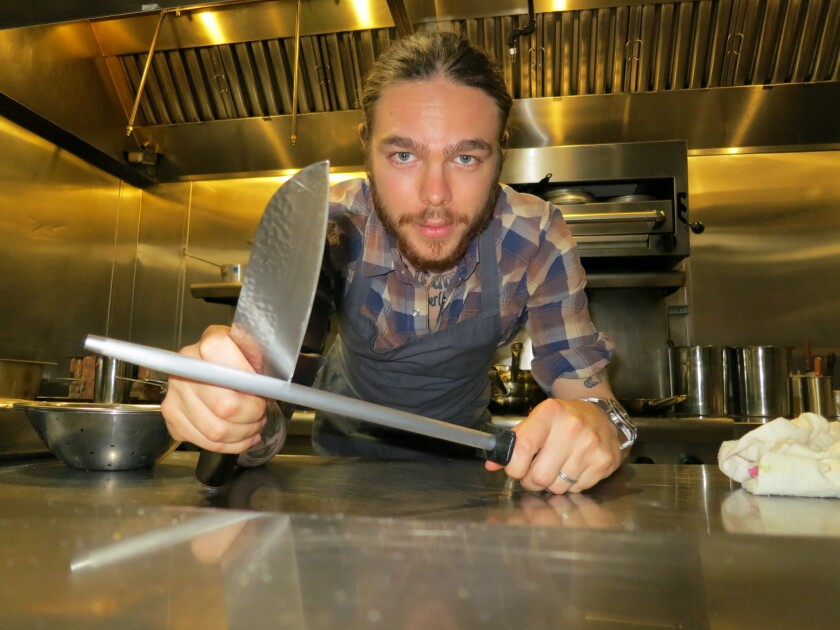 Phillip Lee is impressing diners with innovative dishes at his new Scratch Bar on La Cienega, a tiny dining room amid the comparative monoliths of restaurant row. The chef, who previously worked at Hatfield's and spent some time in the kitchen at Providence, is inclined to serve pork belly with oysters, hamachi with sweetbreads and squid with mushrooms. He has a thing for uni. Other eye-catching dishes are blackened cauliflower (which includes roasted cauliflower, cauliflower chips and puree) and a stunner of a puffed rice cracker stuck through with a dried whole smelt, served with a beet-marrow puree. Of course there's a chef's tasting menu.
What's coming up next on your menu?My mother-in-law created a traditional Russian dinner for my birthday and I was taken by an unusual cabbage roll. I was inspired by the dish and I wanted to create a dining-quality version. It's going on my next menu as a steamed cabbage roll stuffed with prawn custard, onion sprouts, red onion, currants and a "hot dank sauce," which is prepared tableside by one of our chefs, finished by pouring a warm onion broth over the dish.
Latest ingredient obsession?
We are using pristine sea urchin on a few different dishes, as well as coho salmon caviar. However, my sous chef reminds me that this is not my "latest" obsession, but apparently it has "always been my obsession."
What restaurant do you find yourself going to again and again?
My wife and I have been going to Connie and Ted's every week since it opened. It's walking distance from our house and the Mexican prawns and whelks are awesome.
The one piece of kitchen equipment you can't live without, other than your knives?
Dehydrator. It reduces and intensifies flavors, but retains the nutrients.
What's your favorite breakfast?I really don't like breakfast, but my favorite breakfast item would have to be bistec a lo pobre, essentially Peruvian steak and eggs.
111 N. La Cienega Blvd., Los Angeles, www.scratchbarla.com.
ALSO:
Chef of the Moment: Ari Rosenson started at Spago at age 16
Chef of the Moment: The Churchill's Michael Bryant, a Southerner in L.A.
Chef of the Moment: Jonah Johnson, Leonardo di Caprio's personal chef
---
Get our weekly Tasting Notes newsletter for reviews, news and more.
You may occasionally receive promotional content from the Los Angeles Times.