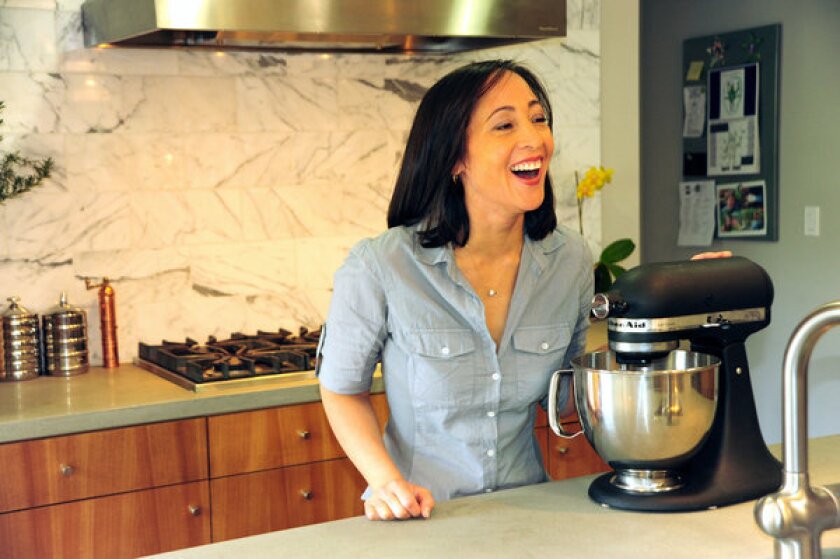 Valerie Gordon, the chocolate, pastry and jam maker behind L.A.'s Valerie Confections, has just opened a lunch counter at the historic Grand Central Market downtown and is about to open a tea house in Echo Park. Gordon co-founded Valerie Confections with her partner, Stan Weightman Jr., in 2004 with a selection of chocolate-covered toffees and has since expanded the company to include her chocolates, petit fours, pastries, cakes, pies and preserves. Now she and Weightman are running a modern interpretation of the coffee shop counter at Grand Central: club sandwiches and Cobb salads and classic cakes such as Gordon's Brown Derby grapefruit cake, Blum's coffee crunch cake and Scandia's apple cake, along with pastries such as her sweet or savory hand pies, and a $2 cup of coffee.
What's coming up next on your menu?
It's a little schizophrenic right now. One day I am working on pot pies and meatloaf for the Grand Central [Market] location, the next day I am onto tea-infused duck breast for the Echo Park tea house. Testing and refining two menus at once is equally challenging and gratifying.
Latest ingredient obsession?
Tea. Drinking it, cooking with it and pairing it with different flavors. My favorite tea right now is a first flush Darjeeling called Arya Diamond. Every day at 4 p.m. I require a pot to get through the rest of the day.
What restaurant do you find yourself going to again and again?
Jitlada. I eat a lot of spicy Asian foods, and the curries at Jitlada are nuanced and spicy at the same time.
The one piece of kitchen equipment you can't live without, other than your knives?
A zester. I add citrus zest to most foods, sweet and savory.
What's your favorite breakfast?
I start every day with the same meal: two cups of coffee and a cookie.
Valerie Grand Central, 317 Broadway, Los Angeles, (213) 624-2378, www.valerieconfections.com. Open 9 a.m. to 4 p.m. Mondays to Fridays.
ALSO:
Paula Deen fired by Food Network
Night + Market to open in Silver Lake
Ask Mr. Gold: A Westide place for dim sum?
---