Four great vegetarian Chinese restaurants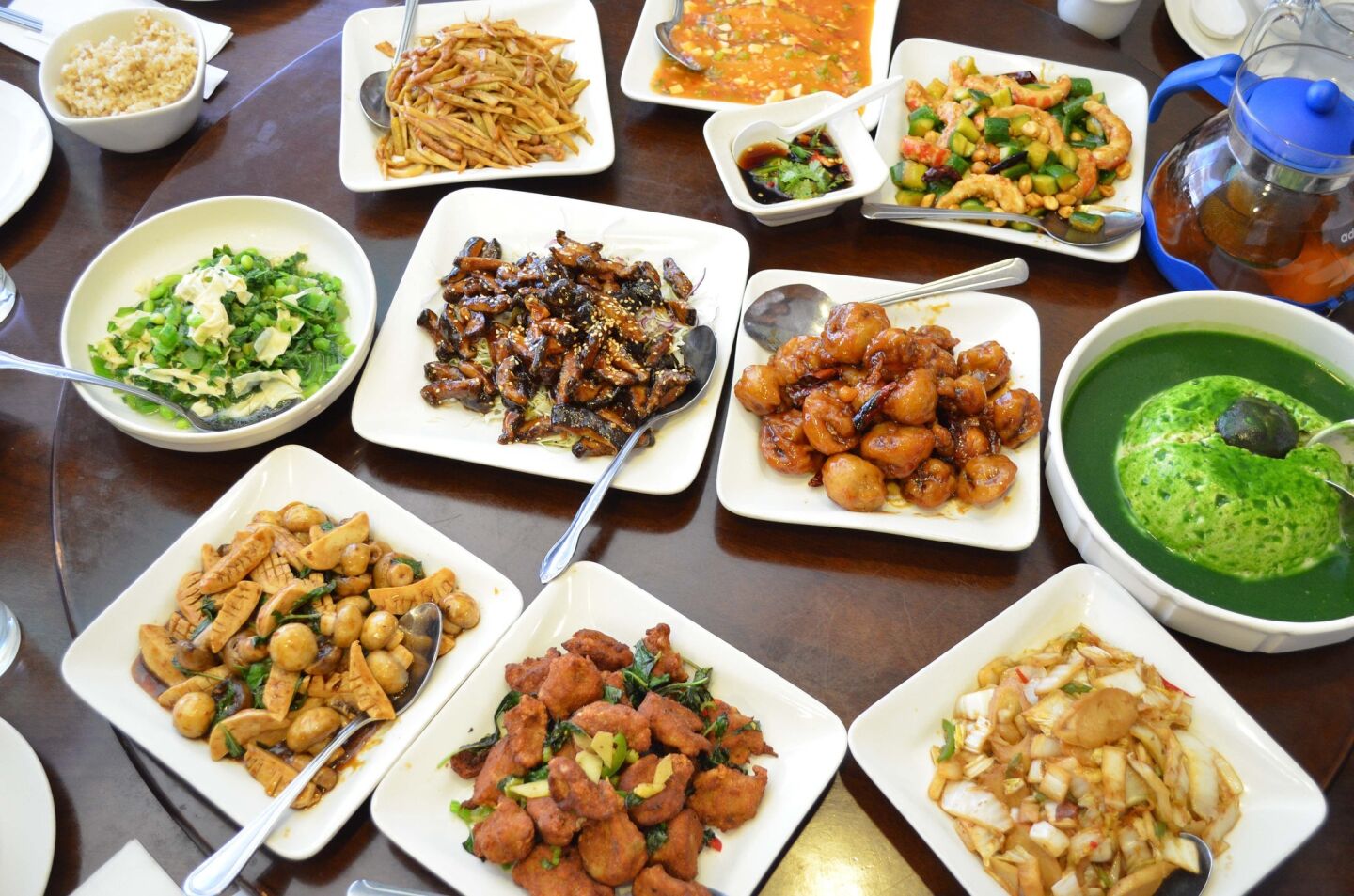 Meatless Chinese meal from Vege Paradise.
(Clarissa Wei / For The Times)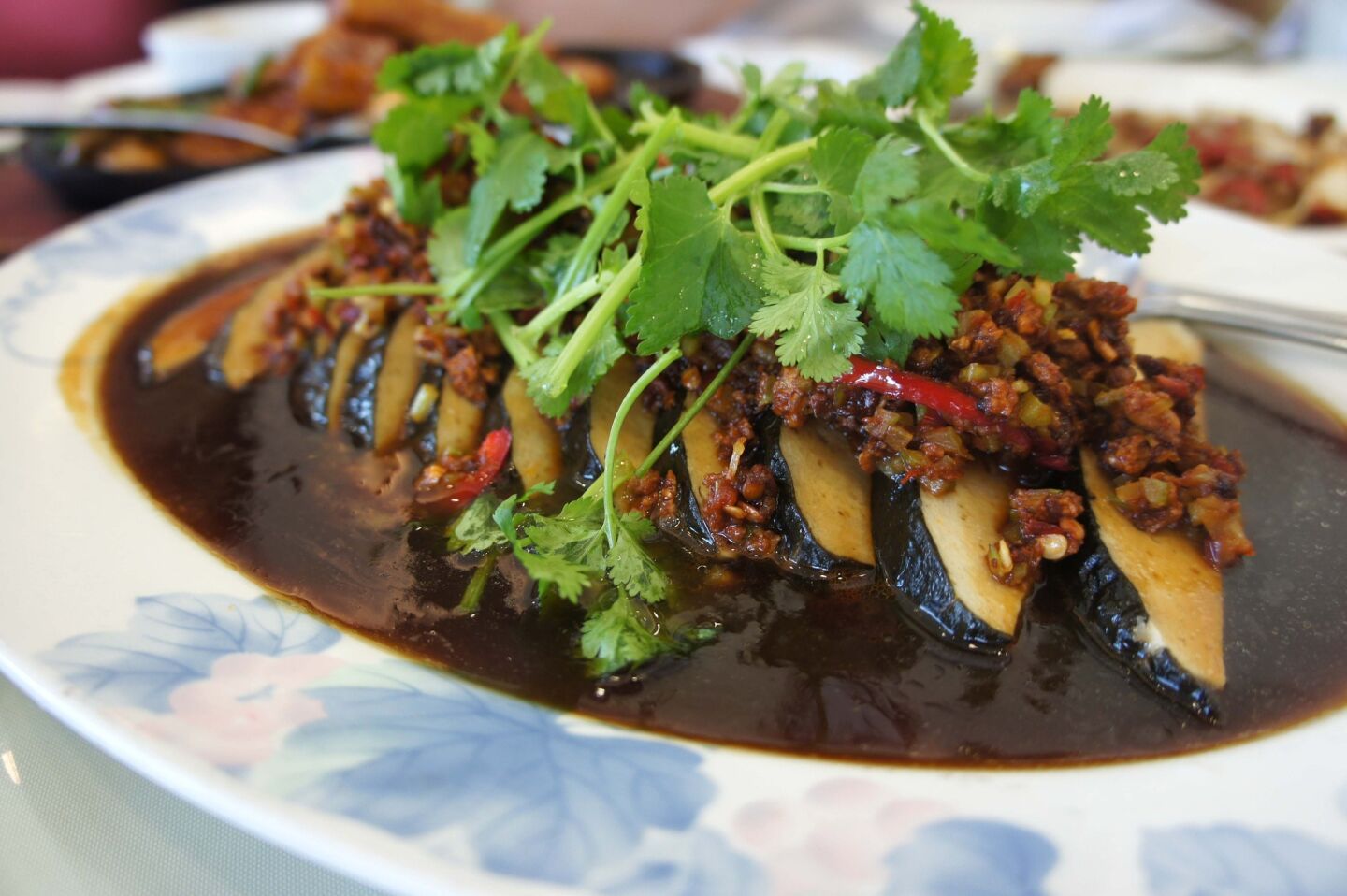 Bean curd "fish" from Happy Family
(Clarissa Wei / For The Times)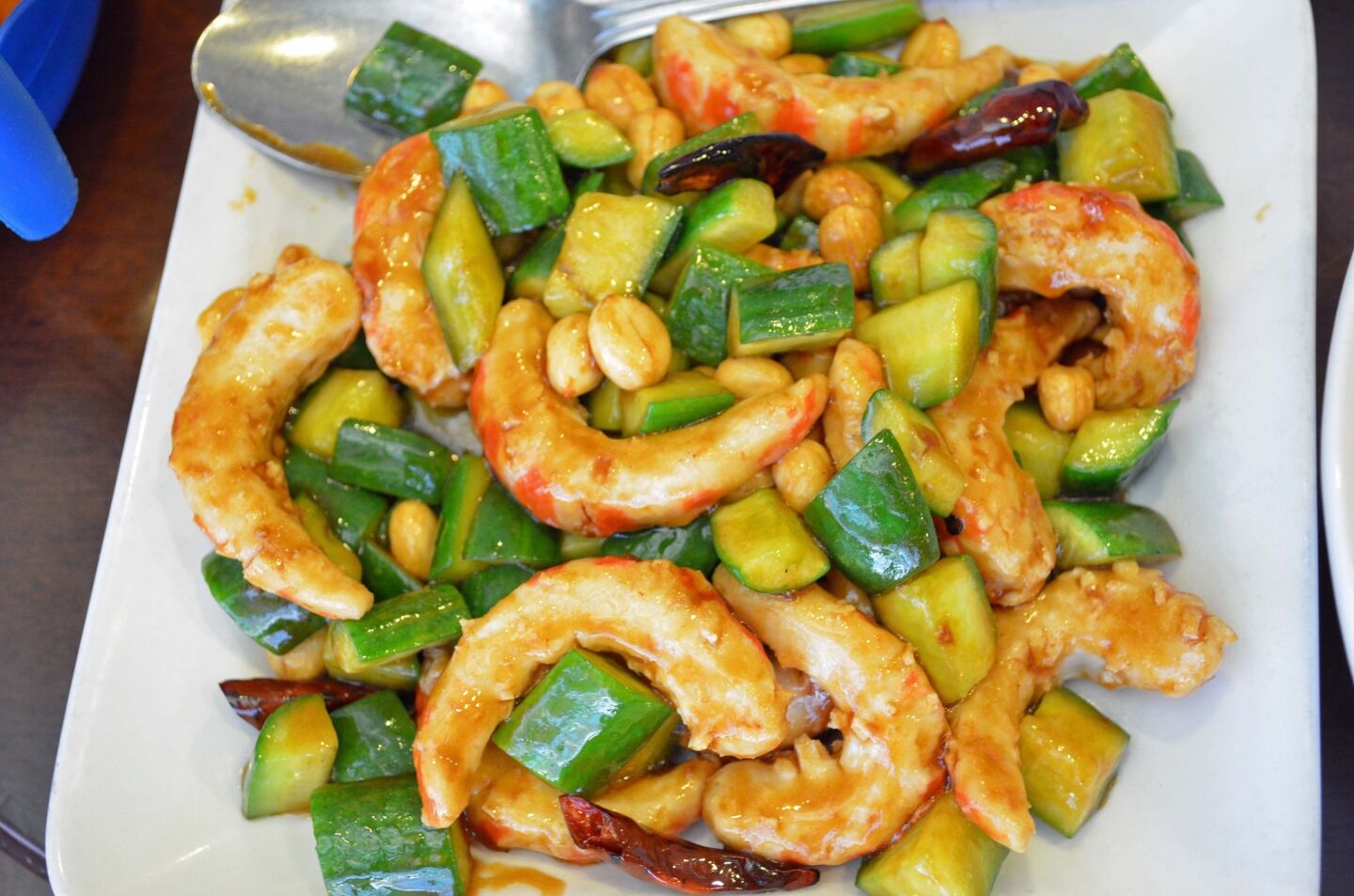 Kung pao "shrimp" made with cold cucumber slices, peanuts and chiles from Vege Paradise.
(Clarissa Wei / For The Times)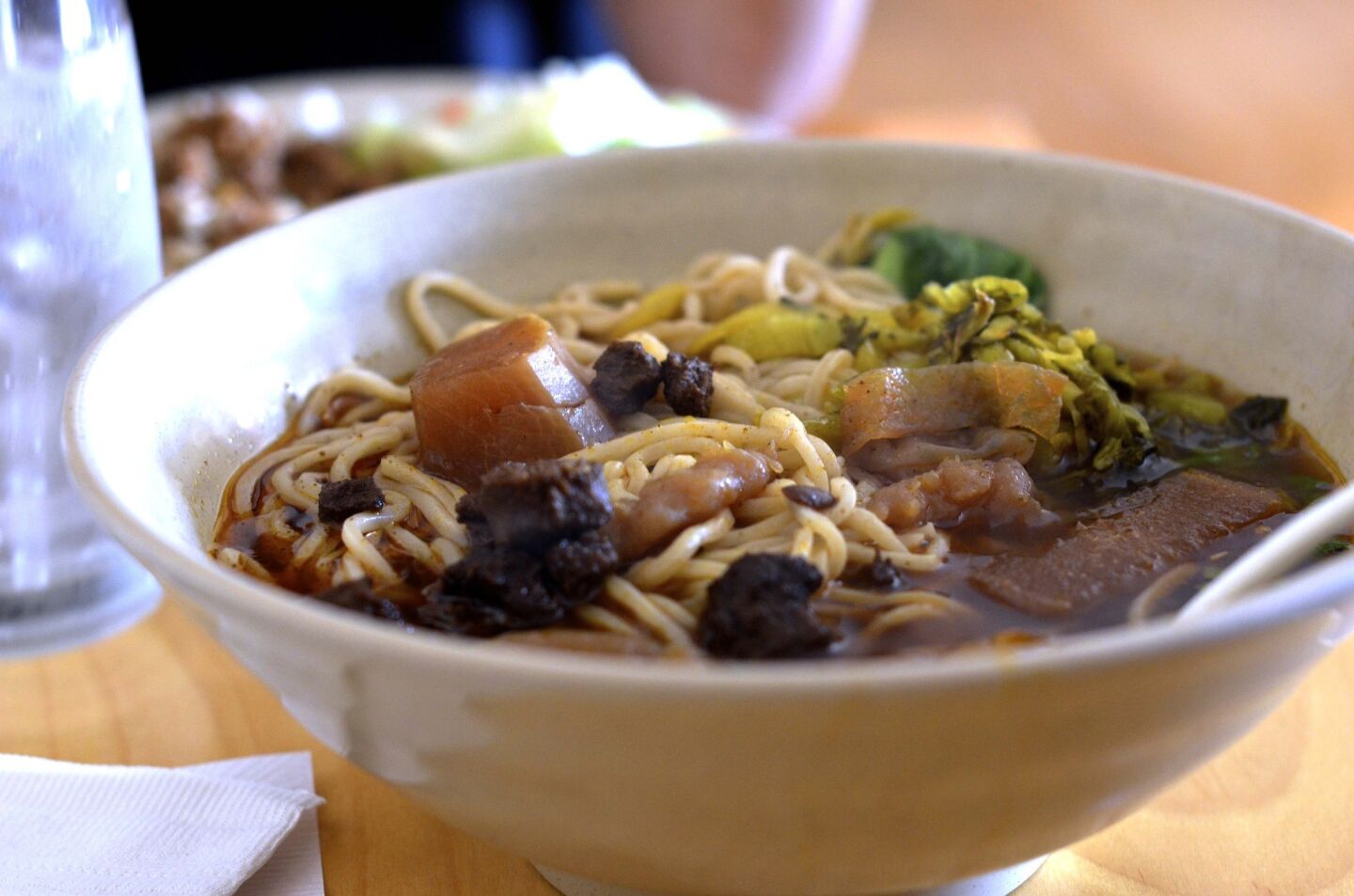 Taiwanese-style "beef" noodle soup at Bean Sprouts.
(Clarissa Wei / For The Times)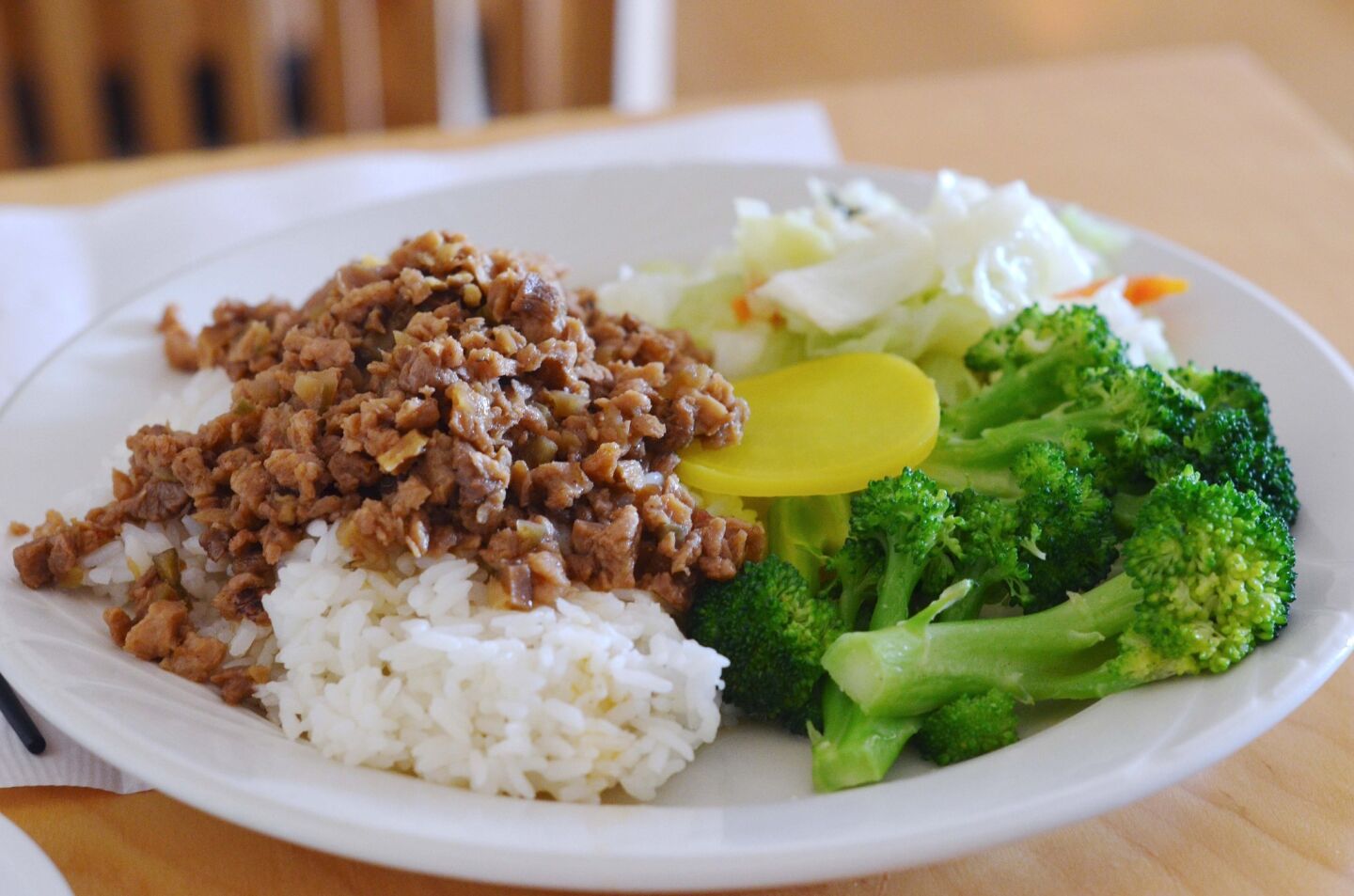 Minced "pork" over rice with steamed broccoli at Bean Sprouts.
(Clarissa Wei / For The Times)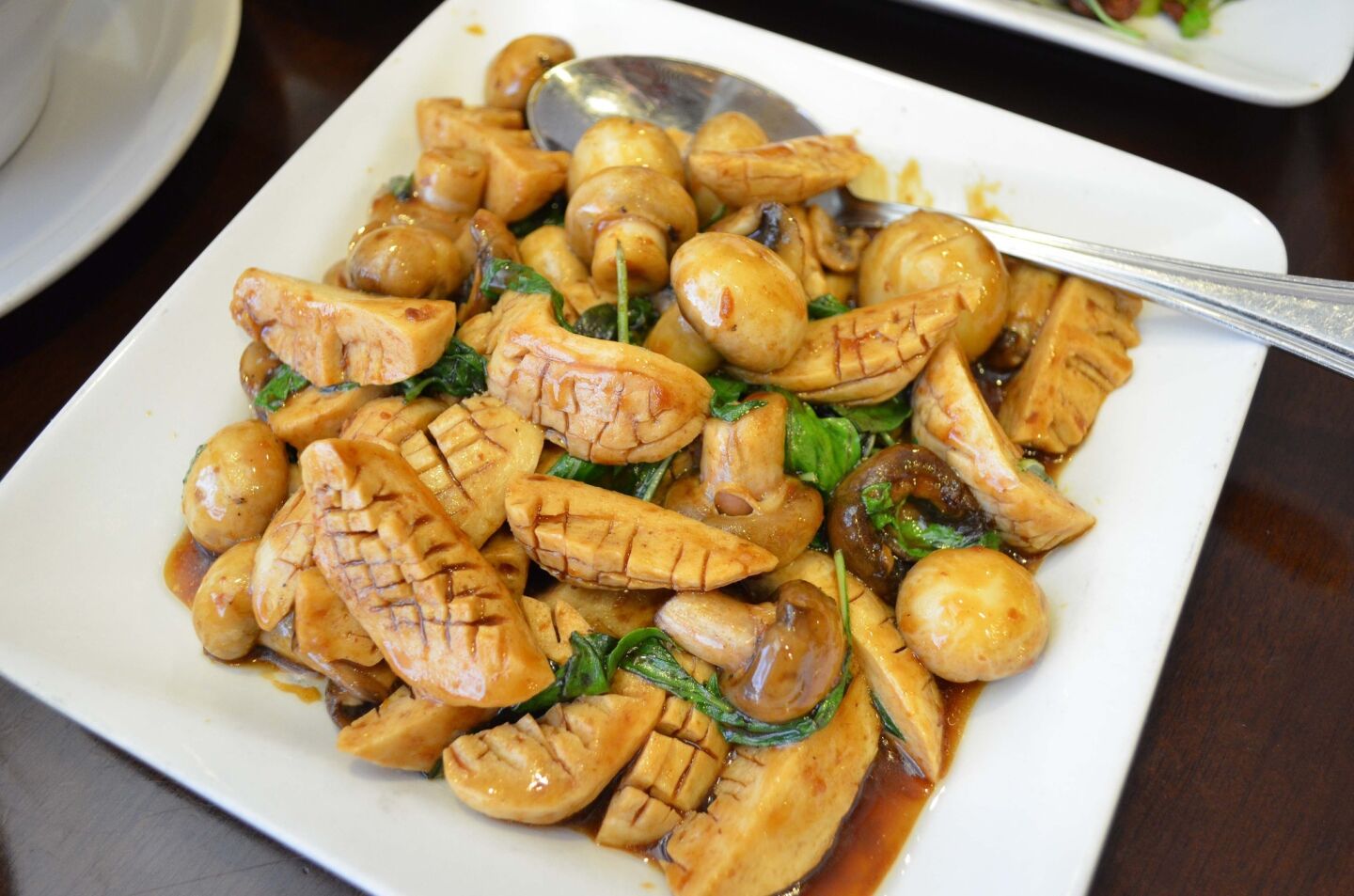 Sauteed basil kidney from Vege Paradise.
(Clarissa Wei / For The Times)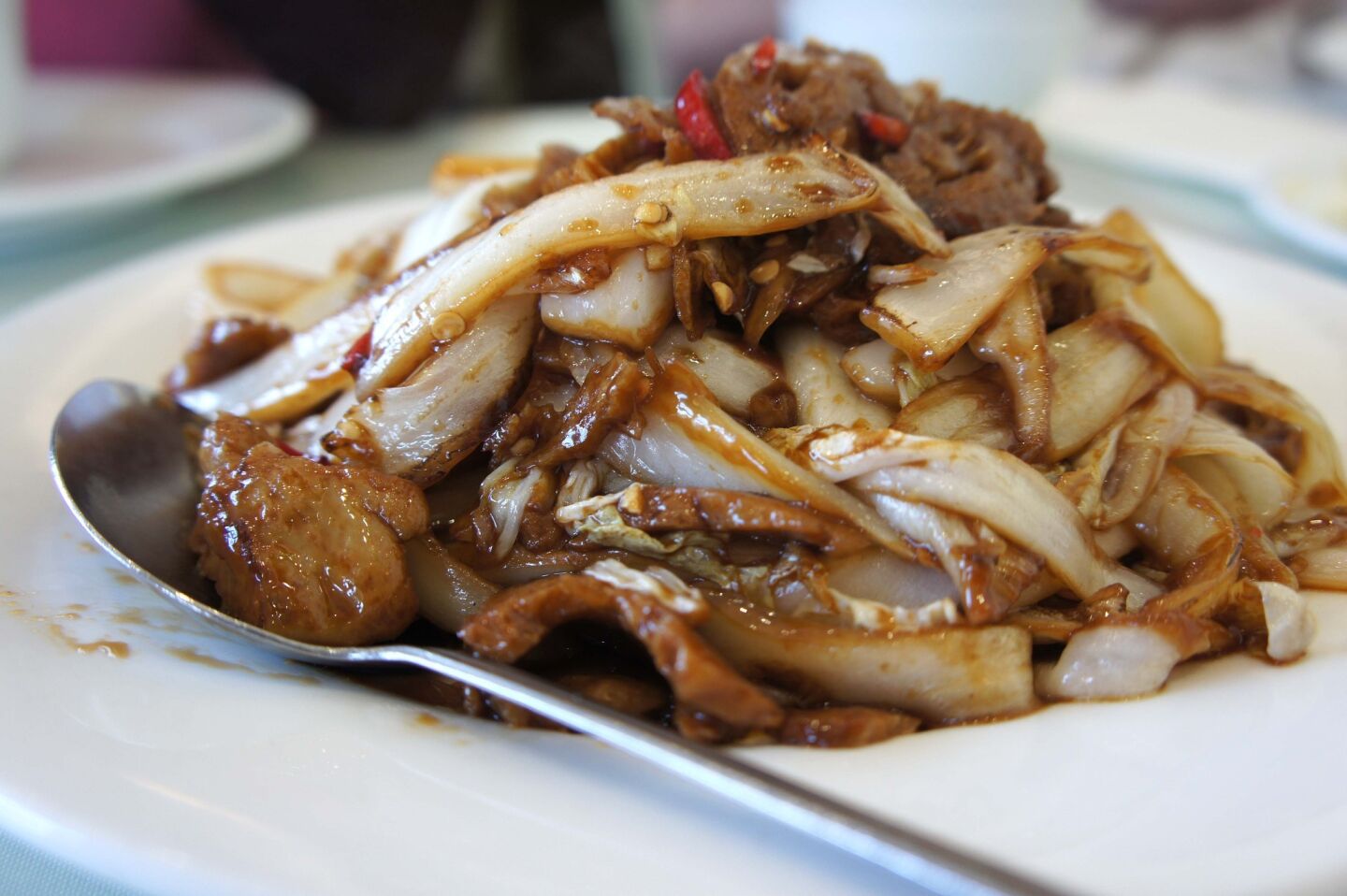 Sour "pork" with napa cabbage from Happy Family.
(Clarissa Wei / For The Times)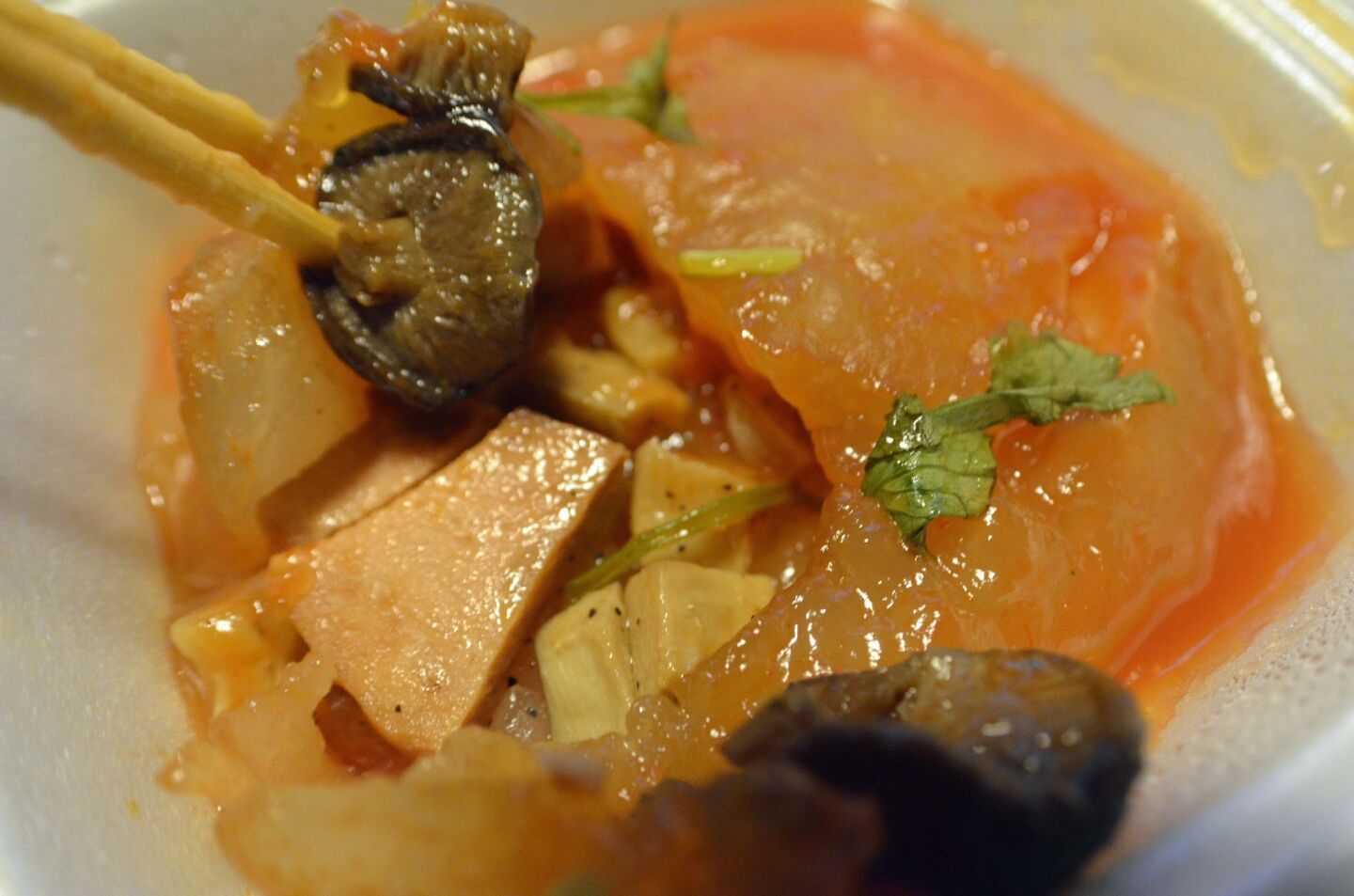 Vegetarian Taiwanese meatball from QQ Kitchen.
(Clarissa Wei / For The Times)
Unlike the kale-laced skinny salads of so many vegetarian restaurants across Los Angeles, Chinese vegetarian dishes -- part of a culinary culture that goes back thousands of years -- don't look all that different from their meaty counterparts. Dishes are heavy on artificial meat and are artistic endeavors in and of themselves. Faux chicken tastes and looks like real chicken. Vegetarian "fish" is wrapped in seaweed intended to imitate the texture of a fish's scales.
Meat is avoided along with allium vegetables such as garlic, leek and onions. The exact reasons why are disputed and many of them are based on myth. An ancient Indian Buddhist medical treatise written in the fifth century indicated that garlic came from the enemy of gods and thus had to be avoided. According to food historian Frederick J. Simoons in his book "Food in China," allium vegetables were items believed to "stir the passions and reduce one's likelihood of attaining nirvana."
At the very least, rest assured that your breath will be fine after a Chinese vegetarian meal.
PHOTOS: Delicious dishes from great vegetarian Chinese restaurants
Here's a roundup of four great meatless Chinese restaurants in the greater Los Angeles area:
Happy Family
Located in the Atlantic Times Square Plaza, Happy Family has an all-you can-eat menu for a little less than $15. It's an ideal lunch stop for those in the area who have a bit of time to kill. The all-you-can-eat component comes with soup, rice and selections off their regular menu – just in smaller portions. Give the "fish" a try. It's essentially bean curd shaped into fish slices. Served in savory brine, the dish is topped with fermented beans and garnished with a sprig of cilantro. 500 N. Atlantic Blvd., Suite 171, Monterey Park, (626) 282-8986.

Vege Paradise
Vege Paradise opened its doors in the early 1990s. Owner Scott Hwang was one of the first restaurateurs in Los Angeles to specialize in vegetarian Chinese offerings. Since then, some of his original staff members have branched out to open similar businesses of their own, but the restaurant is still one of the most popular Chinese vegetarian joints in Los Angeles. It has a basic Chinese and Taiwanese menu oriented toward family-style meals. "Pork" slices are crafted out of wheat gluten and kung pao "chicken" has the same mouth-feel as regular poultry. If you're too squeamish to give real kidney a try, give the vegetarian version a whirl. The organ is crafted from yam starch and sautéed with basil, mushrooms and sa cha – a shrimp-based sauce made with soybean oil. 140 W. Valley Blvd., Suite 222, San Gabriel, (626) 280-5998.

Bean Sprouts
Family-style meals can get burdensome. Sometimes you just want to eat without the trouble of figuring out how to divvy up portions. Bean Sprouts is the place for that. It's a cafe-style vegetarian restaurant with Taiwanese roots and a bit of a Western flair. There are "rainbow rolls" packed with lettuce, shredded carrots and alfalfa sprouts. The "beef" noodle soup is sufficiently flavorful and loaded with turnip, bok choy, pickled veggies and beef-flavored seitan. You can't even tell it is vegetarian. 103 E. Huntington Drive, Arcadia, (626) 254-8708.

QQ Kitchen
QQ Kitchen is a small family-owned restaurant off Las Tunas Drive in Temple City. The bottom of its menu reads, "Less oil, less salt, no MSG" in Chinese. Taiwanese favorites like stinky tofu, "oyster" vermicelli and "sausage" over rice are available and ring up to no more than five bucks an order. They also have gua bao, a Taiwanese version of a hamburger that's normally made with fatty pieces of pork sandwiched in a clam-shaped bun. But instead of pork, QQ uses expertly marinated chunks of bean curd along with pickled vegetables and cilantro. Cash only. 9441 1/2 Las Tunas Drive, Temple City, (626) 292-1128.
ALSO:
PHOTOS: Vegetarian Chinese, plate by plate
New avocado and cheese Doritos - but only in Japan
Crepes, Sriracha aioli, boeuf bourguignon at Chez Antoine in Highland Park

---
Get our weekly Tasting Notes newsletter for reviews, news and more.
You may occasionally receive promotional content from the Los Angeles Times.