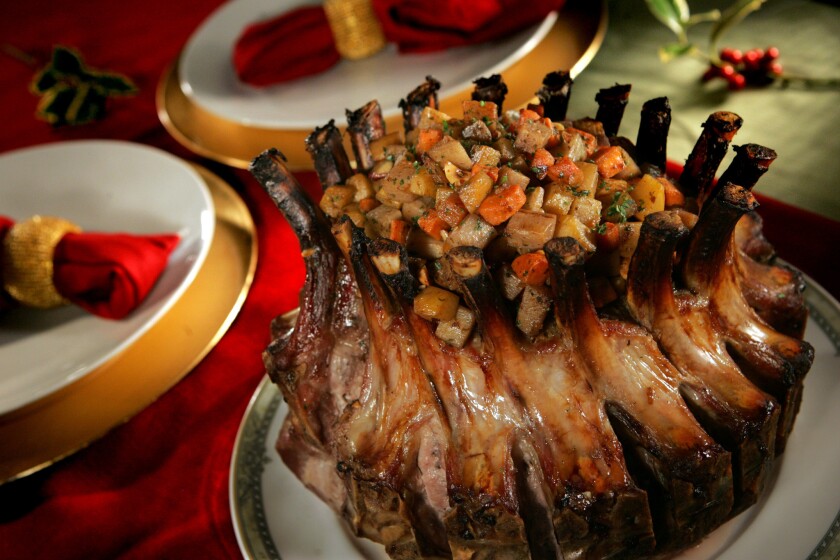 It's almost Christmas. You should pat yourself on the back -- you've almost made it through the holidays. And if you have your Christmas meal planned, even better.
If you're still fine-tuning the spread, don't stress. Unlike Thanksgiving, where so much of the meal is dictated by tradition, you have more freedom to plan when it comes to Christmas.
If you're in need of a little inspiration, we've compiled some of our favorite holiday recipes. The pork crown roast is sure to be a crowd-pleaser with an elaborate display, complete with colorful root vegetables piled high in the center. If a crown roast doesn't quite fit with your plans, we have plenty of alternatives, including turkey, coq au vin, barbecued pork ribs and sweet rice.
28 Christmas recipe ideas from the L.A. Times Test Kitchen
Along with sides, you'll also find plenty of dessert ideas. There is no shortage of pie recipes, and cookie recipes to satisfy every sweet tooth.
Merry Christmas!
SPICED CROWN PORK ROAST WITH GLAZED ROOT VEGETABLES
Total time: 3 hours, 40 minutes, plus brining time | Serves 6 to 8
Note: The pork should be brined for at least two days. Failing that, season it generously with salt and pepper and follow the remainder of the recipe as written. Crown pork roasts are available by advance order at most supermarkets.
1/3 cup salt
2 teaspoons whole black peppercorns
5 whole cloves
1 teaspoon coriander seed
1 (3-inch) stick cinnamon
2 cups apple cider
1 (8-pound) crown pork roast
5 pounds mixed root vegetables (parsley root, carrots, turnips, celery root and rutabaga)
6 tablespoons butter
1 1/2 teaspoons salt
3/4 teaspoon sugar
1/3 cup dry white wine
1 tablespoon apple cider vinegar
1/2 teaspoon ground cloves
1 1/2 teaspoons grated orange zest
Generous grating of nutmeg
2 tablespoons chopped parsley
1/3 cup chopped toasted hazelnuts
1. Bring 4 cups of water, the salt, peppercorns, cloves, coriander seed and cinnamon to a rolling boil, then set it aside to steep for 10 minutes. Add the cider and cool to room temperature.
2. Place the pork roast in a large plastic bag and pour the cider mixture over the top. Seal tightly and refrigerate at least 2 days.
3. Heat the oven to 300 degrees. Place the roast upside-down in a roasting pan so that it is supported by the rib bones. Roast 30 minutes, then turn the meat over and continue cooking to an internal temperature of about 140 degrees, 2 to 2 1/2 hours longer.
4. While the roast is cooking, peel the vegetables and cut them into about half-inch pieces. The shapes need not be consistent, but the sizes should be. You will have 5 to 6 cups of cut-up vegetables.
5. Melt the butter in a large skillet over medium-high heat and stir in the salt, sugar, wine, vinegar, cloves and orange zest. Stir in the vegetables, cover and cook until the vegetables begin to become tender, about 10 minutes. There should be a lot of liquid in the pan.
6. Remove the lid and increase the heat to high to evaporate the liquid. Cook until the vegetables are covered with a shiny glaze and begin to brown, about 5 minutes. Stir carefully to avoid breaking up the vegetables. Add the nutmeg, parsley and hazelnuts and adjust the seasoning for salt and vinegar.
7. When the roast is ready, spoon as much of the vegetable mixture as possible into the center of the crown roast, spoon some of the fat from the bottom of the roasting pan over the stuffing, and return the meat to the oven. Cook the roast to an internal temperature of 145 degrees, an additional 10 to 15 minutes.
8. Transfer the roast from the pan to a platter and let it rest for 10 minutes before serving. Discard all but 1 to 2 tablespoons of the rendered pork fat from the roasting pan. Place the pan on the stove over medium heat and gently stir the remaining stuffing in the pork drippings. Transfer this to a bowl and keep warm before serving alongside the roast.
Each serving: 670 calories; 62 grams protein; 23 grams carbohydrates; 6 grams fiber; 35 grams fat; 15 grams saturated fat; 167 mg. cholesterol; 1,116 mg. sodium.
Love cooking as much as I do? Follow me @noellecarter
ALSO
25 edible homemade holiday gift ideas
26 ideas for the foodie on your holiday gift list
Browse thousands of recipes from our recipe database
---