Coachella 2014: Outstanding in the Field does fine dining without a dress code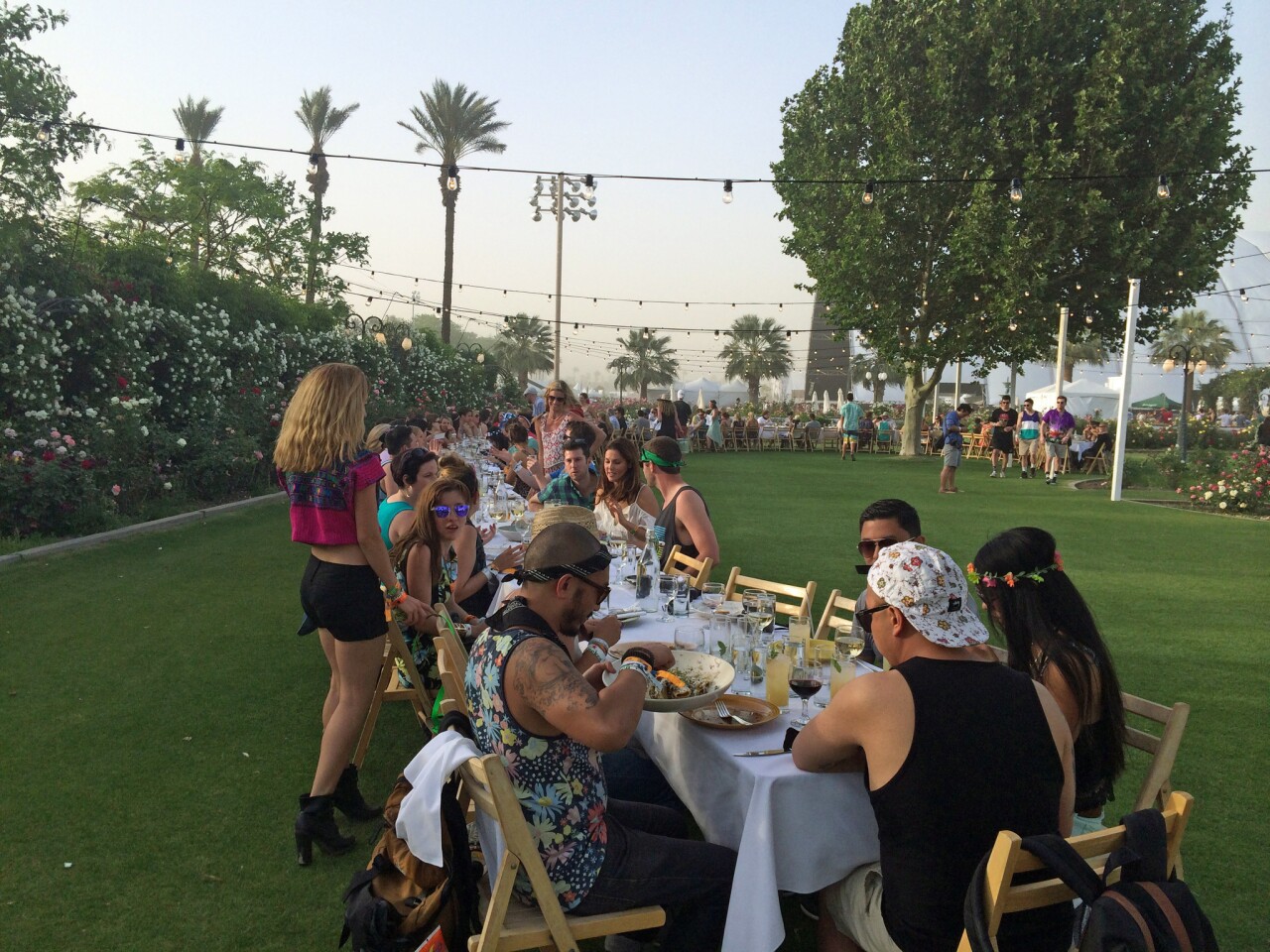 Guests sit down to the Outstanding in the Field dinner during the first weekend of the Coachella Valley Music and Arts Festival.
(Jenn Harris / Los Angeles Times)
The first course of big eye tuna crudo with a smoked eggplant puree and caponata.
(Jenn Harris / Los Angeles Times)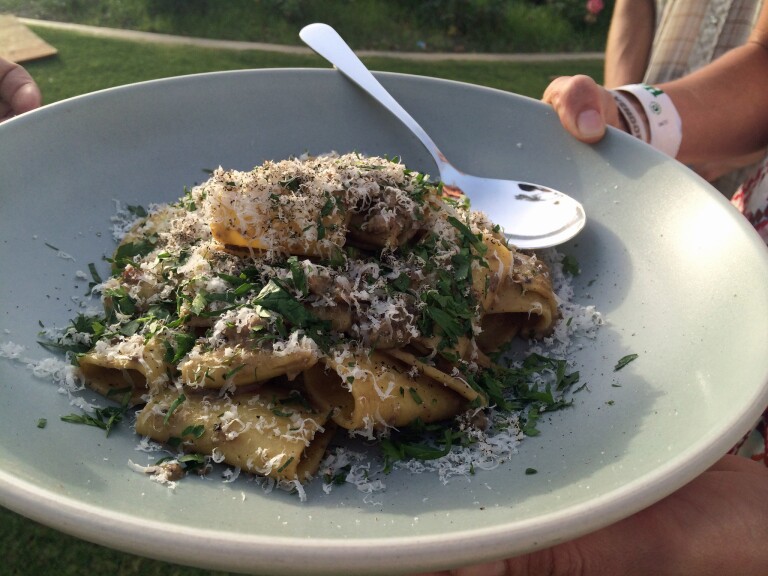 The second course of pasta with duck liver ragu and black truffle.
(Jenn Harris / Los Angeles Times)
The sous vide then grilled lamb with wilted greens and Pecorino.
(Jenn Harris / Los Angeles Times)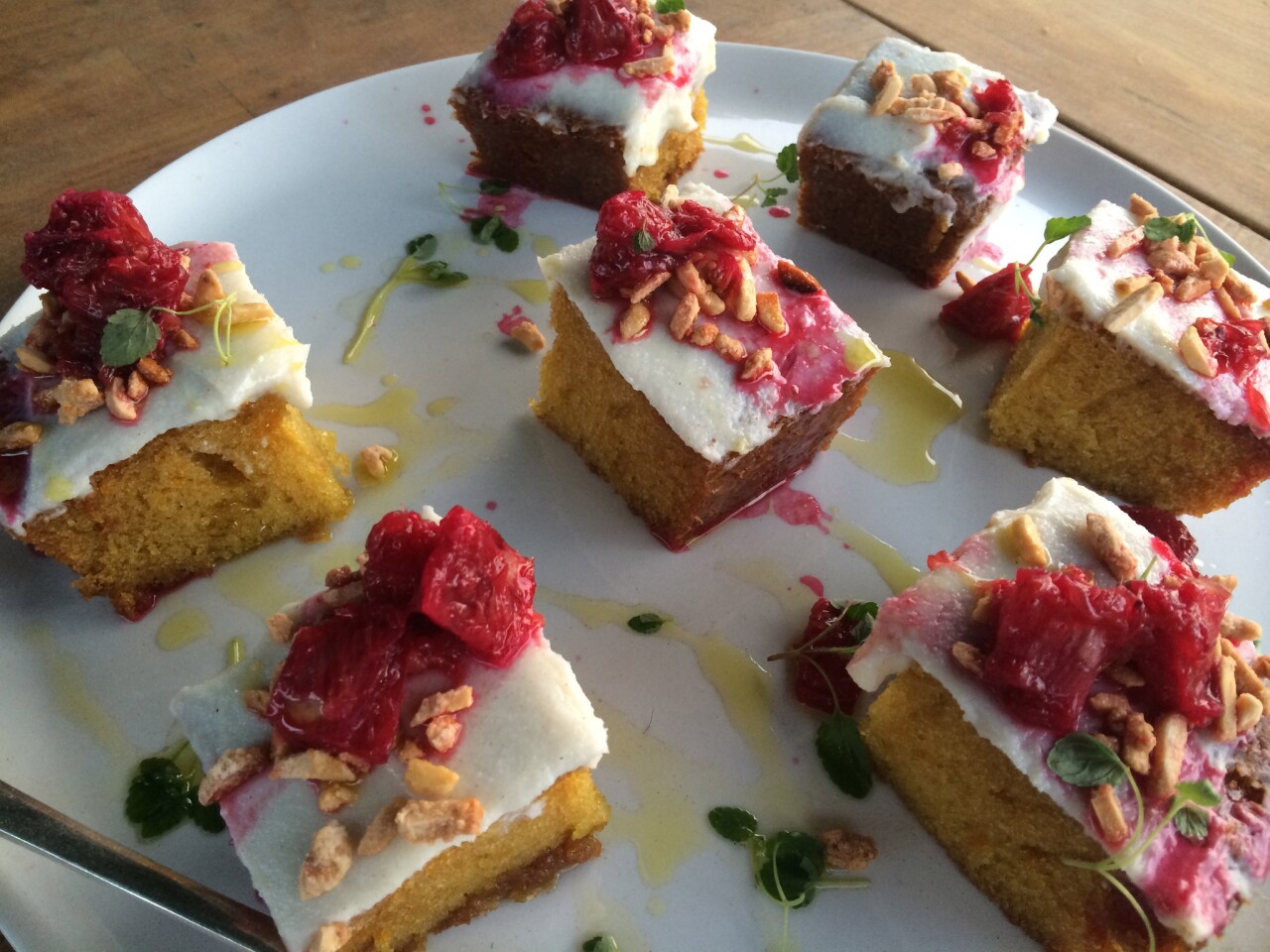 Olive oil cake for dessert with ricotta and blood orange.
(Jenn Harris / Los Angeles Times)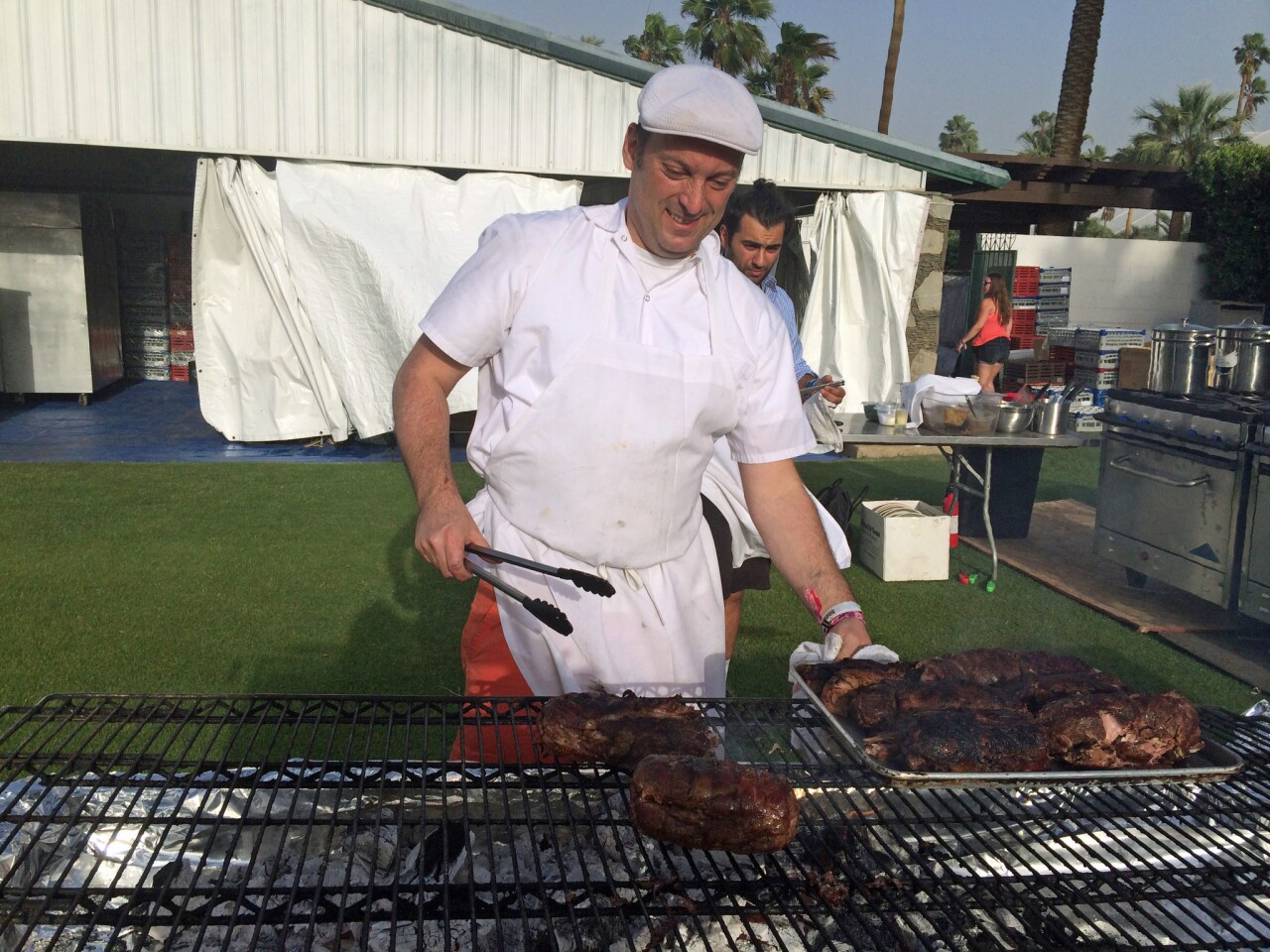 Steve Samson grills the lamb shoulder on the charcoal grill.
(Jenn Harris / Los Angeles Times)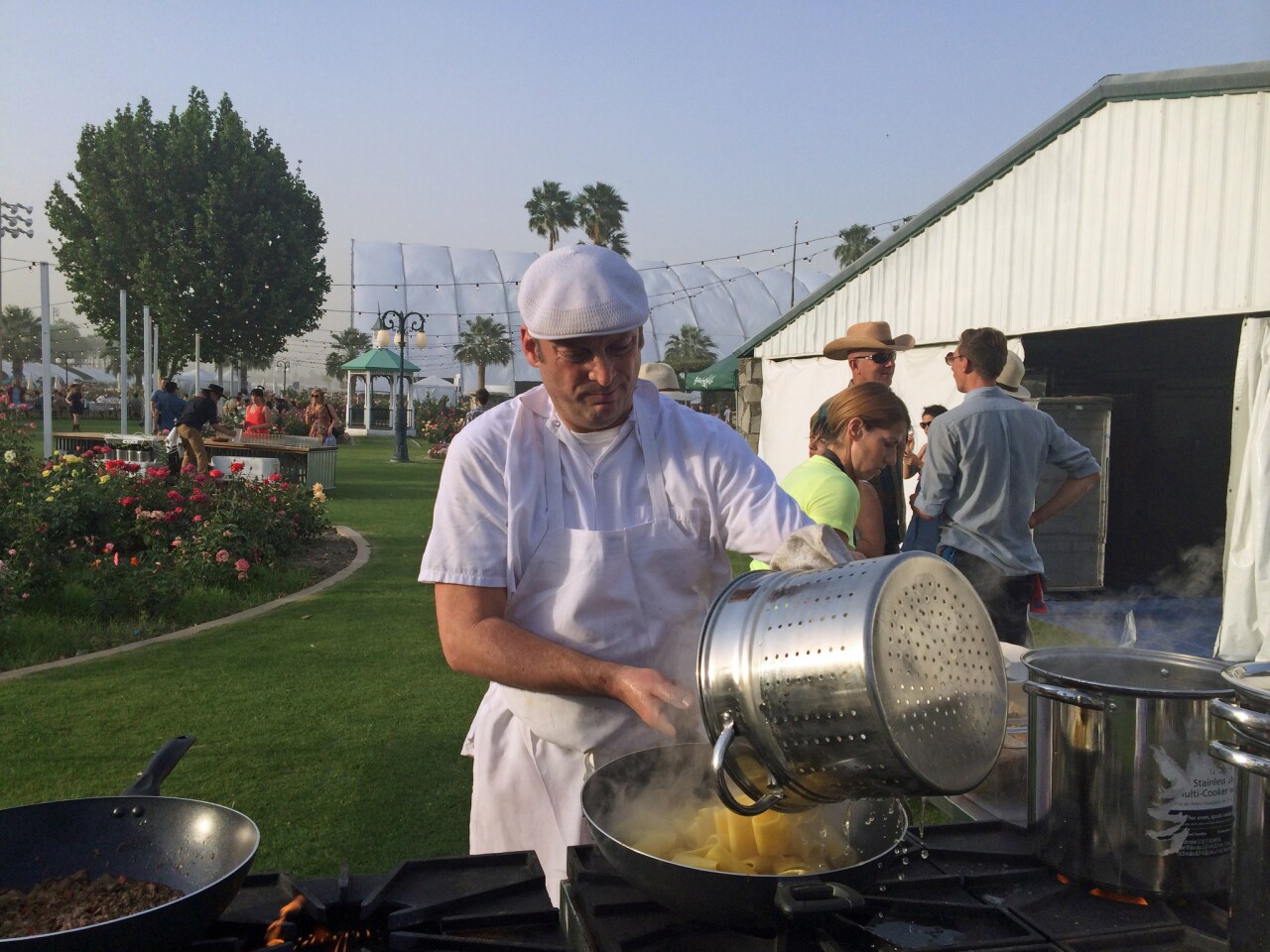 Samson cooking pasta for the second course with the Sahara Coachella tent in the background.
(Jenn Harris / Los Angeles Times)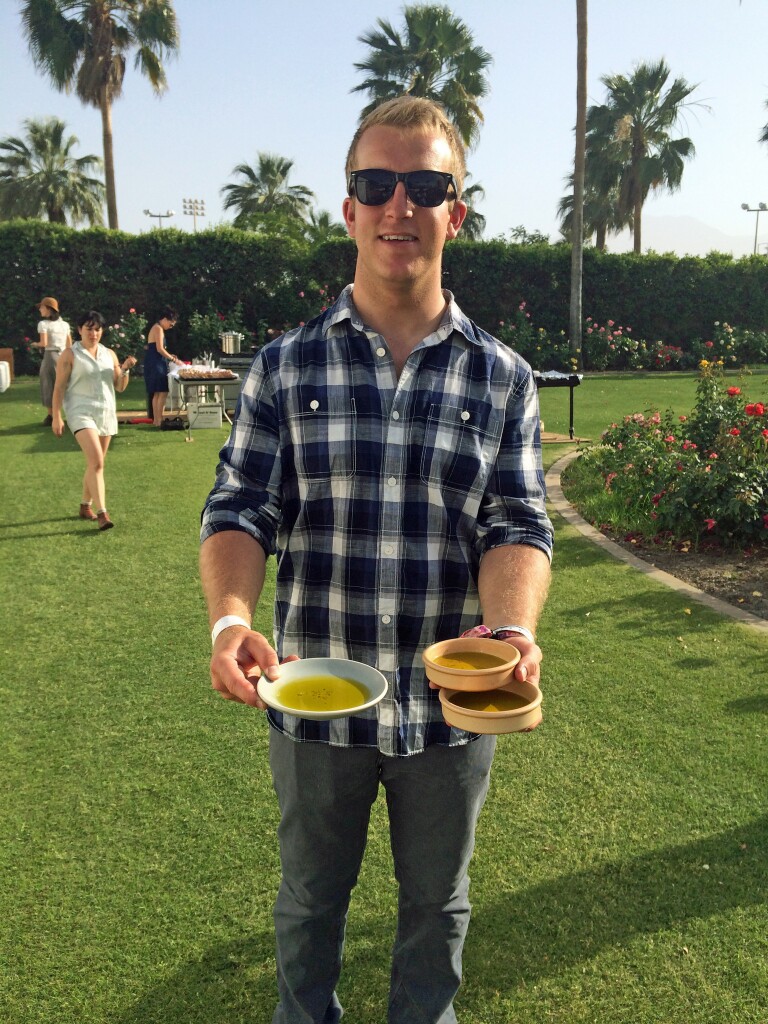 One of the Outstanding in the Field crew about to bring olive oil to the table.
(Jenn Harris / Los Angeles Times)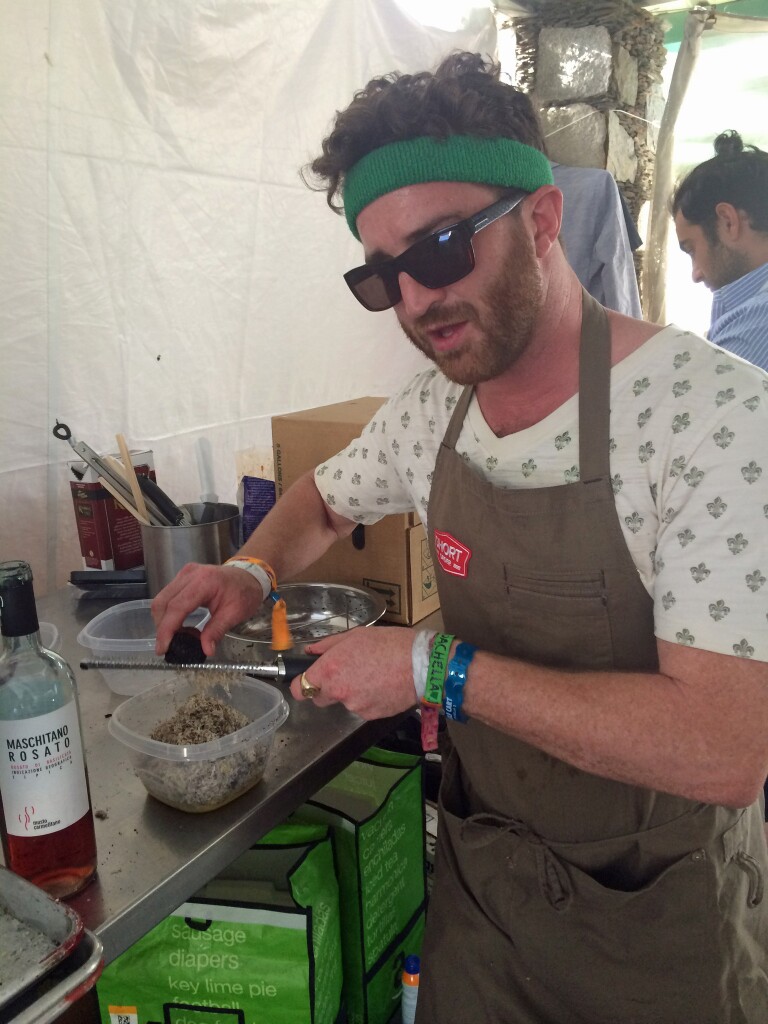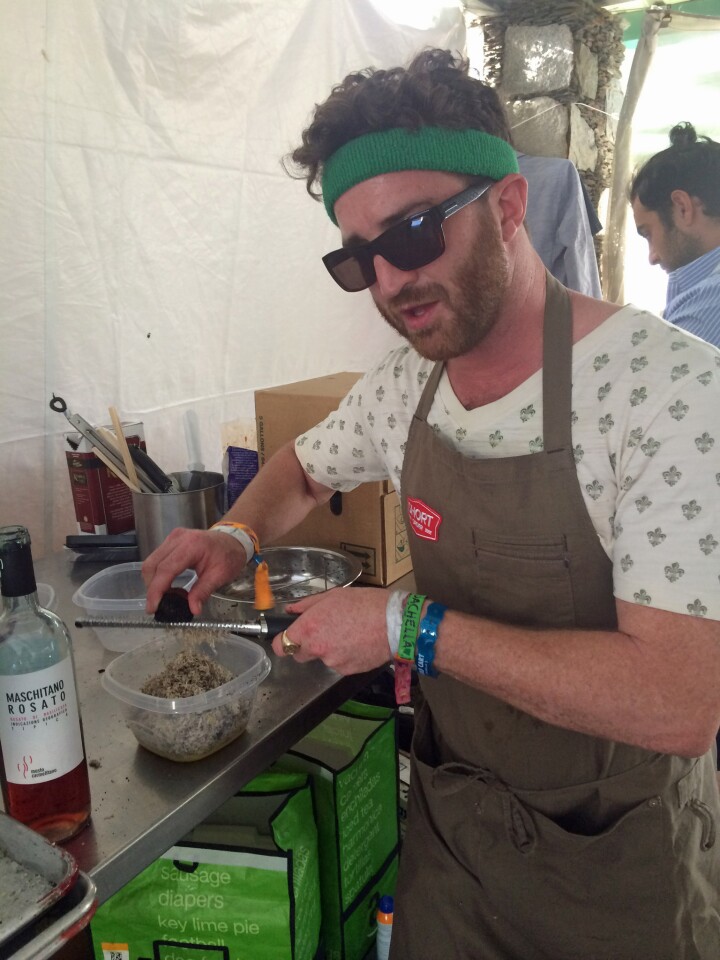 Short Order's Christian Page helps out in the kitchen.
(Jenn Harris / Los Angeles Times)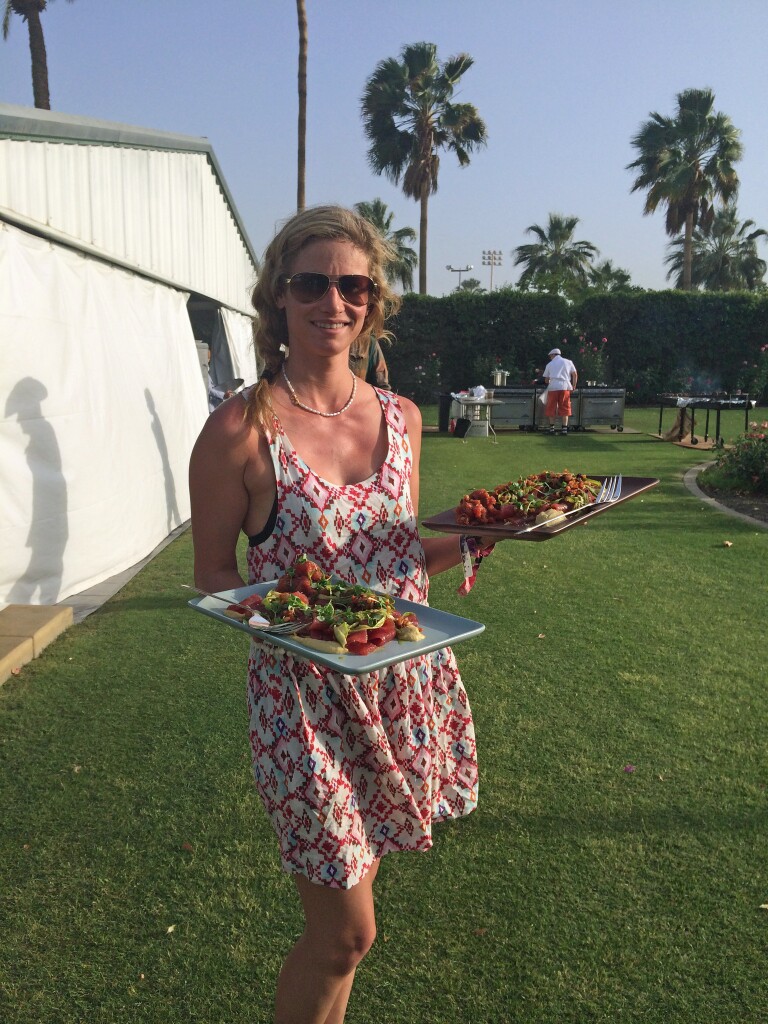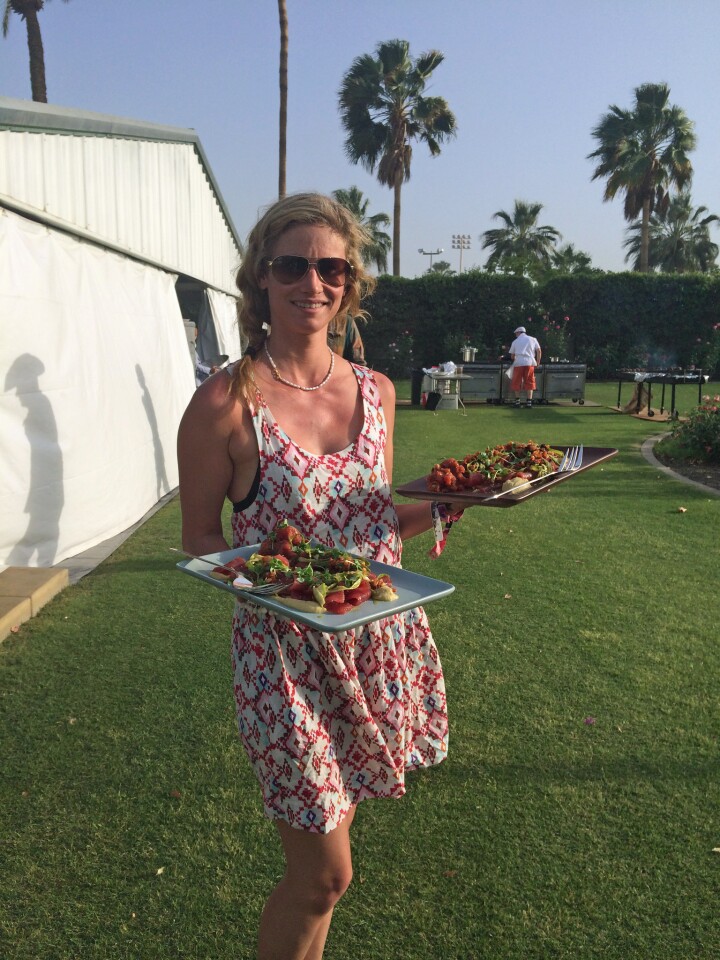 One of the Outstanding in the Field crew serving the first course to diners.
(Jenn Harris / Los Angeles Times)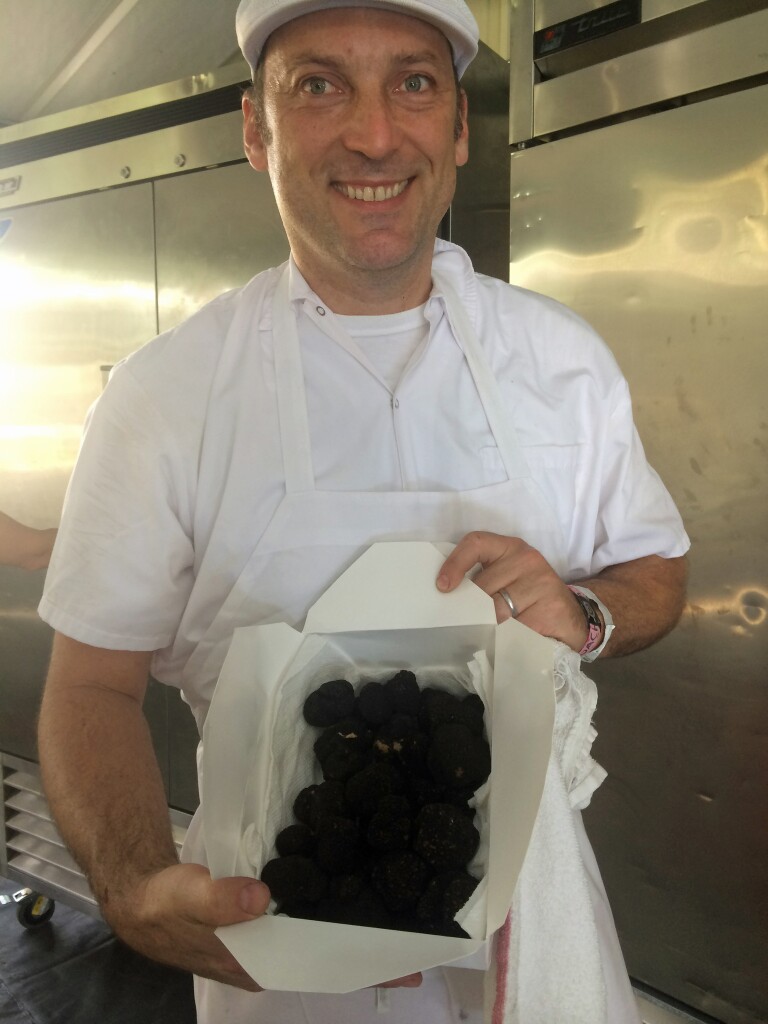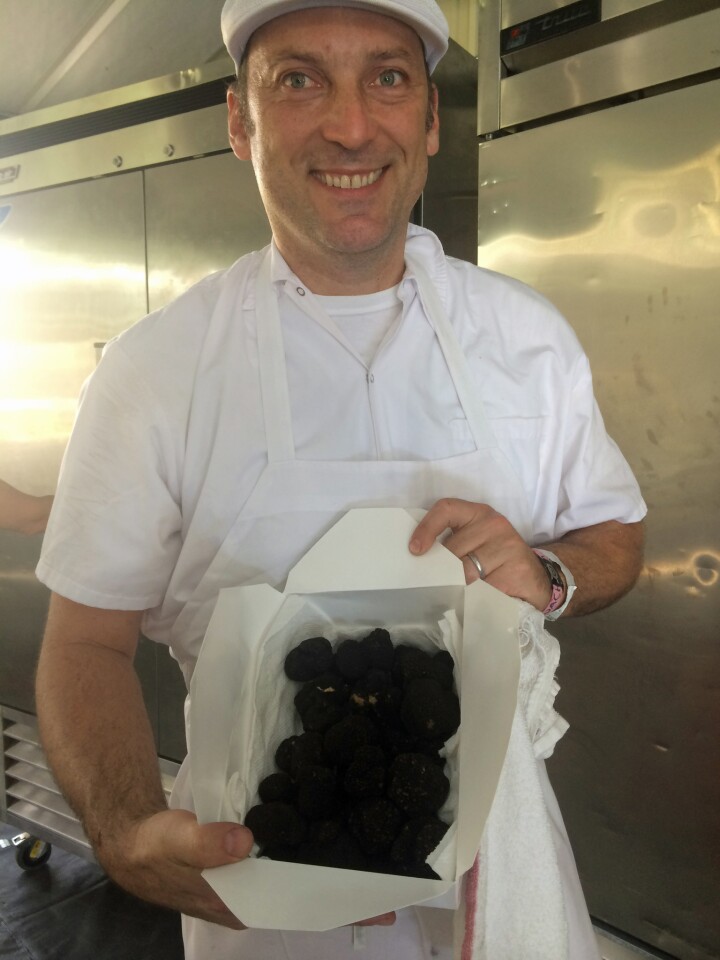 Samson holding the two pounds of truffles he purchased for the dinner.
(Jenn Harris / Los Angeles Times)
Slices of big eye tuna for the first course.
(Jenn Harris / Los Angeles Times)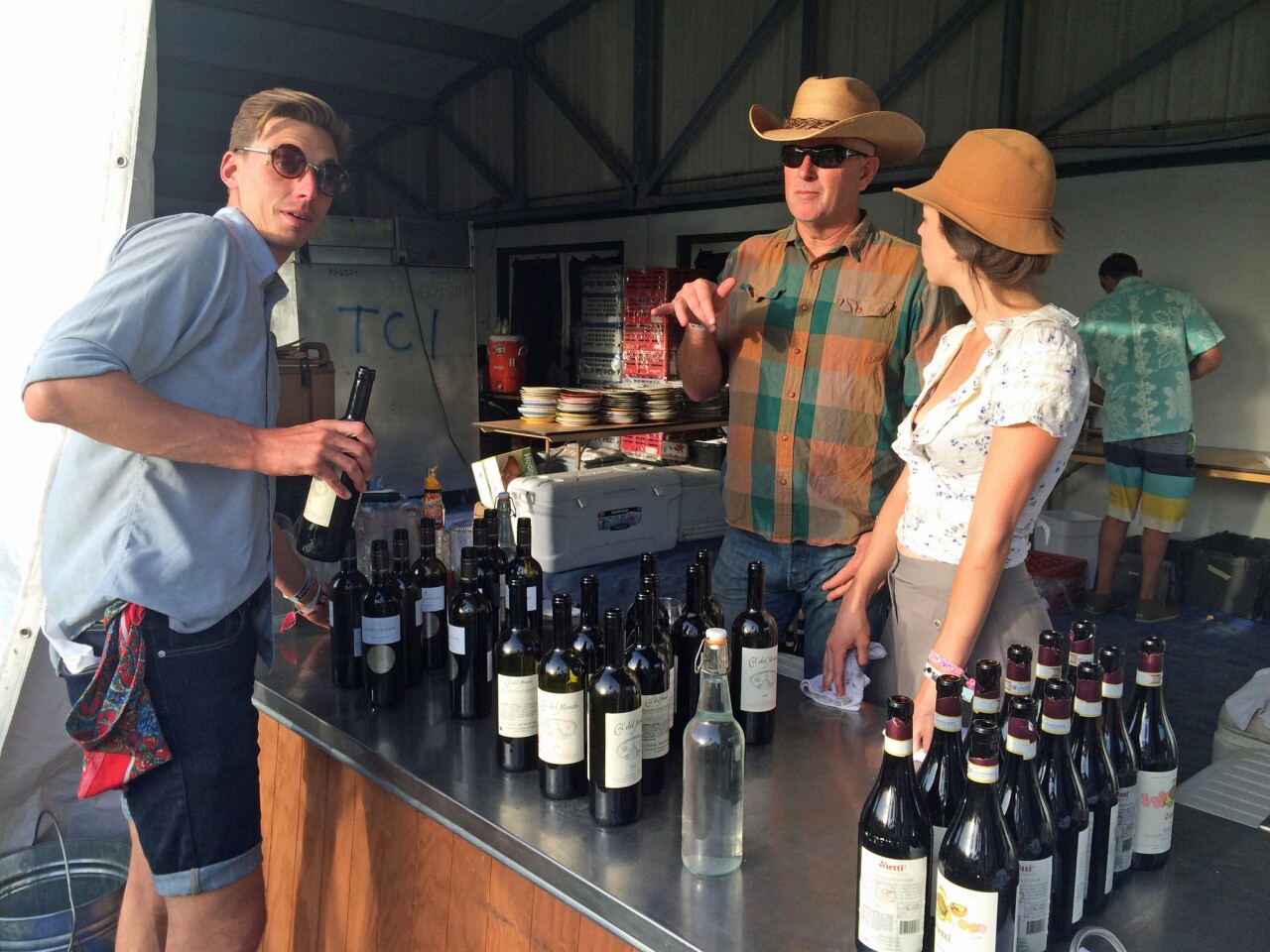 From left, an Outstanding in the Field crew member, founder Jim Denevan and another member.
(Jenn Harris / Los Angeles Times)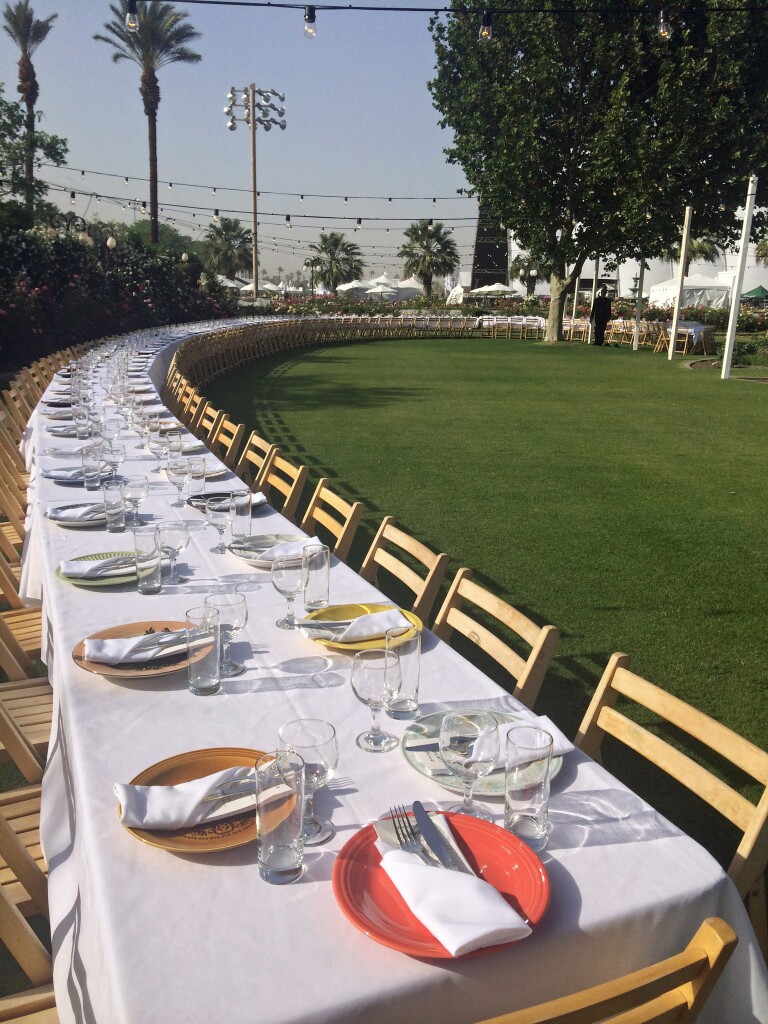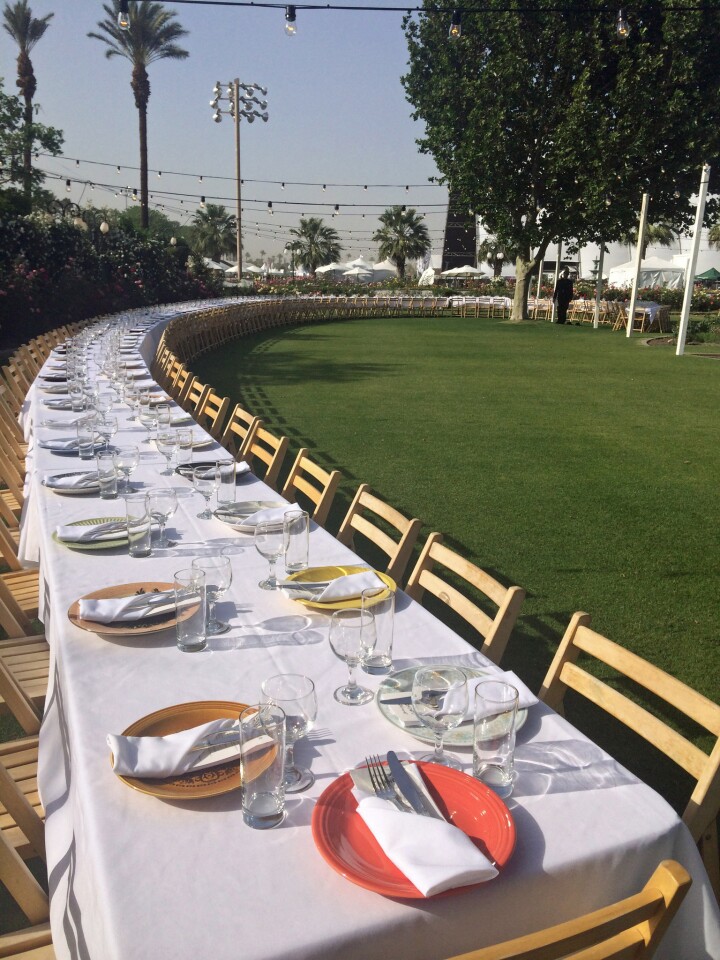 The dinner table.
(Jenn Harris / Los Angeles Times)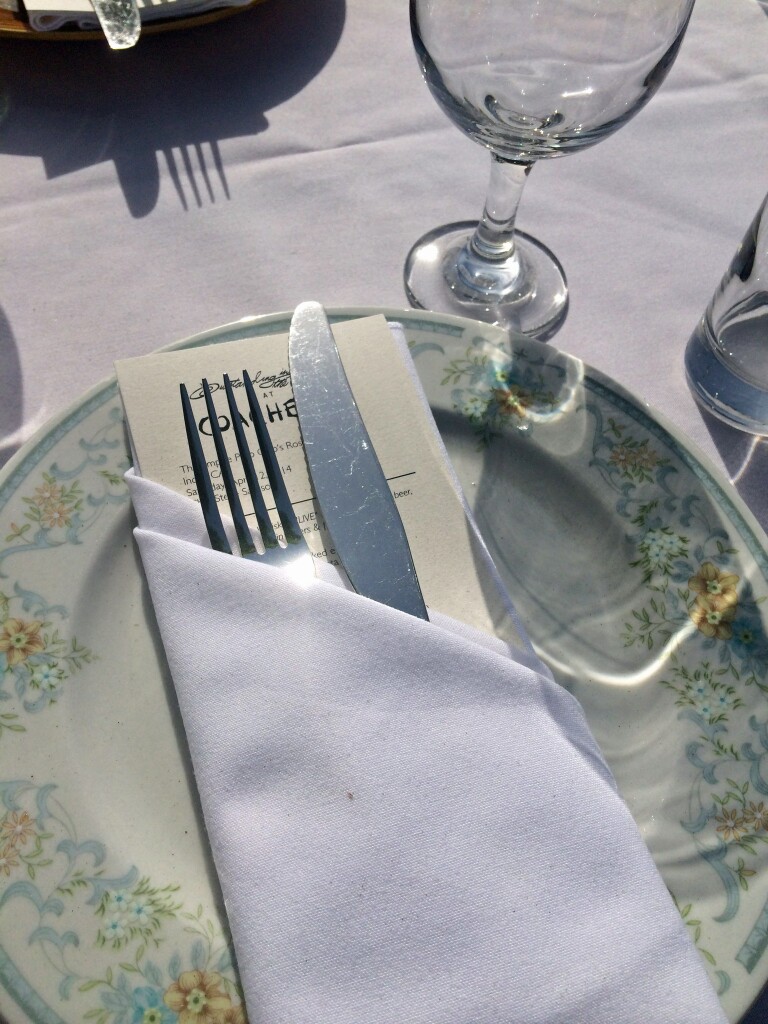 A place setting for the dinner.
(Jenn Harris / Los Angeles Times)
Just behind the Sahara stage at the Coachella Valley Music and Arts Festival on Saturday, in a corner of the rose garden VIP area, a long table with white table cloths, wine glasses and fine dishware was set for a dinner party of almost 200 guests.
As EDM blared, guests wearing cut-off denim shorts, bathing suit tops, flip-flops and flower headbands made their way through a picket fence into the dining area for the $250-a-seat dinner. They grabbed a cocktail, sat down at the table, put the cloth napkins on their laps and waited for the first course.
It was an odd sight to see, when dinner for most attendees is a quick bite and bottle of water on the way to the next performance. But pop-up dinner crew Outstanding in the Field are experts at creating elaborate dinner experiences in odd places, including secret sea caves and rooftop gardens.
"This is the highest decibel kitchen experience anyone has ever had, I think," joked Outstanding in the Field founder Jim Denevan. "People think about taste, taste in food, taste in music and this kind of rounds out the whole. These are the artists of music around us, we're bringing the artists of food."
Nic Adler, who curates the food for the festival, and frequents Outstanding in the Field dinners, asked the group to do a pop up at the festival this year. They organized two nightly dinners with different chefs each night during the festival's first weekend and plan on doing the same for the second. The first weekend's chefs included Casey Lane (the Tasting Kitchen), Steve Samson (Sotto), and Greg A. Daniels (Salt Air), and the second weekend's chefs will include Christian Page (Short Order), Rory Herrmann (Sprout Restaurant Group) and Clark Staub (Full of Life Flatbread).
Saturday night's dinner was prepared by Samson with wine pairings by Samson's good friend Rory Harrington, who happens to be the "wine captain" at Sotto and help from Samson's wife and partner at Dina. Samson said he brought 120 pounds of lamb shoulder, 1,000 slices of big eye tuna, 2,400 pieces of pasta, 40 pounds of duck livers, 20 pounds of porcini mushrooms and two pounds of black truffles with him to the desert for the two meals he planned to cook that evening. Everything was stored in a tent area, just beyond the dinner table.
Around 4 p.m. Saturday, the Outstanding in the Field crew of about 20 people gathered on a grassy area for a pre-service meeting with Samson. He told the group of 20-somethings, all dressed in jeans and shorts, about Sotto and ran through the night's dishes.
The full menu included a cocktail prepared by Best Beverage Catering director of mixology Shane McKnight with Jameson, homemade ginger beer, house-made Dublin bitters and mint; a first course of big-eye tuna crudo, smoked eggplant and caponata paired with 2012 Alois Lageder Pinot Bianco; paccheri pasta, Liberty Farms duck liver ragu, porcini, sage, vin cotto and truffle with a 2009 Col del Mondo Montelpuciano d'Abruzzo; roast Niman Ranch lamb shoulder, spring vegetable macco, English peas and fava beans, torn bread, bitter greens and pecorino with a 2009 Vietti Barolo Castiglione; California Olive Ranch olive oil cake, sweet Gioia ricotta, candied almonds and Polito Family Farms blood orange with a 2013 Saracco Moscato D'asti.
"I'm used to the heat, but not the sun," joked Samson, who cooked part of the meal on an open charcoal grill.
Samson manned the kitchen and the grill, but attendees were treated to a sort of all-star dinner without really knowing it. Samson says he had the help of some culinary friends in high places in preparing for the dinner. Kazunori Nozawa of Sugar Fish helped Samson choose and prepare the fish in the Sugar Fish prep building in downtown L.A. Samson also enlisted the help of Ori Menashe of Bestia, when his pasta maker stopped working at Sotto. He cooked his sous vide lamb in Neal Fraser's CVAP ovens from Vibiana and asked Rory Herrmann about cook time. And Page from Short Order helped plate the food in between sips of rose, straight from the bottle.
The dinner, which began at 5:30 p.m., ran smoothly. Guests snapped pictures of the food as it came out, and helped serve one another each course. Outstanding in the Field director of private events Shaina Anderson said they worked 24 hours a day to make it happen.
"This is pretty dope and the food is really good," said Andrew Pardo, who sat at one end of the table. He ate with a group of friends, celebrating his birthday.
"It's a really different experience, kind of fine dining and you get to meet all these people," added his dining companion Darlene Agustin. "It was pricey but really worth it."
Toward the end of dinner, a windstorm picked up and gusts of wind blew dust onto the dinner table and into the prep area. But the crew managed to get the dessert course out without a hitch.
Around 7:20 p.m., the crew started breaking down the tables to reset, and prepare to do it all over again for the 7:30 p.m. seating. The dinner guests left in a hurry, back into festival land, rushing to catch the last of the MGMT set.
Want more food news? Follow me on Twitter: @Jenn_Harris_
ALSO:
A 20-layer grilled cheese for National Grilled Cheese Day
Stone Brewing looks to musicians for newest collaboration
Coachella 2014: Good food -- bacon sticky buns, bacos and more -- joins the show
---
Get our weekly Tasting Notes newsletter for reviews, news and more.
You may occasionally receive promotional content from the Los Angeles Times.