4 reasons to visit the new Corporation Food Hall in DTLA, including fried avocado tacos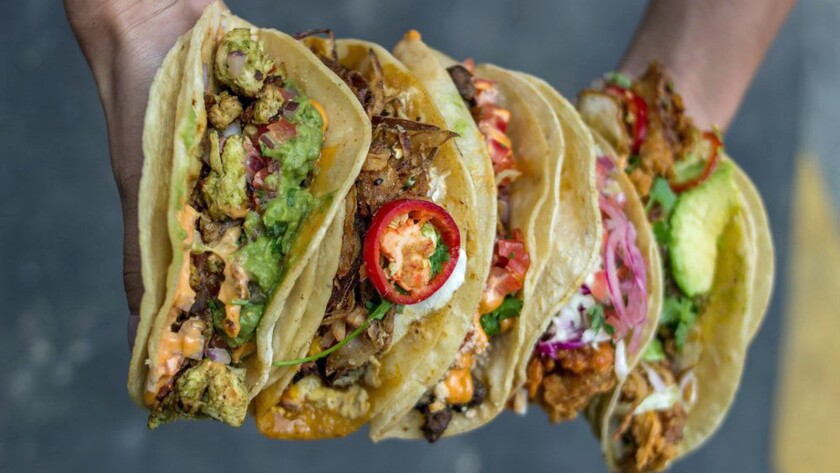 If you're the sort of person who seeks out fried food covered in, say, Flamin' Hot Cheetos, then you'll probably want to visit the Corporation Food Hall in downtown Los Angeles, which opened this September on Spring Street. Located down the block from Little Damage — the soft-serve ice cream shop that specializes in charcoal-infused cones and frozen treats — the small food hall is packed with vendors making dishes that look like they were made to be shared on social media. (Were they? Works for us.) Here are four reasons to visit.
Fried avocado tacos
Why not dunk a wedge of avocado in buttermilk batter and deep fry it, top it with sweet n' sour sauce, poblano ranch slaw, fermented chile and fried onions, then wrap the entire thing in a corn tortilla? The team behind Tacos tu Madre, the taco chain known for its less-than-traditional tacos (fried chicken taco, anyone?), is doing just that. This is a two-handed taco with the sort of filling that spills out regardless of your plan of attack. The avocado is warm, but the texture doesn't change much from a regular ripe avocado, and the taco is completely covered in sweet fried onions. ($6, also available as a burrito for $14). tacostumadre.com
Flamin' Hot Cheetos covered fries
Pig Pen Delicacy is known for its outrageous creations. A burger with mac 'n' cheese buns? The Orange County-originated restaurant is making one, and it comes with candied bacon. It also created a side dish called the BMC fries, which translates into a bed of crispy fries covered in a blanket of mac 'n' cheese, candied bacon bits and hot Cheetos. Unsurprisingly, all angles of this monster have been shared on Instagram. You'll need a fork. ($8.49). pigpendelicacy.com
Pasta and meatball sandwiches
Small buttons of tortellini filled with mushrooms; strands of pappardelle; and squares of ravioli stuffed with artichoke all fill the display case at the Funculo pasta bar. It's a little like Subway, but for pasta: Choose fresh pasta ($9), pick a sauce (maybe tomato, maybe pesto cream), throw in a couple of toppings (mushrooms, cherry tomato, eggplant), and a protein (chicken, bacon, salmon). But as you contemplate this, you watch the guy in front of you get a meatball sub, and you have to rethink lunch. That meatball sandwich comes on a split roll with meatballs, tomato sauce, cheese and arugula. The arugula is going to bother some people. Just order it without the greens. You can also order pasta to take home and cook later. ($12 for the meatball sub, pastas start at $9). www.instagram.com/funculodtla
Falafel and all the fixin's
There is no shortage of good falafel in downtown L.A. (thank you, Madcapra), but the chickpea nuggets at Soom Soom (say it fast and people will think you're saying zoom zoom), come with all the toppings. Order your falafel in a fluffy split pita (or on a plate, salad or baguette), then add marinated onions, hummus, purple cabbage, pickles, skhug (the Yemenite hot sauce often spelled zhoug), cucumber salad, tahina, amba (mango sauce) and garlic spread. The counter also serves many other things you might want in a pita, including kebabs, shawarma and sabich (roasted eggplant). ($8.95 for the falafel.) soomsoomfresh.com.
ALSO:
Golden Road Brewing opens a brewery, restaurant and beer garden in Orange County
This new Anaheim sweet shop is serving totally loaded Hungarian ice cream cones made for Instagram
Masa and bone marrow stuffing and a Tecate-brined turkey: Thanksgiving with Broken Spanish chef Ray Garcia
---
Get our weekly Tasting Notes newsletter for reviews, news and more.
You may occasionally receive promotional content from the Los Angeles Times.