Dear L.A. pastry chefs, please make us a Cronut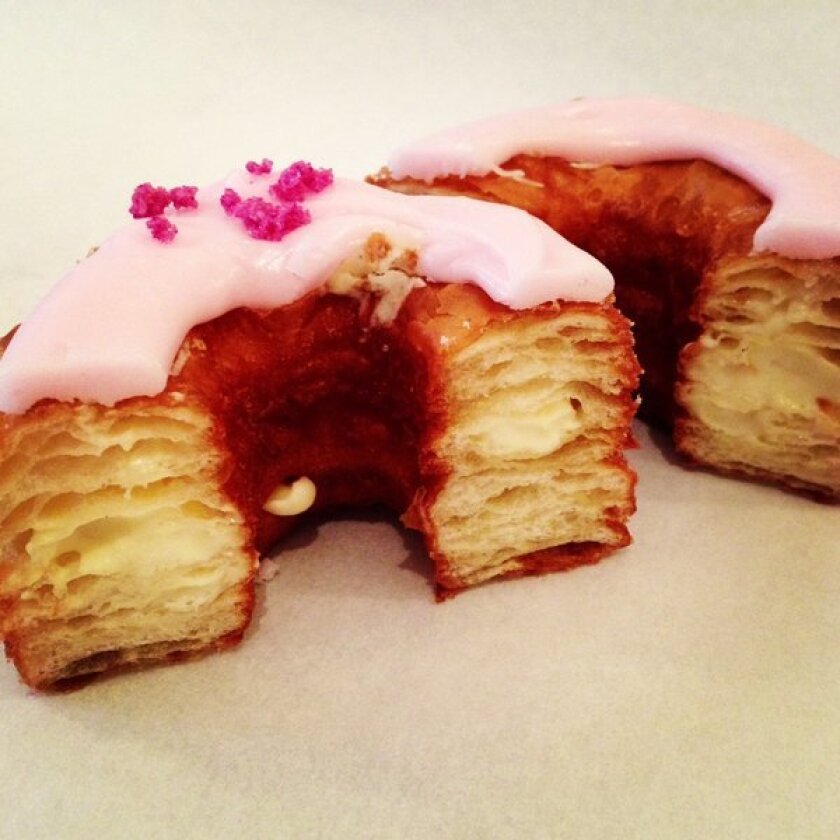 When New York pastry chef Dominique Ansel created the Cronut, a croissant-donut hybrid that looks like a deep-fried croissant on steroids, he created a new medical condition: Cronut fever. We want that fever and we want it bad.
There is a little mayhem in New York City over the Cronut (for which the bakery has filed a trademark application). Ansel took to Twitter to let people know that one woman cried after hearing she was not getting one. He also wanted people to know, "It is not OK to flip off our baristas because we are out of cronuts!"
So what exactly is this breakfast pastry wonder? Ansel deep-fries raw croissant dough. Yes, deep-fries a croissant! For this month's flavor, he's filling them with a vanilla cream then topping with a rose-flavored frosting and candied rose petals.
Ansel, we're dying over here!
L.A. pastry chefs, we're looking at you. You can save us from Cronut fever envy. Come together as one group of apron-donning culinary heroes armed with rolling pins, flour, yeast and lots of butter and put us out of our misery.
Noubar Yessayan of Maison Giraud in the Pacific Palisades with those stellar croissants of yours, use your powers for the good of mankind.
Sumi Chang from Euro Pane in Pasadena, the pastry queen of the east, if anyone can make something that tops the Cronut, it's you.
Na Young Ma at Proof Bakery in Atwater Village, can't you just taste the glory?
We need someone to make an L.A. version of a Cronut or something better so we can stand outside your bakery for an hour before you open and throw a tantrum when you run out. We also want to cry over your layers of deep fried dough.
Help us out, will ya? And thanks for listening.
ALSO:
Tofu on the menu at Chipotle? It's happening
Smugglers provide KFC delivery to Gaza Strip; they advertise on Facebook
Swallow Magazine's Mexico City: Strippers, artists, mezcal and scratch-and-sniff
---
Get our weekly Tasting Notes newsletter for reviews, news and more from critics Bill Addison and Patricia Escárcega.
You may occasionally receive promotional content from the Los Angeles Times.