This new smartphone app turns everyone into a food critic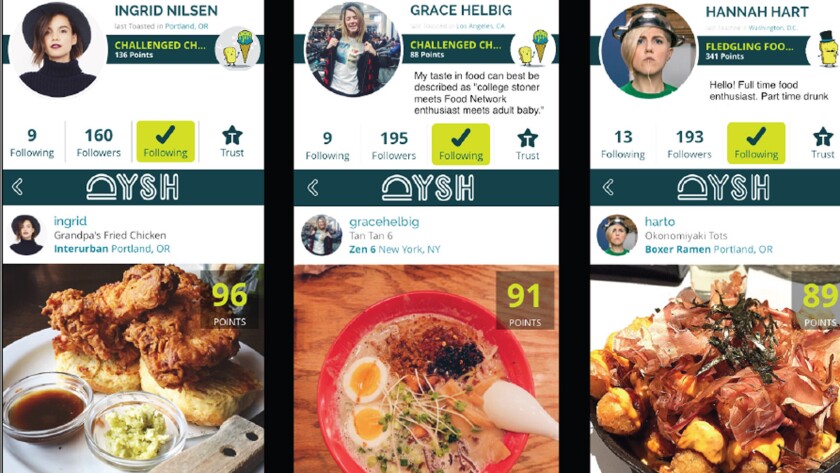 Dysh, a new smartphone app, turns everyone into a budding food critic. And while you may not be transformed into Jonathan Gold after hitting download, the app does encourage users to have an opinion when it comes to food.
Imagine a mashup of Yelp, Facebook and Instagram, and it would be Dysh. Here's how it works:
Each user has a profile and a profile page, which looks similar to an Instagram profile. You can share photos of what you're eating, rate dishes on a 100-point scale, and include your thoughts on the food.
People can follow your posts, and you can follow other users. Like Facebook, there's also a friends component, and a newsfeed displaying what your friends are eating and sharing.
"We have built a social utility app that goes beyond just showing the image, and transforms it into content for a personalized food and drink recommendation engine," said Dysh founder and Chief Executive Ashley King in a statement. "Our platform allows users to browse beautiful food photos posted by their friends, but also helps them make a decision on what to order."
If you're craving a specific dish, you can use Dysh to search for that item. The app will also give you results for top-rated dishes nearby.
Dysh is free to download for iPhone and Android. And while it won't be putting any critics out of a job anytime soon, it does offer a new outlet for some serious food porn.
Follow me on Twitter and Instagram @Jenn_Harris_
ALSO:
Where to go for good ramen in Atwater Village
Spring, the highly anticipated French restaurant in DTLA, opens today
This grilled cauliflower recipe will actually make you forget about steak
---
Get our new Cooking newsletter.
You may occasionally receive promotional content from the Los Angeles Times.