Easy dinner recipes: Best-ever mac 'n' cheese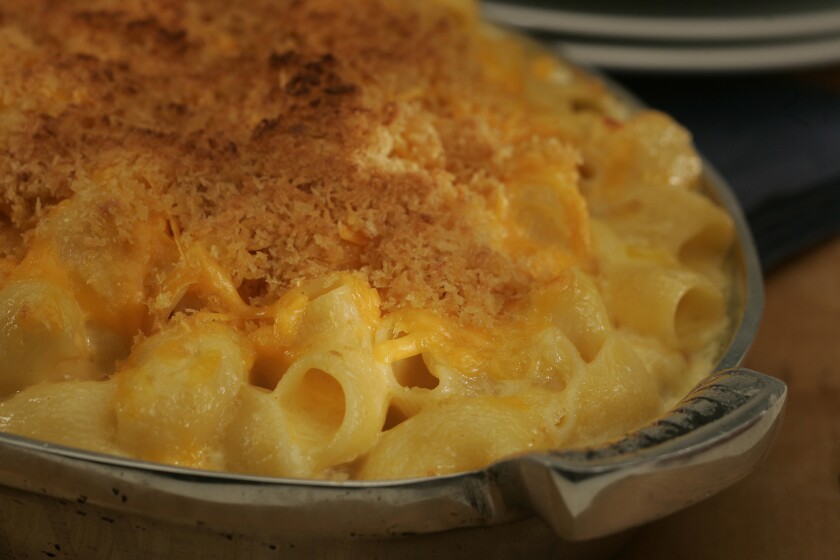 Rain! Those few droplets of water that may or may not have reached your windshield this morning are enough of an excuse to indulge in some comfort food. And sometimes, there's nothing more comforting than a big bowl of mac 'n' cheese.
Here's a recipe for what Times deputy Food editor Betty Hallock calls the best-ever mac 'n' cheese. A creamy cheese sauce is made with a classic bechamel, mild cheddar and nutty Gruyere. Tender noodles are tossed in the sauce and topped with a mix of panko bread crumbs, butter and more cheddar. When the pan of bubbling mac 'n' cheese emerges from the oven it's the epitome of cheesy comfort food.
BEST-EVER MAC 'N' CHEESE
Total time: 1 hour | Serves: 4-6
1/2 cup panko bread crumbs
1 teaspoon melted butter
1/2 cup (1 stick) butter
1/2 cup flour
5 cups milk
1/2 teaspoon dry mustard
1/4 teaspoon white pepper
1/4 teaspoon cayenne pepper
1/8 teaspoon nutmeg
1 teaspoon salt
1 bay leaf
4 cups shredded mild cheddar cheese, divided
3 cups shredded Swiss Gruyere cheese
1 pound shells or elbow macaroni, cooked according to package directions in salted water
1/2 cup heavy cream
Heat the oven to 350 degrees. Toss the panko bread crumbs with the melted butter on a small baking pan. Toast the bread crumbs until lightly browned, about 10 minutes. Set aside to cool.
In a large saucepan, heat the butter over medium heat until melted, then stir in the flour. Heat and stir until the mixture is smooth and bubbling, about 2 minutes. Remove from the heat and whisk in the milk. Add the dry mustard, white and cayenne pepper, nutmeg, salt and bay leaf. Heat and stir to boiling, then reduce the heat to a low simmer and cook 30 minutes, stirring occasionally. Remove the bay leaf.
Stir in 3 cups of the cheddar and all the Gruyere until melted. Pour the sauce over the cooked macaroni in a large bowl, stirring until all of the macaroni is coated. Pour the macaroni into a well-buttered 9-by-13-inch casserole. Drizzle heavy cream around the edges of the casserole. Sprinkle on it the remaining 1 cup cheddar cheese, then the toasted bread crumbs.
Cover the casserole with aluminum foil. Bake 20 minutes. Remove the foil and bake uncovered an additional 10 minutes. Put under a preheated broiler for 5 minutes.
Each of 16 servings: 415 calories; 19 grams protein; 28 grams carbohydrates; 1 gram fiber; 25 grams fat; 15 grams saturated fat; 75 mg. cholesterol; 565 mg. sodium.
Found a problem? Let us know at cookbook@latimes.com
More cheese, please. Follow me on Twitter @Jenn_Harris_
---
Get our weekly Tasting Notes newsletter for reviews, news and more from critics Bill Addison and Patricia Escárcega.
You may occasionally receive promotional content from the Los Angeles Times.