Easy dinner recipes: Three great chopped salad ideas for Meatless Monday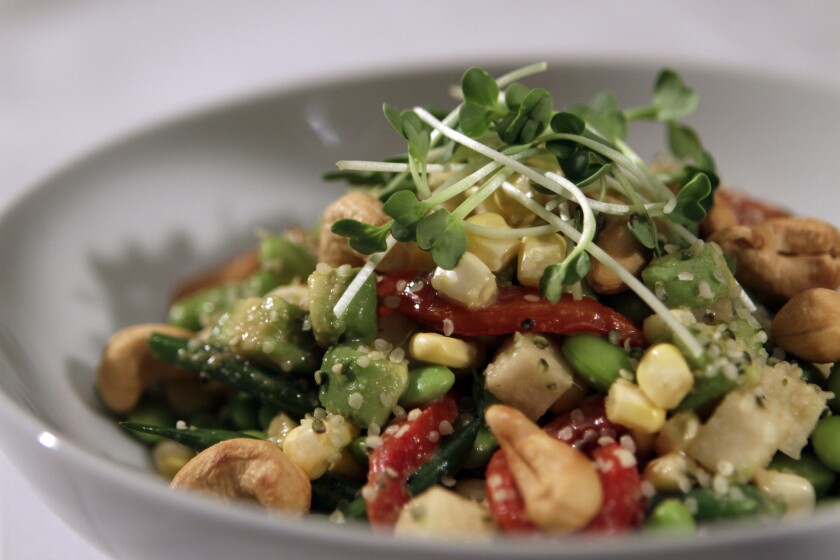 It's Meatless Monday. Even if you have no intention of going vegetarian full-time, there's no reason you can't give it a try once a week. And with these tempting chopped salad recipes, you won't even miss the meat.
Fresh vegetable chopped salad: BLD tosses its homemade dressing -- fresh, lightly herbal, sweetened with a touch of honey and with just the right amount of tang -- with a wonderfully bright and colorful salad of crunchy fresh corn, edamame, roasted bell peppers and green beans, along with diced avocado and toasted cashews. They top the salad with fresh sprouts and a drizzle of nutty hemp seeds.
Kale and quinoa salad: Dark-green julienned strips of kale are tossed with nutty quinoa and sunflower seeds, colorful bell pepper and red grapes, then dressed with a bright Champagne vinaigrette. Parmigiano and manchego cheese lend a subtle richness; the preserved lemon strips add a salty tang.
Kale chopped salad: Chopped kale and romaine are tossed with quinoa, almonds, raisins and parmesan cheese, with a bright lemon vinaigrette added just before serving. You can find the recipe below.
NAPA VALLEY GRILLE'S KALE CHOPPED SALAD
Total time: 45 minutes | Serves 4 to 6
Note: Adapted from Napa Valley Grille in Westwood
LEMON VINAIGRETTE
Juice of 3 lemons and grated zest of 1 lemon
1/4 cup plus 2 tablespoons extra-virgin olive oil
1 shallot, minced
1 anchovy fillet, minced
1/4 cup shredded parmesan cheese
2 basil leaves, cut in thin strips
Sea salt
Finely ground pepper
In a medium bowl, whisk together the lemon juice, lemon zest, olive oil, shallot, anchovy, cheese and basil. Season to taste with one-fourth teaspoon salt and one-eighth teaspoon pepper. This makes slightly more than one-half cup vinaigrette, more than is needed for the remainder of the recipe; the vinaigrette will keep, covered and refrigerated, up to one week.
KALE SALAD
1/4 cup quinoa
1 romaine heart, chopped
1 head green kale, chopped
1/4 cup almonds, toasted
1/4 cup golden raisins
1/4 cup shredded parmesan cheese
Sea salt
Freshly ground black pepper
1. Bring a medium saucepan of water to a boil.
2. Meanwhile, place the quinoa in a strainer and rinse under cool running water to remove the outer coating of the quinoa. (If not rinsed, the coating can give the quinoa a bitter flavor.) Place the rinsed quinoa in a dry saute pan and toast, stirring frequently, until the quinoa is dry, lightly colored and has a nutty aroma.
3. Place the toasted quinoa in the saucepan with the water, reduce the heat and simmer the quinoa until it is translucent and tender and the germ has spiraled out from the grain, 12 to 15 minutes (be careful not to overcook). Drain the quinoa and spread it out on a baking sheet to cool.
4. In a large bowl, combine the romaine, kale, quinoa, almonds, raisins and parmesan cheese. Add one-fourth cup vinaigrette and toss to lightly coat. Add additional vinaigrette as desired, and season to taste with salt and pepper.
Each of 6 servings: 170 calories; 5 grams protein; 15 grams carbohydrates; 2 grams fiber; 11 grams fat; 2 grams saturated fat; 5 mg cholesterol; 5 grams sugar; 153 mg sodium.
Love cooking as much as I do? Follow me @noellecarter
---
Get our weekly Tasting Notes newsletter for reviews, news and more.
You may occasionally receive promotional content from the Los Angeles Times.